Joe Walsh Says Liz Cheney's Trump Woes Indicate 'You Have to Lie' to Be Viable in GOP
Former Republican congressman and presidential candidate Joe Walsh criticized the GOP amid rising tensions between Wyoming Representative Liz Cheney and other party leaders.
"Liz Cheney is going to lose her position in leadership. That's clear. It's a matter of days or a week or two," Walsh said. "She's going to be penalized for speaking the truth. I mean, think about that. Think about where the Republican Party is."
The remarks were made during an appearance on CNN's New Day on Tuesday. Walsh served Illinois in Congress from 2011 to 2013 and ran for the 2020 Republican nomination for president against Donald Trump.
"Think how surreal this is, right?" Walsh said. "To be viable in today's Republican Party, you have to lie. You have to commit to the big lie, the undemocratic lie that the 2020 election was stolen."
Cheney, the No. 3 House Republican, has become one of the Republican Party's most vocal opponents against Trump's baseless allegations that the 2020 election was riddled with widespread voter fraud.
She was one of 10 House Republicans to vote to impeach Trump on the charge of incitement of insurrection after the Capitol attack on January 6. After the vote, she was forced to fend off calls from some within the GOP to be removed from her position as conference chair.
On Monday, Cheney said at a conference in Georgia that we "can't whitewash what happened on January 6 or perpetuate Trump's big lie."
"The 2020 presidential election was not stolen," the congresswoman also wrote on Twitter earlier in the day. "Anyone who claims it was is spreading THE BIG LIE, turning their back on the rule of law, and poisoning our democratic system."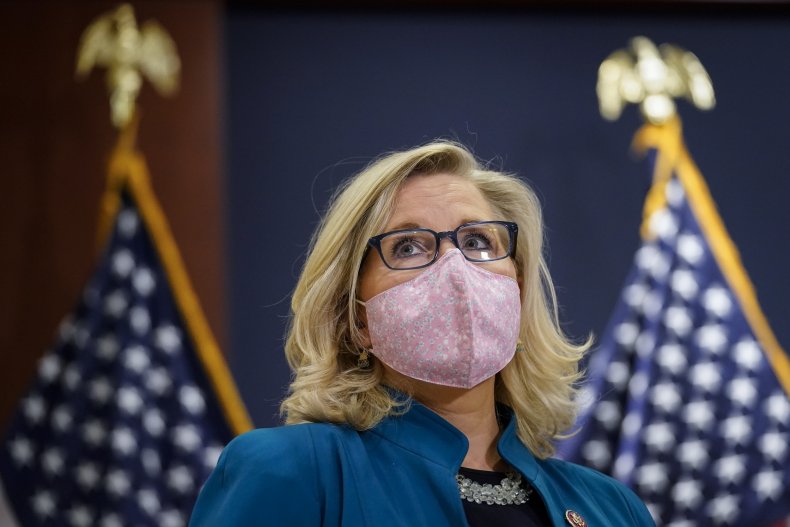 The comments sparked pushback from House Minority Leader Kevin McCarthy, who said Tuesday that his caucus had concerns about whether Cheney could fulfill her duties as conference chair.
"I have heard from members concerned about her ability to carry out the job as conference chair, to carry out the message," McCarthy told Fox & Friends. "We all need to be working as one if we're able to win the majority. Remember, majorities are not given, they are earned. And that's about the message about going forward."
On Monday afternoon, Trump issued his own statement on the feud. The former president said it was "heartwarming" to see polling in Cheney's home state of Wyoming purportedly showing her with low approval ratings.
"She is so low that her only chance would be if vast numbers of people run against her which, hopefully, won't happen. They never liked her much, but I say she'll never run in a Wyoming election again!" Trump said.
Newsweek reached out to Cheney's office for comment but did not receive a response before publication.