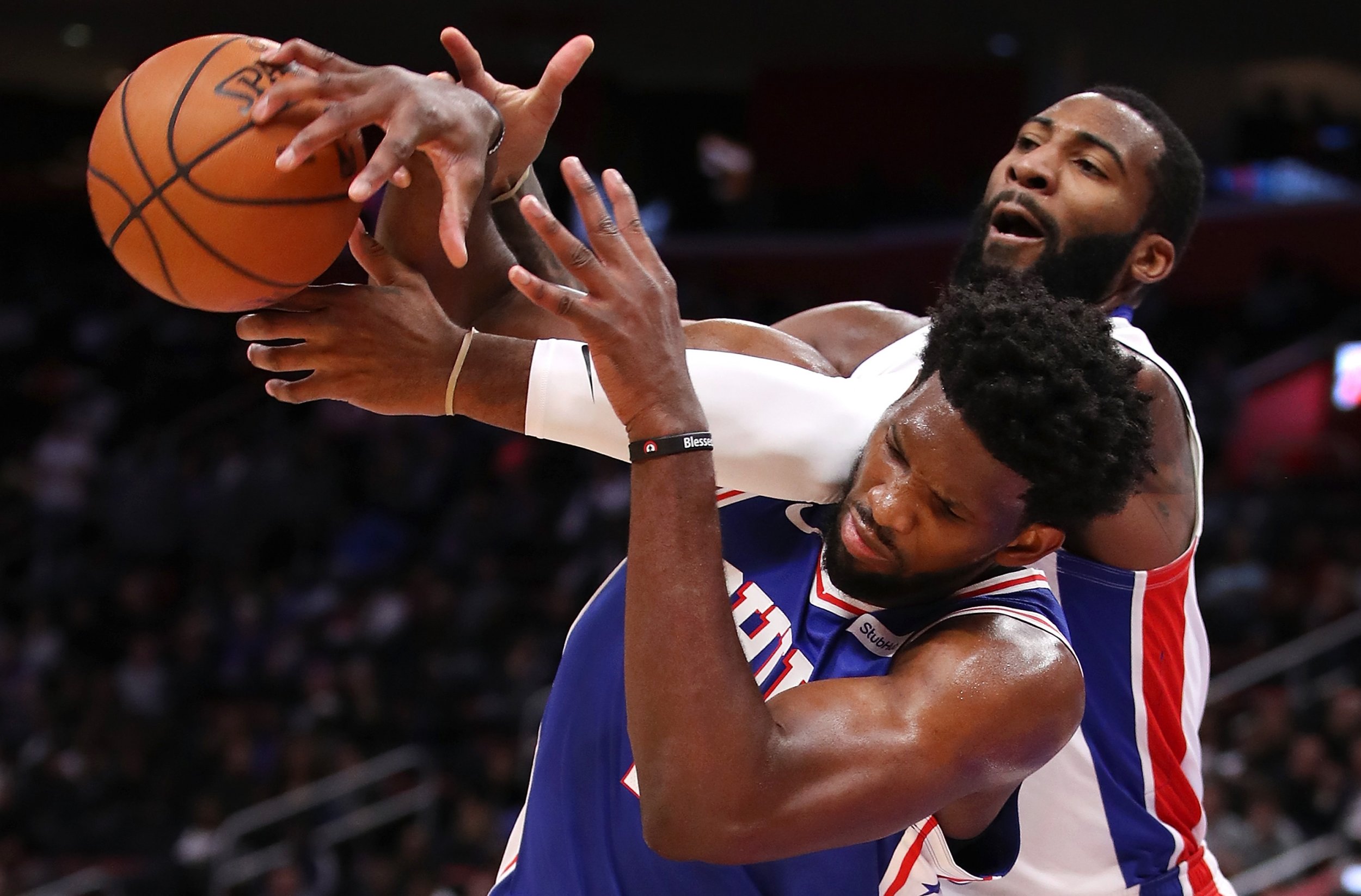 It took less than one week in the regular season for the NBA to be treated to a brawl, as Chris Paul and Rajon Rondo traded blows at the Staples Center.
Clearly determined not to be outdone, Andre Drummond and Joel Embiid resumed their feud on Tuesday night in Detroit, where the Pistons beat the Sixers 133-132 in overtime.
While the altercation was verbal rather than physical, the duo didn't hold back when it came to trading barbs. Embiid, who had 33 points, 11 rebounds and seven assists, lit the fuse when he told reporters in the locker room that he has got into Drummond's head.
"I think I own a lot of real estate in his head," he was quoted as saying by Keith Pompey of The Philadelphia Enquirer.
"We lost, so I'm not supposed to talk trash, but he knows damn well that he can't guard me. But that was a team effort. You know, Blake [Griffin] had a good game, and they were able to pull it off, so we got another one tomorrow, and we got to do a better job."
Drummond, who was ejected with 42.8 seconds left in the game after receiving a second technical foul when his hand brushed Embiid's face after a made basket by the Sixers, was clearly nonplussed at the Cameroonian's trash-talk.
"Does he?" the Pistons center replied to a tweet posted by Pompey, which showed a clip of his interview with Embiid in which the Sixers big man namechecked Drummond.
"If that's so he wouldn't be so excited to have me off the floor? Think about it that's a silly statement! I'll take the W though enjoy flight home #EmmyAward winning actor."
In all likelihood, the Emmy Award reference is an attempt to suggest Embiid made the most of the incident that led to Drummond being called for a second technical foul.
Footage of the ejection appears to show very little contact between the two and the NBA will almost certainly review a video of the incident.
Embiid was undoubtedly pleased to see Drummond depart and made a point of gesticulating towards the referees to call a second technical foul on the Pistons big man who then mocked his counterpart for being "so excited" to see him ejected.
The Sixers center explained after the game that Drummond had only himself to blame for being given his marching orders.
"His hand touched my face, and you know, going back, what the referees were saying the whole game, there were a lot of cheap shots taken," he was quoted as saying by ESPN. "At one point, I think [referee] Tyler [Ford] said that the next cheap shot, the next one is going to get a technical foul, and that's why he got the other technical foul.
"All I was doing was just talking and playing basketball and trying to win the game, and obviously on the second one, you can see that he hit me, and his hand actually touched his face [...] But like I said, I feel like I own a lot of real estate in his head."
It is not the first time Embiid and Drummond have exchanged words. At the beginning of last season, the former accused the latter of not playing defense and of being a below average shooter, while Drummond questioned Embiid's difficulties to remain healthy and play in back-to-back games.
Tuesday's win moved the Pistons to 3-0 thanks to Blake Griffin's career-high 50 points, while the Sixers are now 2-2.
With the two teams set to lock horns a further three times in the regular season, the next instalment of the Embiid vs Drummond feud could be an explosive affair.
About the writer
Dan Cancian is currently a reporter for Newsweek based in London, England. Prior to joining Newsweek in January 2018, he was a news and business reporter at International Business Times UK. Dan has also written for The Guardian and The Observer.