Plenty of NBA players have worn a protective mask during a game. But only one player is synonymous with it: Richard "Rip" Hamilton.
He began wearing the mask during the 2003-04 season as a member of the Detroit Pistons, a historic team that went on to upend the stalwart Los Angeles Lakers led by Shaquille O'Neal and Kobe Bryant in the NBA Finals. From that point forward the mask became Hamilton's thing. What began as protection for a busted-up nose became his trademark.
"It kinda turned into my Batman cape," the retired three-time All-Star told Newsweek in a phone interview Thursday.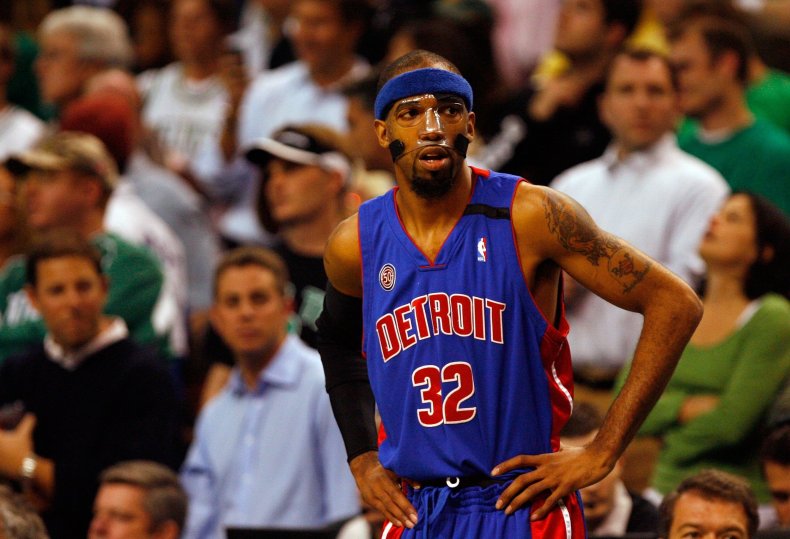 Another All-Star seems destined to join the be-masked ranks soon: Philadelphia 76er Joel Embiid. After suffering a concussion and a facial injury that required surgery from an in-game collision, Embiid has been practicing in a black protective mask and could return to real-game action this week in the Sixers first round playoff matchup against the Miami Heat. (Embiid was listed as probable for Game 3 Thursday afternoon, according to multiple reports.)
With Embiid's eventual return in mind, Newsweek chatted with Hamilton about his story, about wearing a mask in games and about the advice he passed along to the Sixer center. The conversation has been edited and condensed for clarity.
So, how'd you start wearing your mask?
I broke my nose three times. After the first time I broke it the doctors told me I needed to wear a mask. I told them, "Hell no I'm not wearing a piece of plastic on my face."
Second time I broke my nose they were like, "Yo, Rip, you've gotta do this if you want to continue to play at a high level and not have to sit out for six weeks." I said, "Hell nah." And then the third time I was like, "You know what, I'm tired of going under the knife, I'm tired of getting surgery. I'm tired of missing games."
We had a great team that year to go out and win the championship, so I told them, "Alright, I'll give it a try." So right after the third time I broke it, after I got out of surgery, I went out and got a fitting. … And that was it.
At first was it a little bit uncomfortable?
Yeah it was really uncomfortable. I always give an analogy that people can relate to: When you're a kid and you're going trick or treating and they used to make those little plastic costumes. No kid wore the mask the whole time they were out trick or treating. You'd always pull the mask up, run to the house and pull the mask down. But the only difference is, I had to wear that mask the whole time.
Over a period of time I started to get used to it. As basketball players, a lot of times you go to the basket and it's a lot of elbows being thrown, guys are getting poked in the eye. You tend to clench up because you don't want to get hit in the face. Once I started wearing that mask I wasn't clenching up no more. I was willing to take contact more. I was able to get to the free throw line more because now I'm not scared of getting hit in the face. It kind of made me into a more aggressive and better basketball player.
As the story goes, you wore the mask and you got so used to it that became your thing, you wore it all the time. You mentioned the Halloween masks—I feel like there's a certain type of kid who puts on the Michael Myers mask and they become Michael Myers. Was there a mental edge—where you put on that mask and then you're ready for the game?
Yeah, at first it was kinda like anything else, you know? Anybody that's playing basketball, playing any sport, don't wanna wear a piece of plastic on their face because mentally you say, "Aw, man it looks ugly. It don't look right. It's different than what everybody else is doing."
So, I wanted to make it cool. I wanted to make it so if [a face injury] happens to a kid that's 15, 16 years old, they'll feel comfortable wearing a mask. So one thing I did with mine is I put a headband on top of it just to put a little extra swag into it.
It turned into my thing. There were a lot of great athletes in the NBA when I played. It's sometimes hard to determine one from the other. At a game one time a fan came up to me and say, "Hey Rip, my grandmother [had never gone] to a basketball game before, but when she came she was very intrigued with you because you wore the mask." And to myself I was like, "Oh, OK that right there could separate me from everybody else." People who don't know anything about the game or have come for the first time, they're always going to point me out on the court because of the mask. I looked at it as a marketing tool, also. It kinda turned into my Batman cape.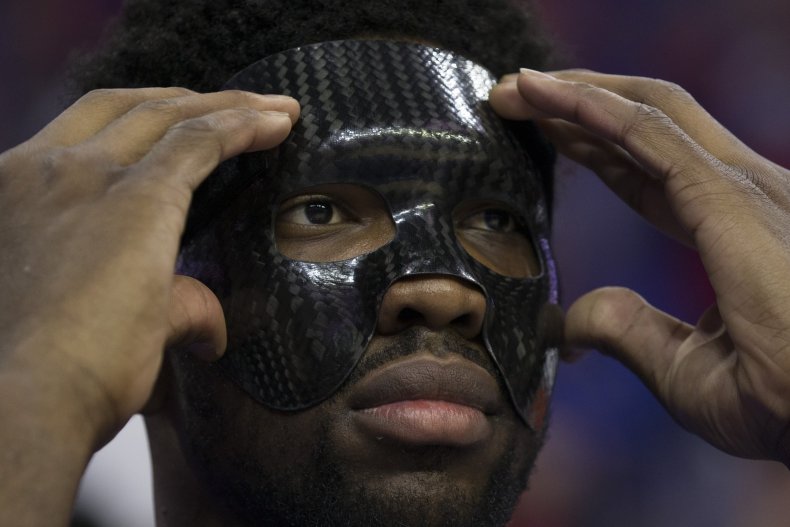 When I talked to people about Embiid wearing the mask, everyone brought up your name. You're the guy who wore the mask. Was it partially superstition?
Once I started wearing it, during that season, we started winning. And I'm like, "Ok, we're winning, good things are happening for us, we got a chance to win a world championship." So now I've got to continue wearing it, just for the simple fact that I can't afford to break my nose again that late in the season knowing we've got an opportunity to win the championship. And even though I wanted to take it off guys—mostly Ben Wallace and Rasheed [Wallace], two big dudes on our team—they were pretty much like, "Nah, you can't take that thing off, you gotta wear that." If you've got big Ben Wallace telling you you've got to wear something, you're gonna wear it.
Guys on the team felt like it was our lucky charm.
And that's the year you won it all.
That's the year we won it all.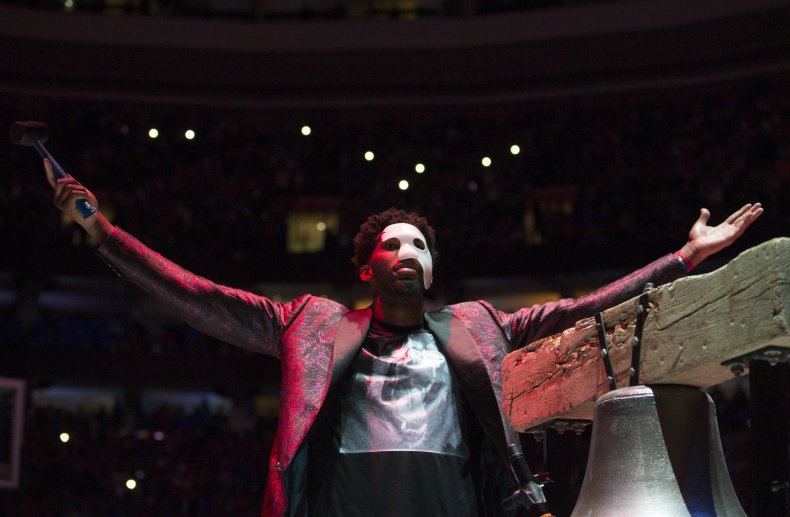 It seems like you were the kind of person who was able to really embrace the mask. It was a setback that ended up being something that helped define your career. If you were to talk to Joel Embiid—he's going to be coming back wearing a mask—what would you tell him? And do you think he's the kind of player who would also embrace it?
It's funny, when guys gotta wear a mask, they call me. When J.R. Smith did it, when he was in New York, he called me like, "Hey Rip, what's going on, what's it like to wear the mask." All the different guys that broke their nose in the past reached out to me.
[Sixers' Director of Performance Research and Development] David Martin reached out to me like, "Hey, Embiid has gotta wear the mask, what are some tips?" And we have the same agent: Leon Rose. They all reached out to me.
The biggest thing I told them was: Embrace it. Make it cool. Make it fun. Make it like a prop. Don't get caught up in saying like, "I got a piece of plastic on my face. I'm worrying about how I look, I'm worrying about my perception when I shoot." When you're out there in, like, shooting drills, don't be so caught up in putting the mask on and trying to worry about how you shoot with it on. Put it on in the game and just wear it because our game is a non-thinking sport. React. You gotta read and react as quick as possible. The less thinking you do, the better you'll be.
I said at first it's going to be hot. It's gonna be sweaty. It's gonna get fogged up. You might miss a few shots early. But try to get to the free throw line, where the game slows down. Try to get some layups. Because once you get comfortable with it and you make a few baskets, everything else is out the door anyway.
At some point you're just gonna get into a groove.
Absolutely. The game is gonna take over. That's why I said make it fun, make it like your cape. It's a mindset just like anything else. Just play like it's your cape.
So when you see Joel Embiid kind of joking around with the Phantom of the Opera thing, is that a good sign to you?
Yes! It's a great sign. Because he's embracing it.
About the writer
Reporter, covering a bit of everything.