The Joel Embiid Quote That Explains Why the NBA Rules in 2018
There's a timeworn truism in reality television—the old-school, grind-it-out competition variety, not the benign passivity of the style perfected by the Kardashians—that has largely defined the medium.
I'm not here to make friends.
Since the advent of reality TV, someone was damn near certain to gallop out that old warhorse in a confessional to explain why, exactly, they were kind of acting like an ass. It's a phrase that neatly sums up why the genre is so addictive.
Say it again: I'm not here to make friends.
It establishes conflict. It presents a worldview—if you consider the setting of a reality TV show its own little world, which you should—that portends future conflict (just after this commercial break). Often it breaks the fourth wall and addresses the viewer at home directly, meaning it's inclusive. It both negates the oft-held attitude of reality TV show contestants—(through tears) "In just one month in the house, we became family"—and makes it all the sweeter when the contestants ultimately become friends again or have a begrudging respect for one another (here's to you, Johnny Bananas and CT).
So. Here's what Philadelphia 76ers All-Star Joel Embiid told reporters, in part, after his team defeated the Miami Heat to take 2-1 series lead in a Round 1 NBA playoff game defined by tit-for-tat provocations, chest-puffy arguments and stunning displays of athletic prowess.
"We're not here to make friends," he said.
And that quote explains why the NBA rules in 2018.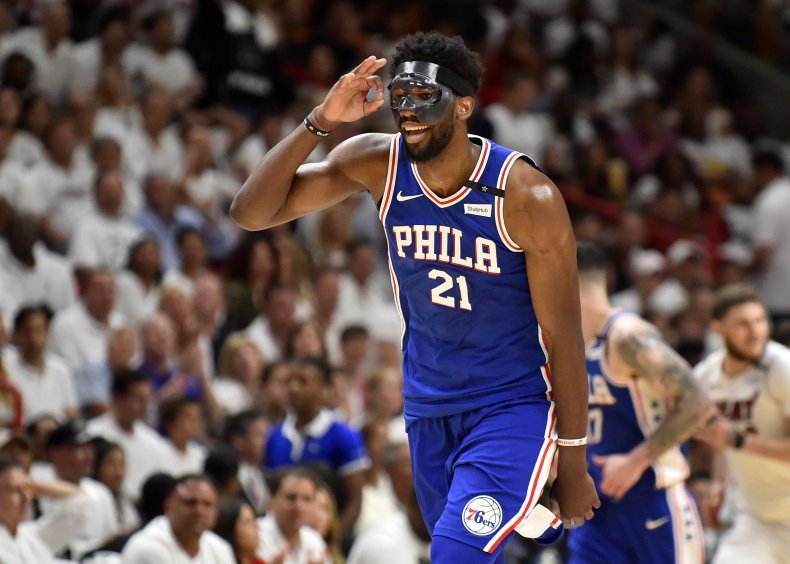 First, it's fitting the quote came from Embiid, an incessantly likable, forever trolling behemoth of a man who entered the NBA with an inherent understanding of how this whole thing works now—how it's possible to briefly stop time (at least time as it's observed by NBA Twitter) with a single comment.
But the quote from Embiid hints at a truth central to the NBA's designated status as the Ascendant League: It owes a fair bit of that rising popularity to its similarity to reality television. And that's a compliment, zero backhandedness intended.
The NFL remains a cruise liner overflowing with cash steered by a cabal of billionaires hoping to squeeze a couple extra Hefty bags of Benjamins into the closets, cupboards and bathtubs. In other words, the NFL is steady, even if the waters are increasingly troubled, what with declining (but still massive) ratings and a concussion crisis that isn't going away. The NBA, meanwhile, is a party yacht with a line around the block to climb aboard. It's fun as all hell.
It helps that the NBA's analytics revolution concluded that dunks and three-pointers—the plays that are the most fun to watch—are incredibly efficient. But the NBA leaning into its reality-TV-ness has a big part in its rising popularity—regular-season ratings just hit a four year high and the playoffs have opened really strong.
There's lots of ways the NBA is like reality TV, but perhaps chief among them is that you identify with characters. It's a well-known trope of watching a show like The Bachelorette that you choose a side: You're either Team X or Team Y, meaning you've hitched your wagon to one contestant or the other.
In the NBA, like reality TV, you're also able to identify with one player or the other. Generally speaking, NFL players kind of operate as helmeted drones executing plays, unidentifiable from one drone to the next. Meanwhile, with the NBA I'm able to have a personal affection for ancillary 76er Furkan Korkmaz—"Who???" you ask, which is exactly my point—and we're able to spot every grimace or bad hair day sported by LeBron James in crisp HD. The players know this, which makes the whole thing even better. Their brands are everything, which sounds gross but also means they're actually trying to make themselves likable and noticeable. NBA players matter as people outside of the court—it shows in the massive endorsement deals, where numerous NBA stars make millions and only the top tier quarterbacks are able to do the same in the NFL. (A fading Dwight Howard, for instance, made more last year off endorsements than Antonio Brown, by Forbes' estimate.) And as personalities, NBA players are not afraid of expressing their individuality through interpersonal conflict, often of the petty variety.
As we previously noted here at Newsweek, the NBA feuds are both endless—Ben Simmons vs. Donovan Mitchell, LeBron vs. Enes Kanter, Embiid vs. Hassan Whiteside—and endlessly entertaining, a mixture of equal parts machismo, competitive anger and kayfabe. The old guard of the NBA complains about the young folks setting these beefs aside for summers in L.A. (the town the entire league seems to descend upon come season's end) as well as for friendly jokes and daps in the postgame. But the old guard is missing the point. That's precisely why the NBA is increasingly fun. Fans can get wrapped up in the drama of the basketball, then parse through who slighted whom in the postgame handshakes and whether they actually don't like each other or kind of respect one another. (Hello again, CT and Bananas.)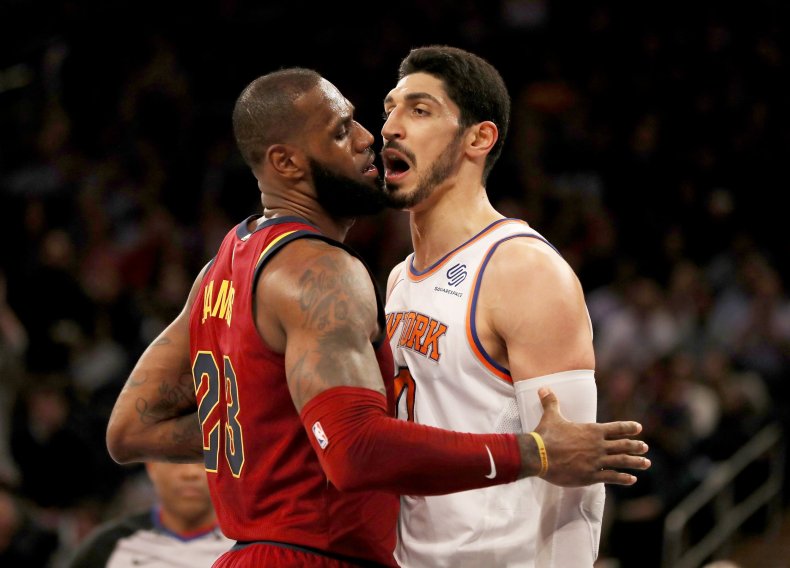 Like Embiid said: "We're not here to make friends." But, paraphrasing here, like the Jersey Shore cast always says: We might fight but we're family. The NBA players see they're part of this big tilt-a-whirl of fun and embrace it—so yes, Embiid can imply on Instagram that Whiteside is "extremely ass" but it's all within the confines of a Dramatic NBA Feud.
Fans, meanwhile, get to respond breathlessly with an avalanche of emoji eyeballs and exclamation points. It's dumb, sure, but it's key. How a sport exists in popular culture is largely defined by the way fans interact with it. A study last year showed no league across the globe, even in soccer-crazed parts of the world, inspires as much social engagement as the NBA. And NBA Twitter is a world unto itself almost entirely unexplainable, with in-jokes three layers deep and petty fights among subsections of fanbases. It's nearly indistinguishable from how Twitter goes gonzo for The Bachelor, a show that SB Nation's Charlotte Wilder has officially deemed Sports. Surely, the reverse can be true—that sports are Reality TV (and don't call me Shirley).
It's something Embiid understands more than anyone. That the NBA as it exists in 2018 is a cousin of reality TV, a spinoff where the contestants actually have talent. (Although one could argue what reality TV stars are able to do while nursing weekslong hangovers is talented.)
Embiid is good at basketball and so enjoyable to follow and so willing to provoke his rivals that he might just be the future of the league. At the very least, he sees the future coming. He's even admitted he knows all his jokes and prodding has him due for a transformation into an anti-hero of sorts that everyone loves to hate (hello again, Johnny Bananas). But it'll all be in good fun, part of the never-ending show that'll have something you never saw coming just after the break.
And besides, Embiid won't mind a heel turn. He's not here to make friends.