Joel Osteen Opens His Church to Jewish Congregation for High Holidays After Synagogue Flooded by Harvey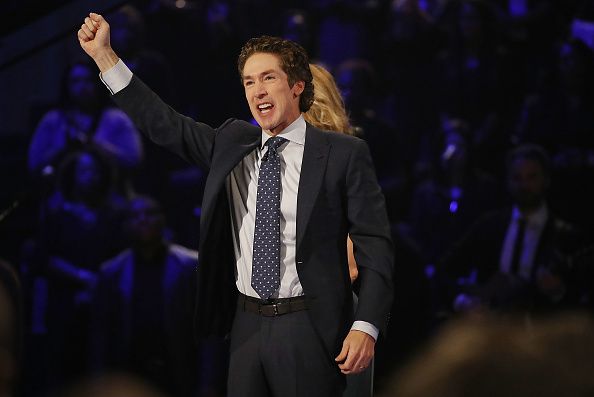 Joel Osteen came under fire during and after Hurricane Harvey hit the Houston area, where the televangelist lives and preaches. Critics lambasted the wealthy pastor when he didn't open the doors of his Lakewood Church—a 16,800-seat house of worship that was previously a sports stadium and concert venue—during the storm. The megachurch eventually opened as a shelter for those displaced by Harvey, but Osteen rankled detractors further when he told flood victims not to adopt a "poor old me" mentality.
In the aftermath, he seems to be continuing to try to repair his image by opening the doors of his church to a Jewish congregation whose synagogue was damaged by the storm just before the start of the High Holidays.
"During Hurricane Harvey, Houston's largest synagogue, Congregation Beth Yeshurun experienced devastating flooding," read an announcement on the Lakewood Church website. "This came at an especially bad time for Beth Yeshurun as the Jewish High Holy Days, (Rosh Hashana and Yom Kippur), are this week," it continued. "Beth Yeshurn's leadership reached out to us and pastors Joel & Victoria offered to help. We are honored to announce that we will be opening our doors to the Beth Yeshurun congregation so that they may celebrate their High Holy Days at our church."
Beth Yeshurun—a Conservative congregation of about 2,000 families that was expecting roughly 4,000 people to attend its High Holiday services—gathered at Lakewood on Wednesday, Thursday and Friday of this week for Rosh Hashana, the Jewish new year, and will return next Friday and Saturday (September 29 and 30), for Yom Kippur. These are two of the most important holidays in Judaism.
"This is the first time in our congregation's history, since we moved to this site in 1962, that we took on water. It wasn't just a room or a series of rooms. Every square inch of the temple flooded," David Rosen, senior rabbi of Beth Yeshurun, told Houston's KHOU-TV. "It's very hard to be out of our temple. There's a lot of emotion that is captured in this sanctuary. We've had people who for 50 years have been sitting in the same seats," he added. "I cannot thank Joel Osteen enough for his sensitivity and his encouragement. It's a reaffirmation of the beautiful spirit of collegiality and interfaith conversation we have here in Houston."
Beth Yeshurun posted an updated holiday schedule for services at Lakewood and published a letter from Rosen encouraging members of his congregation to attend despite the devastation the storm caused to many of their homes and the unfamiliar and perhaps less convenient location.
"Many of our homes are in a state of complete disrepair, our synagogue is only a shell of its former self and, whether we flooded or not, almost all of us feel anxious about what lies ahead," he wrote. "This may be the time when we need to know we belong to something bigger than ourselves, that we are not alone, that we are part of a beautiful community of family, neighbors and friends from whom we can draw strength and with whom we can face the future together."
He explained that congregants would not need tickets for any of the services and could bring guests, that there would be parking and buses on Rosh Hashana to take them from the synagogue to the church and that they should come dressed comfortably (in whatever they had that wasn't damaged by floods). He assured them that Beth Yeshurun, in partnership with Lakewood, was making security its top priority.
Their host, Osteen, spoke at a Rosh Hashana service on Thursday, echoing some of the same sentiments Rosen expressed in his letter. "This is what it's all about, being friends, being neighbors, being brothers and sisters," Osteen said. "It's interesting how God can take something negative and turn it around and somehow bring good out of it."