Joey Chestnut set a new record to win Nathan's Famous Hot Dog Eating Contest for the sixth consecutive year at the annual July 4 extravaganza on Sunday.
The defending champion wolfed down 76 wieners and buns in 10 minutes, one more than he had done last year, to win the event for the 14th time.
Geoffrey Esper was a distant second after eating 50 hot dogs and buns, while Nick Wehry claimed third place after wolfing 44 hot dogs and buns.
A 1-50 favorite to defend its title, Chestnut was 1-2 to eat more than 9.5 hot dogs in the first 60 seconds of the Nathan's Famous Hot Dog Eating Contest. He comfortably exceeded expectations, devouring 12 hot dogs in the first minute and polished 23 in the first two minutes of the competition alone.
"It just felt good," Chestnut, who resides in Westfield, Indiana, told ESPN after the event.
"Even if I was uncomfortable, having everybody cheer me and push me, it made me feel good."
After the coronavirus forced organizers to hold the event behind closed doors in 2020, fans were again allowed to watch the competition on Sunday as Nathan's Famous Hot Dog Eating Contest returned to its traditional home of Coney Island, New York.
However, instead of taking place outside Nathan's flagship store, it was held at Maimonides Park with approximately 5,000 fans in attendance.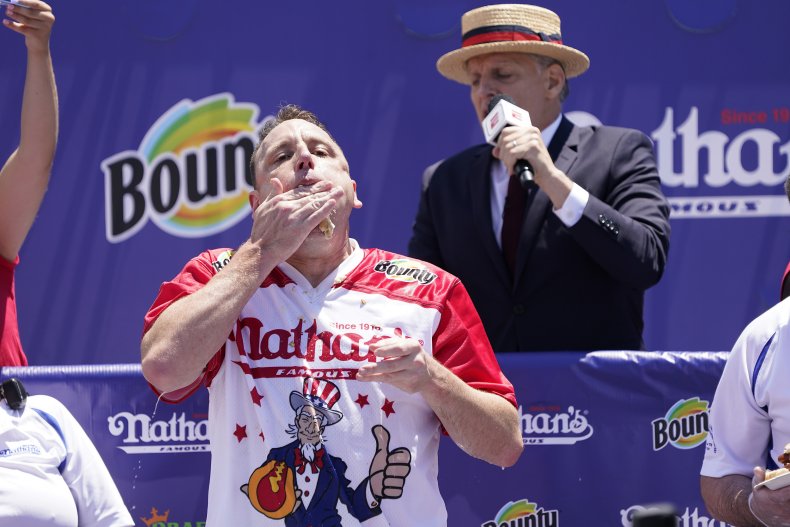 Speaking before the competition, Chestnut told ESPN he had missed the fans last year.
"I've been looking forward to this all year," he was quoted as saying.
The spectators witnessed the crowning of a new women's champion for the first time in eight years, as Michelle Lesco won the event for the first time after downing 30 3/4 hot dogs.
Lesco, of Tucson, Arizona, told ESPN winning the contest for the first time was "an amazing feeling".
The winning total was considerably short than the record Miki Sudo set last year, when she devoured 48.5 hot dogs in 10 minutes. Sudo did not defend the title she has won for the past seven years because she is expecting her first child with Wehry.
Sarah Rodriguez and Larell Marie Mele finished behind Lesco after polishing 24 hot dogs and buns and 18 3/4 hot dogs and buns respectively.
Meanwhile, Eric "Badlands" Booker won the inaugural drinking contest by chugging down one gallon of Nathan's lemonade in merely 37 seconds.
A native of Queen's, New York, Booker is not new to competitive eating exploits, having previously devoured 49 doughnuts in eight minutes, 50 mini-cheesecakes in six minutes and 8.5 ounces of raw onions in a minute.