Viral Video Shows Texas Man Racially Abusing Shop Employee... Then Police Arrive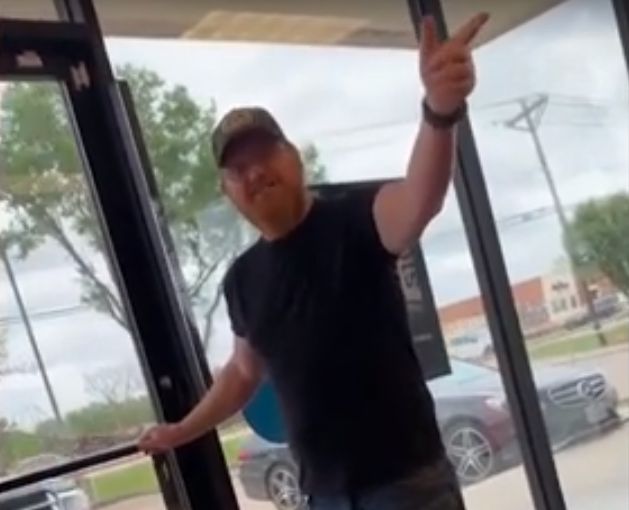 A Texas man who was captured on video racially abusing an AT&T store employee was arrested this week after police arrived on the scene with perfect timing.
Joey Derek Christian, 38, was charged with public intoxication and disorderly conduct following the incident, which occurred on Tuesday at around 6:40 p.m. The victim of the abuse, who goes by the name Mo on Twitter, later posted multiple videos of the altercation.
The footage was recorded by a female customer who was also in the store. The abuse was reportedly sparked because the man's acquaintance did not have the correct ID for a credit check. After Mo told him his full name, the man fumed: "F***ing Arab. Goddamn f***ing Arabs." Police records indicate Christian has a criminal history and is known to law enforcement.
"I really don't give a s*** about some goddamn Arab, I have been killing their f***ing kind of six months, actually, two years," Christian was heard saying to the woman making the recording, adding: "People like this are the reason our country is going what it is going to."
Speaking at the woman with the phone, he said: "I have been killing his kind for longer than you probably have been alive." He also claimed the worker "doesn't even belong here."
"I'm older than you, dude," the woman, 55, responded. "We were in line first, we were actually trying to get service, OK, and I called the police." The video ends as Christian walks from the store and into the arms of a deputy from the Friendswood Police Department.
In a statement, the department said officers noted the man had used abusive language toward an employee and appeared to be intoxicated. Both charges are Class C misdemeanors. KPRC-TV reported that the man paid $682 in financial penalties and will not have to appear at court.
A mugshot that was released—of Christian wearing t-shirt branded "I'm Sorry"—was from a driving under the influence arrest earlier this month, on April 8, law enforcement said.
It is yet to be determined if the man has ever served in the military. The video upload taken by the witness has now received more than 20,000 shares and 65,000 likes on Twitter.
Heavy reported, citing a now-deleted Facebook page and records from the Texas Department of Public Safety, Christian was sentenced to 10 years in prison and 10 years of probation back in 2001 after being convicted of aggravated robbery. Online, he reportedly said he worked for CMC Houston, a construction company, and allegedly shared "white pride" imagery in 2015.
But CMC Houston told Newsweek in a statement he was never an employee.
A spokesperson said: "This individual was never employed by our company. He did temporarily perform services at our site several months ago through a third party company.
"We do not tolerate or condone discrimination of any kind. We strive to cultivate a workplace and a corporate culture that is inclusive and respectful to everyone. Our community, customers and employees are extremely valuable to us and we regret any confusion this social media post may have caused with respect to our commitment to our core values."
The arrest linked to the AT&T store outburst was confirmed via records posted online by the Friendswood Police Department. The employee Mo told KTRK he was thankful for the video recording that helped to back up the events that day. "That lady was a blessing," he said. "She called the cops, she gave me the video, and without her, I think he would have got away free."
This article has been updated with additional comment.