A Republican primary candidate for Nevada's governor race has cried foul over the ballot he lost.
Joey Gilbert, a Reno attorney and former professional boxer, was defeated in the GOP gubernatorial primary race on Tuesday by Clark County Sheriff Joe Lombardo.
With 95 percent of the votes counted, Gilbert was defeated by Lombardo by 11 percentage points, 38.4 percent to 27.6 percent.
But Gilbert, who was endorsed by the state Republican Party, raised questions about the ballot. "Looks like @joeygilbertinc is already claiming voter fraud", tweeted Nevada Independent journalist Tabitha Mueller next to a screengrab of Gilbert's social media posts.
One of the posts thanked supporters and said that "we are being told it could be days not hours until there are official results." The post on the Gilbert for Governor Facebook page, which is not publicly available, also said that there had been "conflicting reports" that mail-in ballots "would not be counted for three days."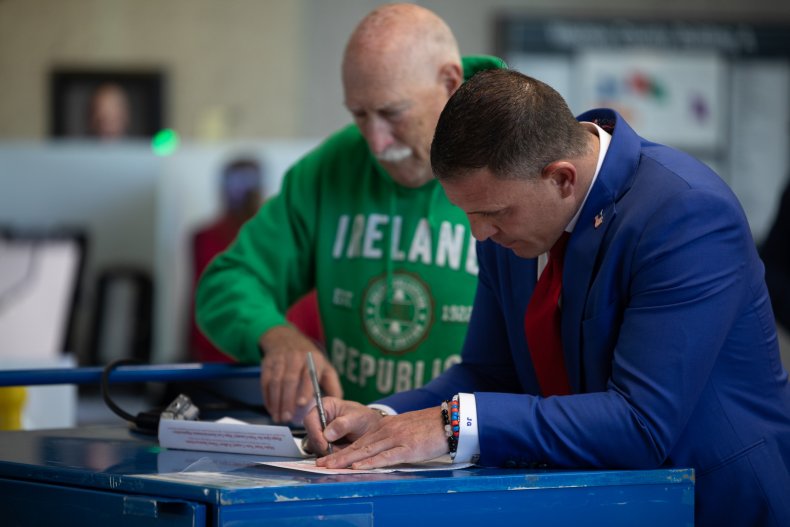 "I can only imagine why that is, —so 'they' know the vote totals from the early voting and the Election Day voting and then can use the 'mail-in ballots' ballots to make up the difference where needed."
In a screengrab of another post, Gilbert said he "will concede nothing" and insisted Lombardo had not won. "Maybe the establishment and swamp rats forgot who they're dealing with," Gilbert said.
Gilbert attended former Donald Trump's "Stop the Steal" rally in Washington, D.C., on Jan. 6, 2021, in which supporters of the former president called for the overturning of the election results. Gilbert has opposed COVID mandates and pledged to take control of public schools through a state of emergency were he to take up office.
"I smell a lawsuit because this stinks," he wrote, "we fix our elections, and we fix everything," he added, without specifying how. Newsweek has contacted the Nevada Republican Party for comment.
Lombardo's spokesperson, Elizabeth Ray, told Newsweek in a statement, "every legitimate news outlet has called this race for Sheriff Joe Lombardo, and it's clear that the people of Nevada have spoken."
Lombardo, who was endorsed by Trump, now advances to the general election on November 8 to face Governor Steve Sisolak, who has posted record-breaking fundraising totals, may be vulnerable because of unpopular shutdowns and mandates during the COVID pandemic.
He also may be hurt at the ballot box due to inflation and President Joe Biden's waning popularity.
Polling has shown Lombardo and Sisolak neck and neck in the state that Biden won two years ago by just 2.4 percentage points, while the Cook Political Report has rated Nevada's gubernatorial race a toss-up.
Update 06/16/22, 9 a.m. ET: This article has been updated with comment from Joe Lombardo's spokesperson.