Joey Heisman? LSU Quarterback Joe Burrow Trends Heavy After Monster SEC Title WIn Over Georgia
LSU quarterback Joe Burrow was the popular choice to win the 2019 Heisman Trophy heading into the SEC Championship game against Georgia on Saturday. Burrow might have put an exclamation point on the award, and Twitter took notice while the game was still being played.
Burrow was well on his way to leading No. 2 LSU to a conference championship win over the No. 4 Bulldogs when Twitter exploded to "hand him the Heisman" while LSU was up, 34-3, over a Georgia team that had one of the best defenses in all of college football.
Burrow finished the game, an eventual 37-10 win, with another eye-popping night on the stat sheet. He completed 28-of-38 passes for 349 yards and four touchdowns with no interceptions. He finishes the regular season, including the championship game, with more than 4,700 yards passing, 48 touchdowns and just six interceptions while completing 77.9 percent of his passes, which is a new NCAA Division I record.
At one point Saturday night, Burrow led the Tigers in rushing and completed a pass to himself. How? He threw a pass that was swatted back into the air and caught by Burrow, who took it for a first down. His 16-yard "pass to himself" made him the team's fifth-best receiver in the game.
He had a Heisman moment Saturday when he ducked a defender in the backfield, darted left and then back to his right, dodged that same defender and scrambled to his right before launching a pass to Justin Jefferson, who then raced inside the Georgia 10-yard line for a 70-yard pass.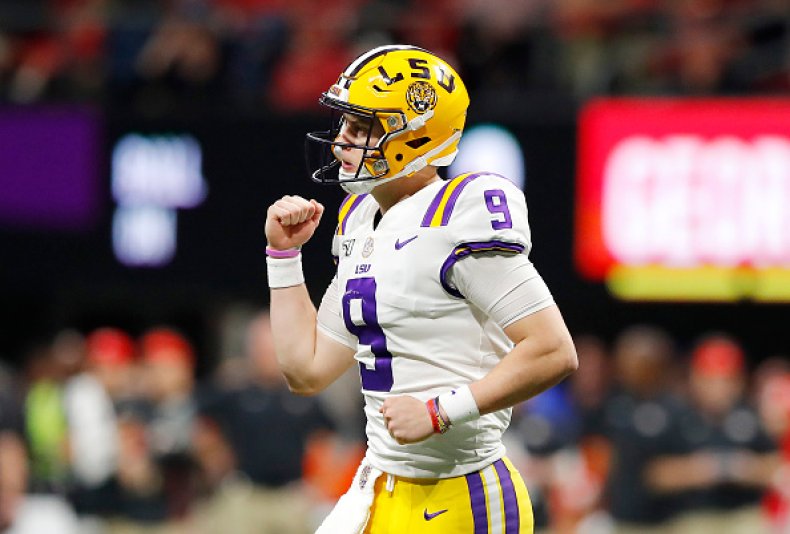 Twitter users cited stats and memorable moments to anoint Burrow—otherwise known as Burreaux to LSU fans—as the next Heisman Trophy winner and the first LSU Tiger to win the award since Billy Cannon in 1959.
Cole Cubelic of the SEC Network brought out Burrow's stats just three quarters of the way through the game.
"The most yards this Georgia defense gave up coming into this game was 343 vs Tennessee. ... LSU has 418 before the end of the 3rd quarter."
College football analyst and SEC Network host Paul Finebaum tweeted that he has already voted Burrow as the top choice on his Heisman ballot.
"Congratulations to LSU on winning the SEC title. Just voted for Joe Burrow for Heisman and Ed O should be National Coach of Year. Incredible season."
"After three quarters vs. a really good Georgia defense, #LSU QB Joe Burrow is: 27-37 passing, 347 yards, 4 TD. He also leads LSU in rushing yards," tweeted Shea Dixon, LSU beat writer for 247Sports.