Slipknot Lead Tributes to Joey Jordison, Following Drummer's Death at 46
Tributes are pouring in for musician Joey Jordison, who has passed away at the age of 46.
The former Slipknot drummer died peacefully in his sleep, his family has confirmed.
"Joey's death has left us with empty hearts and feelings of indescribable sorrow," reads a statement from Jordison's family, per Rolling Stone. "To those that knew Joey, understood his quick wit, his gentle personality, giant heart, and his love for all things family and music. The family of Joey have asked that friends, fans, and media understandably respect our need for privacy and peace at this incredibly difficult time."
A cause of death has not been shared at this time. Jordison revealed his battle with transverse myelitis several years ago.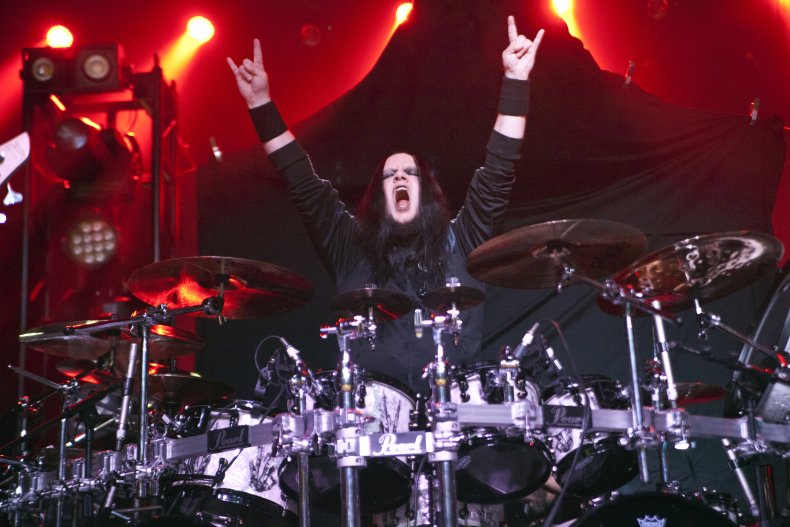 Jordison's former bandmates are leading the tributes on social media, where they shared a black square as a sign of mourning.
Band members Corey Taylor, Shawn 'Clown' Crahan and Jim Root also posted black squares in tribute on their personal profiles.
A number of high-profile figures and bands from across the world of metal have also posted tributes to the late sticksman.
"I am shocked and saddened to hear of the passing of Joey Jordison. An incredible musician and songwriter, gone way too soon. My deepest condolences to his family, friends, and all who he touched with his talent. RIP Joey," tweeted Dave Lombardo of Slayer fame.
While the band Trivium also posted a touching tribute to Jordison on social media.
"We are saddened by the news of the passing of our dear friend, Joey Jordison. From being able to share the stage with him numerous times throughout the years to Matt standing alongside him for the Roadrunner United album. He was always super gracious to all of us in Trivium," the band wrote.
Trivium lead vocalist and guitarist Matt Heafy spoke about how Jordison "changed the face of heavy music on the planet as we know it."
He added: "This was a true honor to stand alongside 3 people who helped form me as a musician—as a peer, for roadrunner United."
The band Anthrax sent love to Jordison's family, tweeting: "We are saddened by the news of the passing of our friend Joey Jordison. A great musician and person has left us. Sending our love to his family. R.I.P."
Meanwhile, Mike Portnoy of Dream Theater added: "Absolutely shocked & gutted to hear of the passing of Joey Jordison. In addition to being an incredible drummer, he was always a classy guy. When he heard how much of a Max Portnoy fan was, he sent to the house a giant box filled with swag: shirts, hoodies, backpacks..."
Ben Thatcher from the band Royal Blood posted: "Sad to hear the passing of Joey Jordison. His drumming in Slipknot inspired me as a teenager, as it did to many other drummers my age. I'd spend a lot of time jamming that first album in the school music room. RIP."