Joey Lawrence Gets Engaged After Appearing on 'The Celebrity Dating Game'
Actor Joey Lawrence is engaged after appearing on The Celebrity Dating Game but it seems the two events are unrelated.
Lawrence appeared on Monday night's show on ABC after recently separating from his wife of 15 years, while black-ish star Marcus Scribner also took his shot at love in the episode.
Once again Zooey Deschanel and Michael Bolton were on hand as hosts, helping the celebs grill the three contestants while Bolton's musical workings gave clues to the contestants as to the celebrity's identity.
After a full season of match-making, Monday night marked the season finale of The Celebrity Dating Game on ABC.
Who did Joey Lawrence pick on The Celebrity Dating Game?
At the time of shooting the show, Lawrence appeared to be single after filing for divorce in July 2020. He married Chandie Yawn-Nelson, his second wife in July 2005. He wed his first wife Michelle Vela in 2002 before divorcing three years later.
Seemingly unlucky in love, Lawrence had three mystery ladies to choose from on Monday's show. His choices were financial consultant Ashley Nichols, software company manager Alisha Wanninger and finance director Joti Puri.
Contestant number one, Nichols, quickly correctly guessed the celeb's identity saying he was "Joey from the TV show Blossom." Puri amused Lawrence with her celebrity hall pass answer, saying she'd choose Jack Black because he could make her laugh.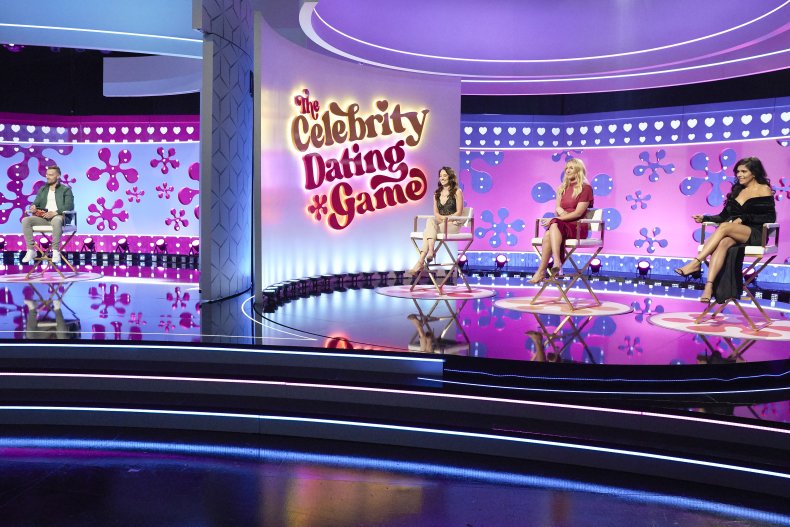 Lawrence ultimately chose financial consultant Nichols. He seemed impressed with her choice of vacation—a ski trip, and he said he like the fact that she doesn't get angry.
Despite picking a partner on The Celebrity Dating Game, Lawrence recently revealed he's become engaged to actress Samantha Cope, whom he met on the set of the Lifetime movie A Deadly Deed.
In an interview with Page Six, Lawrence casually referred to Cope as his fiancée, confirming that he'd put a ring on it. He said: "I just met the most amazing person ever. Like your best friend and that person you really do share pretty much everything in common with."
Who did Marcus Scribner pick on The Celebrity Dating Game?
21-year-old Scribner also had three beautiful women to choose from on The Celebrity Dating Game but their identities were hidden from him behind a screen.
Scribner had a choice between Kiana Clemente, Aspen Brito and Alexis Armstrong.
Bolton has been serenading the contestants during this series, changing the lyrics of famous songs to give them clues about the real identity of the famous singleton. On Monday, Bolton sang one of his own songs "Time, Love and Tenderness" but instead sang "Nothing cures a broken heart like this actor from black-ish."
After quizzing the women, Scribner eventually chose bachelorette number three Armstrong, a model who likes video games and anime. He seemed impressed with the fact that she'd hook up (kissing) on the first date, and if he were an iceberg, she'd make him melt by staring into his eyes.
Episode 8 marks the end of this season of The Celebrity Dating Game. There is currently no confirmation as to whether there will be a second season.