Who Is John Allen Newman, Omarosa Manigault's Husband?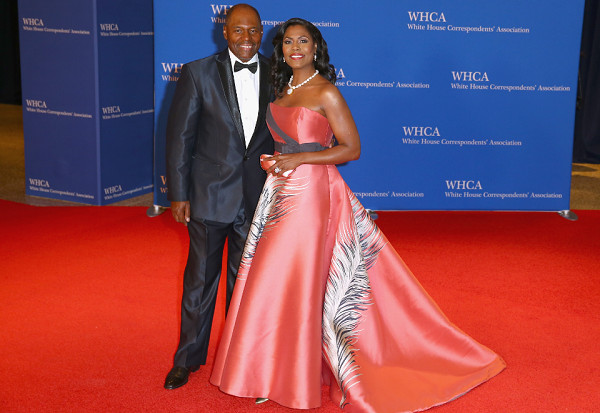 Omarosa Manigault Newman seems to have lost all support from her former White House peers (and every other community in America) thanks to her soon-coming President Donald Trump tell-all, Unhinged: An Insider's Account of the Trump White House. Along with poor reviews, some of Manigault Newman's former political associates claimed some excerpts of the book are fabricated and even Trump commented on Manigault Newman's latest round of media debauchery, calling her "wacky and deranged."
There is likely one person still in Manigault Newman's corner, though. Her new husband, Pastor John Allen Newman, with whom she tied the knot in April.
The couple actually wed at the former real estate mogul's Trump International Hotel in Washington D.C. Manigault Newman shared a photo from her wedding in a Twitter post with the caption, "Just Married!"
Manigault Newman hosted a bridal party at the White House a few days before her wedding, which was attended by some of her former colleagues including presidential advisor Kellyanne Conway.
Newman is the head pastor of The Sanctuary @ Mt. Calvary in Jacksonville, Florida. He proposed to Manigault Newman in front of his congregation back in 2016 after dating less than a year. The duo met while Manigault Newman was teaching at Howard University.
Like his wife, who was also the assistant pastor at Weller Street Baptist Church in Los Angeles, Newman is also politically active and has experience working with White House administrations. He worked on the Jesse Jackson presidential campaign from 1984 to 1988, according to his church's website, and he also aided in President Barack Obama's 2008 campaign. Newman also provided spiritual guidance and help to Alvin Brown, the first African American mayor of Jacksonville, during his 2011 mayoral bid.
Newman is Manigault Newman's second husband following her 2005 divorce from Aaron Stallworth. Before marrying Newman, the entrepreneur dated and was engaged to actor Michael Clarke Duncan, who died from a heart attack in 2012.