Georgia Secretary of State Candidate Debates Alone After Republican Claims 'Scheduling Conflict'
A Georgia Democratic candidate for secretary of state attended a debate by himself Tuesday after his Republican opponent, who was recently touted by President Donald Trump, did not show up due to an alleged "scheduling conflict."
Former U.S. congressman and current Georgia secretary of state candidate John Barrow appeared at a televised debate Tuesday morning hosted by the Atlanta Press Club. But his GOP opponent, Brad Raffensperger, failed to show up at the event scheduled since November 9. Barrow ridiculed the absent Republican on several issues including claims of voter fraud and also said Raffensperger did not come to the event because of how poorly he performed in the candidates' previous debate.
"The last time we had this debate I think I beat my opponent up pretty big," Barrow said during the televised Tuesday program, appearing to make excuses for Raffensperger's failure to appear. "He claims I'm opposed to maintaining voting rolls. He's taken a difference about how best to do it and turned it into a phony claim that I'm opposed to doing it. It's dishonest as hell and if he were here I'd say it to his face."
President Donald Trump weighed in on the upcoming December 4 general runoff election, tweeting Monday, "Brad Raffensperger will be a fantastic Secretary of State for Georgia - will work closely with @BrianKempGA. It is really important that you get out and vote for Brad - early voting starts today, election is on December 4th. @VoteBradRaff is tough on Crime and Borders, Loves our Military and Vets. He will be great for jobs!"
The Atlanta Press Club issued a statement Tuesday rejecting the Raffensperger campaign's claim they were not given adequate time to respond to the debate invitation.
The media group said their debate series seeks to have "100 percent participation" from candidates and if a candidate does not appear they will simply be represented by "an empty podium." The group said they still held the debate to ensure "we don't penalize the candidate who has agreed to participate in our debate."
"APC reached out to both campaigns on November 9 inviting the candidates to participate in a Secretary of State runoff debate on November 27 at 11:30 a.m. After repeated attempts to reach the Raffensperger campaign with no response, we contacted Brad Raffensperger directly on November 19 who provided another campaign contact. We were told on November 19 that November 27 was not an ideal date for Mr. Raffensperger's schedule, but the campaign did not decline his participation in the debate until November 25 [Sunday]," read the statement.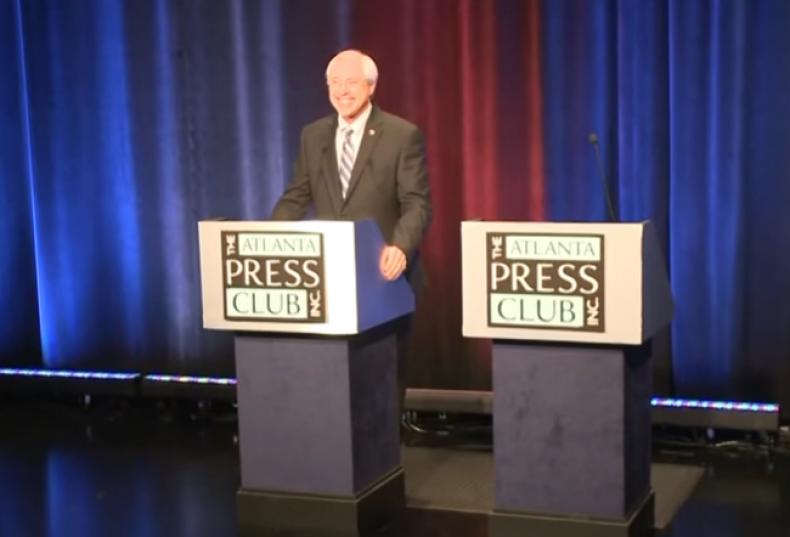 The Atlanta Press Club statement continued, "Because the APC hosts several debates in one day, and due to limited studio availability with broadcast partner Georgia Public Broadcasting, we are not able to negotiate dates with the campaigns...the Raffensperger campaign did not provide any options."
In the November 6 general election, Raffensperger amassed 1,901,463 votes to Barrow's 1,877,742, a difference of less than one percentage point.