John Bel Edwards Asks Louisiana Residents to Join Him in Fast to Honor Health Care Workers
Louisiana Governor John Bel Edwards, a devout Catholic, asked other Louisiana residents to join him in a three-day lunch fast in honor of the state's health care workers and those sick with COVID-19.
"I will be praying that our sick may fight this illness, that the medical professionals caring for them can remain strong and safe, that our children, teachers and school support staff can safely begin the school year and that our people will do everything they can to help us slow the spread of this terrible virus," the governor said in a statement.
According to the U.S. Centers for Disease Control and Prevention (CDC), Louisiana has the highest per capita rate of new COVID-19 cases over the last week in the country, with 693 new cases per 100,000 people.
For more reporting from the Associated Press, see below.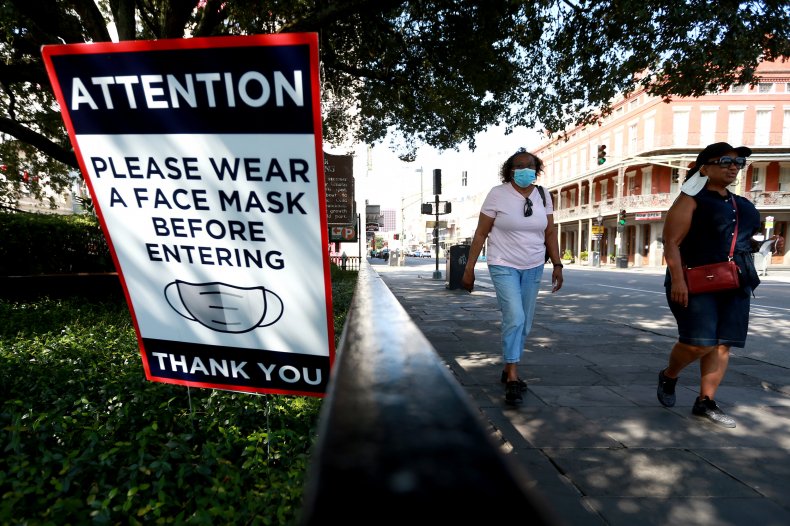 Hospitalizations for COVID-19 have hit a record high again in Louisiana, with the state health department reporting 2,720 hospitalizations on Monday.
That's 299 more hospitalizations than were reported in Friday's figures.
The state hit a record number of coronavirus pandemic hospitalizations Tuesday, and the number has grown each day.
Monday's report from the state health department says there have been 16,541 new cases reported since Friday and 50 more deaths. A spokesperson for the governor's office said the new infection figures include 3,106 children under age 18 since Friday.
The highly contagious Delta variant of COVID-19 is being blamed for the spread.
Rising case numbers have prompted the cancellation of this weekend's annual Red Dress Run charity fundraiser in New Orleans.
According to the state health department, nearly 45 percent of Louisiana residents have had their first shot of vaccine and nearly 38 percent are fully vaccinated.
The New Orleans Jazz & Heritage Festival won't be returning this year.
The festival is traditionally held in the spring but it had been scheduled to run Oct. 8-10 and Oct. 15-17 after being canceled last year because of the coronavirus pandemic.
But organizers on Sunday cited "current exponential growth" of new cases in the city and region in announcing that the festival will not occur as planned.
They say next year's dates are April 29-May 8.
Jazz Fest celebrates the indigenous music and culture of New Orleans and Louisiana. The music encompasses nearly every style imaginable: blues, R&B, gospel, Cajun, Zydeco, Afro-Caribbean, folk, Latin, rock, rap, contemporary and traditional jazz, country, bluegrass and everything in between.
Mississippi official raises hospital concerns
Mississippi's top public health official said Monday that as COVID-19 cases continue to surge with the highly contagious Delta variant, no intensive care beds were available in 35 of the state's top-level hospitals.
Dr. Thomas Dobbs also said that more than 200 people were waiting in hospital emergency rooms to be admitted. The wait times affect not only people with COVID-19 but also those with other health conditions.
The state Health Department said Monday that more than 6,900 new cases of COVID-19 were confirmed in Mississippi from Friday through Sunday.
"Keep in mind - this will translate into around 500 new hospitalizations in coming days," Dobbs wrote on Twitter.
He said the intensive care units were full in Level 1, 2 and 3 hospitals in the state's acute care systems. Those include the University of Mississippi Medical Center in Jackson; North Mississippi Medical Center in Tupelo; Forrest General Hospital in Hattiesburg; Memorial Hospital in Gulfport and Singing River Health System in Pascagoula.
Lee Bond, chief executive officer of Singing River Health System, in a statement Thursday said Mississippi is experiencing a "hellacious wave" of COVID-19 cases that are stretching hospitals' resources and causing extreme stress for health care workers.
North Carolina reinstitutes mask mandate in one of most vaccinated areas
One of North Carolina's most vaccinated areas is instituting a mask mandate for indoor public places, regardless of one's vaccination status.
Durham's city and county-wide emergency order, which takes effect at 5 p.m. Monday, is an effort to combat the rapid spread of the highly contagious COVID-19 Delta variant.
Durham Mayor Steve Schewel on Monday said it's time to go "back to the basics" to combat what he views as a "pandemic of the unvaccinated." He called face masks "a common-sense, non-economically damaging way of limiting transmission."
Schewel said Durham typically enforces such orders "with a light touch" by having the city attorney write a letter notifying a business or person of their noncompliance before sending a police officer and sheriff's deputy to further address the situation.
"We do have the power to cite someone, but we've had to do very little of that," Schewel said.
Those who are under 5, who are actively eating or drinking or who have medical or behavioral conditions do not need to wear masks in Durham County while in "any indoor public place, business or establishment."
The order has no expiration date, but Schewel said the city and county will reevaluate the order every week or two.
City and county leaders issued a new state of emergency that takes effect at 5 p.m. Monday in the county of more than 300,000 people northwest of Raleigh.
Governor Roy Cooper's statewide mask mandate ended July 30, but local governments and school systems can still enact restrictions.
State health data shows there were 4,500 new cases reported in North Carolina on Friday. More than 1,700 people with COVID-19 were hospitalized statewide as of Thursday, more than double the number from two weeks earlier.
The Durham city and county mask mandate provides exceptions, including for small children and people who shouldn't wear one due to a medical condition.