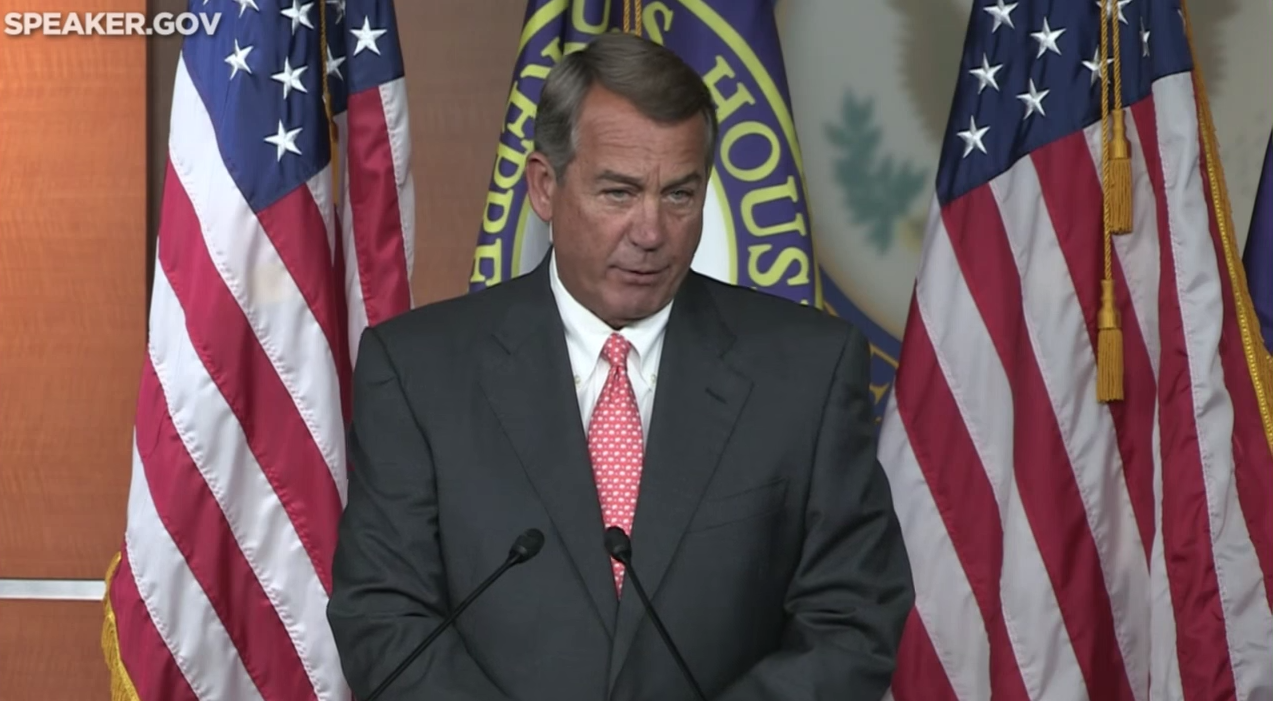 John Boehner will leave Congress at the end of October, he said in a statement. At a press conference to discuss House business, Boehner briefly read a statement to reporters and thanked his staff and team, saying that he was proud of his accomplishments as Speaker.
Boehner said that the Pope had not influenced his decision, but remarked on his emotion during the papal visit: "When the Pope and I were getting ready to exit the building, we were left alone. The Pope grabbed my arm and said some very kind words about my commitment and his." The Speaker wiped tears from his face recalling the exchange.
Republican Speaker of the House John Boehner will resign from Congress at the end of October, aides from his office told The New York Times on Friday.
Marco Rubio, speaking at the Value Voters Summit, announced the news to a standing ovation.
There will be a fight to replace Boehner, but Representative Paul Ryan, Mitt Romney's Vice Presidential running mate, apparently took himself out of the running, telling the Washington Post that Majority Leader Kevin McCarthy of California will be Boehner's successor.
Boehner released the following statement just before noon:
My mission every day is to fight for a smaller, less costly, and more accountable government. Over the last five years, our majority has advanced conservative reforms that will help our children and their children. I am proud of what we have accomplished.

The first job of any Speaker is to protect this institution that we all love. It was my plan to only serve as Speaker until the end of last year, but I stayed on to provide continuity to the Republican Conference and the House. It is my view, however, that prolonged leadership turmoil would do irreparable damage to the institution. To that end, I will resign the Speakership and my seat in Congress on October 30.

Today my heart is full with gratitude for my family, my colleagues, and the people of Ohio's Eighth District. God bless this great country that has given me, the son of a bar owner from Cincinnati, the chance to serve.
Pelosi, giving a weekly briefing to reporters, was critical of House Republicans, saying that the party has been "hijacked" by "an extreme element" threatening to shut down the government over Planned Parenthood and pressuring the Speaker out of his office. She said that the GOP has become "a political party at war with its own government."
A few of Boehner's colleagues reacted sympathetically. Retiring Rep. John Kline visibly told a reporter, "This institution will suffer. The Speaker absolutely deserved better." Representative Lynn Westmoreland said that the speaker "sacrificed himself" and did his best.
Majority Whip Steve Scalise told reporters, "the honor of john boehner this morning stands in sharp contrast to the idiocy" of those "who want to divide us."
Presidential candidate Jeb Bush, a friend of Boehner's Tweeted: "John Boehner dedicated his life to public service. Bringing the Holy Father to Congress was a fitting cap to a great career."
Obama, answering a question during a joint press conference with Chinese Prseident Xi Jinping, said that John Boehner "understands that in governance you don't always get one hundred percent of what you want."
"John recognized that...we can have disagreement on issues, but you don't shut the government...you don't invite potential financial crises," Obama said.
Boehner's decision comes amid mounting pressure from the right wing of his conference over a plan to cut government funding to Planned Parenthood in a spending bill. Failure by the House and Senate to agree on a spending bill could result in a government shutdown next week.
This is a developing story and will be updated as more information becomes available.