John Boehner Resigns, but Now What?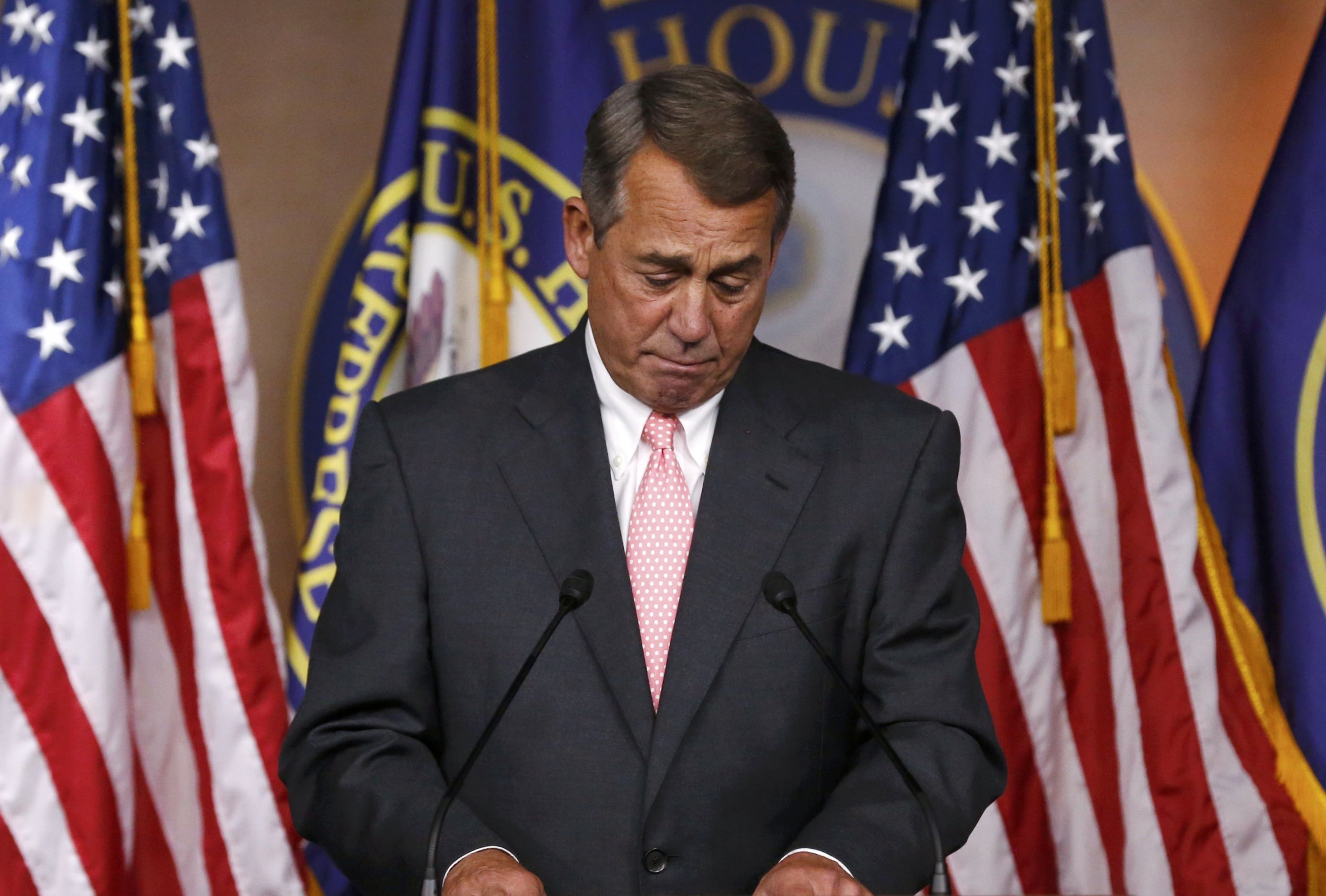 House Speaker John Boehner's shocking announcement that he's resigning from Congress at the end of October was intended, he said Friday, to end the turmoil in his party and in the House. But at least in the short term, the move is only heightening GOP divisions between conservatives, some of whom want to use shutting down the government to achieve their goals.
As news Boehner's move reverberated throughout Washington on Friday, House Republicans couldn't even agree on how or why the speaker was stepping down. Boehner told his colleagues of his decision in a morning meeting where members were shocked. Later, Boehner, held an emotional press conference. "My goal was to leave at the end of this year," he told reporters saying that November 17, his birthday, was his target date for an announcement. "But it has become clear to me that this prolonged leadership turmoil would do irreparable harm to the institution."
Boehner brushed aside speculation Pope Francis address to Congress prompted his decision. But the devout Catholic speaker he did say the pontiff's call to "live by the golden rule," got him thinking about whether it was time. He decided to sleep on it. Friday morning, "I woke up, said my prayers...and I decided today's the day I'm going to do this."
Boehner allies believe he could have survived an ouster attempt. "He had the votes to stay if he wanted to stay," Representative Steve Stivers, a fellow Ohioan, told reporters following Boehner's announcement. "I don't think there was a straw that broke the camel's back, I think that yesterday was the culmination of his career," Stivers said, a reference to Pope Francis's address to Congress. "He gets a chance to really go out on a high note."
But members of the House Freedom Caucus, a group of ultra-conservative Republicans who came to Congress as part of the Tea Party wave, asserted Boehner realized his days were numbered.
"I think he read the writing on the wall," said Kansas Congressman Tim Huelskamp. "If there was a vote for vacating the chair, he would not have survived," Huelskamp asserted, referring to a parliamentary maneuver to oust the speaker.
Huelskamp and other members of the caucus have been threatening to topple Boehner if he does not help them pass a government funding bill that would defund Planned Parenthood, the women's health organization that receives federal money to provide reproductive health screenings and other care to low-income women. Conservatives object because it also conducts abortions, though not with federal funding. Government funding runs out on September 30. Including the Planned Parenthood measure would all but assure a government shutdown, since President Obama has said he would veto it.
It's just the latest in a series of feuds Boehner has had with the Tea Party wing of the party, which feels the speaker too often has caved to the president on issues like raising the debt ceiling, immigration and government spending.
"The president's been running circles around John Boehner for five years," Huelskamp lamented.
Allies, however, say it's simply the reality of divided government. Boehner, said Ohio Republican Representative Pat Tiberi, has been straightforward that "we don't have the votes to override a veto." To some, "it's capitulation," Tiberi said. "But in reality, it's about governing."
Republican members said Friday they expect a number of their colleagues to throw their hat in the ring for the speaker job. But California Congressman Kevin McCarthy, Boehner's number two, starts out as the clear favorite. McCarthy, currently the House majority leader, didn't tip his hand in a statement he issued Friday, opting instead to praise Boehner. "J ohn has been a leader, mentor, and most of all friend throughout, and I learned not only from his experience but also from his unshakeable faith and principles," McCarthy said. "Now is the time for our conference to focus on healing and unifying to face the challenges ahead and always do what is best for the American people."
Asked about McCarthy in his press conference, Boehner said it was up to Republican members. "Having said that, I think Kevin McCarthy would make an excellent speaker."
"I know that Mr. McCarthy is probably going to be interested but no one is running officialy," said Representative Mick Mulvaney of South Carolina, another Freedom Caucus member. Huelskamp said the caucus, which consists of roughly 40 members (its membership is not public), planned to come together to back one person for speaker. "If you want to be speaker of the House you've got to sit down with the House Freedom Caucus," he told reporters.
The more immediate question is how Boehner's announcement affects the likelihood of a government shutdown next week, as well as the rest of the House agenda over the next month. An unencumbered Boehner, no longer worried about his job security, may feel free to pursue personal priorities, like keeping the government up and running and reauthorizing the Export-Import Bank, which provides export financing from the federal government, something Tea Party acolytes have labeled "crony capitalism."
"I think you'll see him do a few things in October," predicted Stivers. "I mean a highway bill, I mean Ex-Im, I mean a debt ceiling [increase], I mean obviously keeping the government open."
"I'm going to be here for another five weeks and not going to sit around here and do nothing for the next 30 days," Boehner said Friday at his press conference. But he denied that his impending retirement was going to change his calculations. "I'm going to make the same decisions I would have regardless of this."
Meanwhile, Democrats used the occasion to chide Republicans. House Speaker Nancy Pelosi said: "The resignation of the Speaker is a stark indication of the disarray of the House Republicans. It is a demonstration of their obsession with shutting down government at the expense of women's health." President Obama hailed Boehner as "a patriot" while acknowledging that the two stood at opposite ends of the political spectrum. In a thinly veiled shot at those who thought Boehner too compromising, Obama reminded listeners that in politics "He understands that in governance you don't get 100 percent what you want all the time."
John Boehner Resigns, but Now What? | U.S.