John Boehner Couldn't Fix a House Divided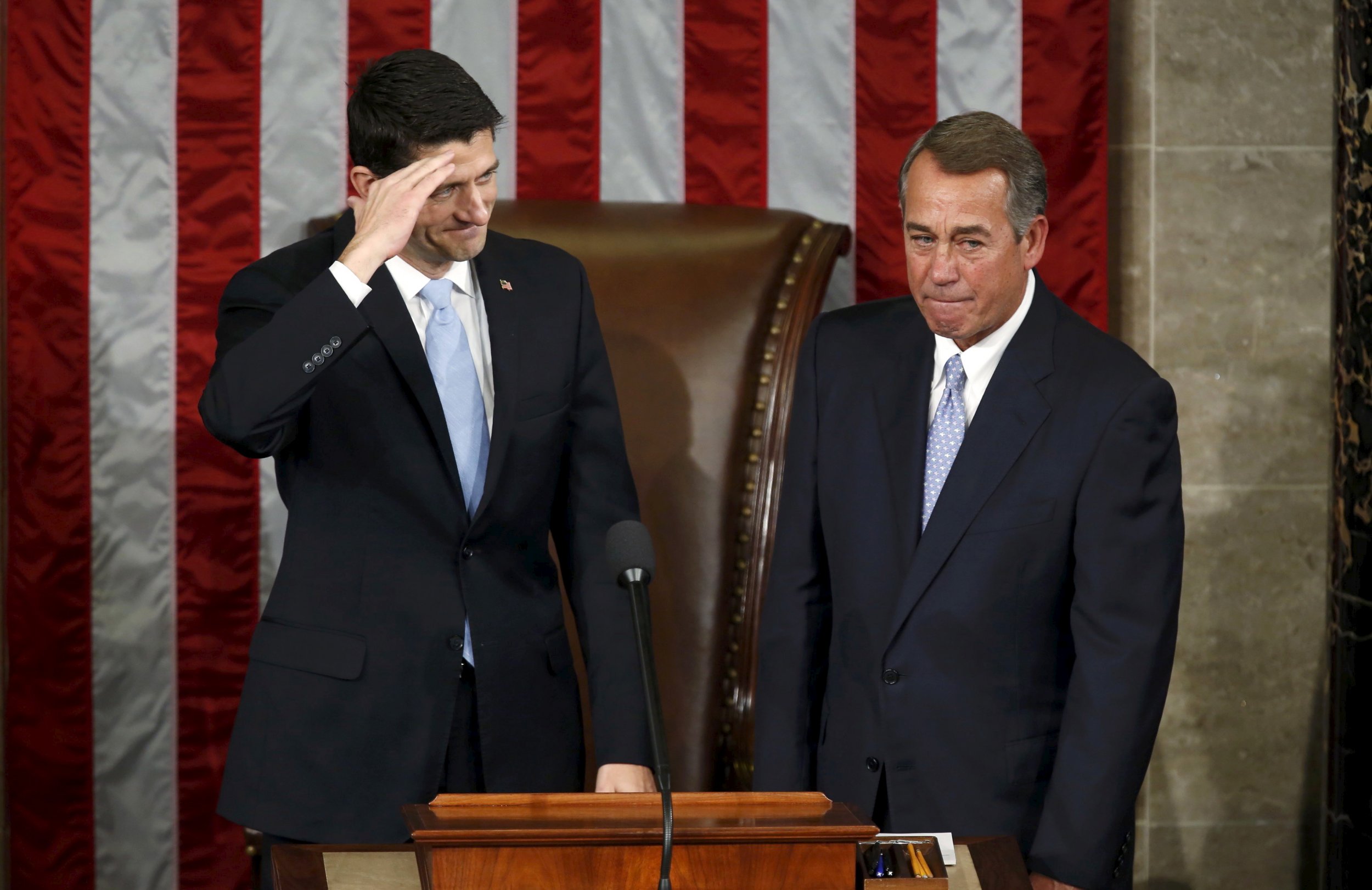 John Boehner received a warm send-off as he wrapped up five years as speaker of the House this week. There were several lengthy standing ovations from his peers as he said farewell to Republicans in private meetings and to the entire chamber. There were a new set of golf clubs and a golf cart (replete with personalized license plate) given to him by his House Republican colleagues, and enough flowery tributes to make a grown man cry—which in Boehner's case isn't too difficult.
"We have a lot to celebrate because of his leadership of the House," Republican Congresswoman Cathy McMorris Rodgers told reporters at Boehner's final press conference on Tuesday. "It's quite an impressive record."
"Very few people in their career can say they have fought for two majorities, and John has," noted House Majority Leader Kevin McCarthy, who had his own visions of succeeding Boehner, only to be blocked by conservative renegades in his party.
Even Democrats were getting sentimental. "His legacy as far as I'm concerned is one of absolute honesty," Senate Minority Leader Harry Reid told the press on Wednesday. "He always told me what he was going to do, most of which I didn't like, but he never, ever misled me." Reid told The Huffington Post about a cursing match between him and Boehner that made the Nevadan appreciate Boehner even more.
History, however, may not be nearly so kind to Boehner, a onetime small businessman from southwest Ohio, who reiterated in his farewell speech Thursday that he's still "just a regular guy, humbled by the chance to do a big job."
Boehner's tenure as speaker was one of the most tumultuous periods in modern congressional history, led by a Republican Party bent, it often seemed, on self-destruction. The Tea Party wave of 2010 brought in the largest GOP House majority since 1928, but one that proved—for Boehner, at least—to be almost ungovernable. The newcomers came to Washington loaded for bear and willing to engage in unprecedented levels of brinkmanship, holding the fiscal process and government credit hostage in their bid to rein in spending and kill programs they disliked. "It seems pretty inevitable that his speakership is going to be remembered for these tactics—which weren't necessarily his first choice or that he even sometimes actively opposed—in terms of going to the wall on spending bills," says Brookings Institution Governing Fellow Philip A. Wallach.
Looking back, it's easy to lose count of just how many dangerous fiscal deadlines of one sort or another the government flirted with (or missed entirely) after Democrats passed control of the House chamber to Republicans in January 2011. Since then, Congress has not passed a single spending bill on time, an unprecedented string of failures for what is its most basic function: keeping the government funded.
In November 2011, congressional negotiators failed to reach a deal on self-imposed spending cuts known as sequestration—intended to be so draconian that they would force an agreement. But the negotiators misjudged just how dysfunctional Congress had become. A little over a year later, Congress had to work through New Year's Eve and New Year's Day 2013 to avert the "fiscal cliff"—a collision of tax increases, benefit sunsets and sequester spending cuts that could have had a catastrophic effect on the recovering economy. Later that same year, House Republicans' efforts to tie government funding to defunding Obamacare led to a two-week government shutdown, the first since 1995.
In between, Congress has faced intermittent deadlines to raise the country's debt limit so it could continue to borrow money. Had they failed, it would have destroyed the full faith and credit of the United States after almost 240 years of meeting payments, sending markets into a panic in the process.
None of these standoffs was driven by Boehner and his leadership team. In fact, conservatives have complained all along that the Boehner-led House was not confrontational enough. "There was never an attempt by Boehner to take a principled stand against the Democrats and the White House," says Andy Roth, head of government relations at the Club for Growth, an advocacy group that pushes for smaller government and lower spending. "He was always in the dealmaking mode, and when you're in the dealmaking mode with the kind of president we have now, you're always going to produce very bad deals."
Boehner's allies point out that, under his leadership, the House has enacted important reforms and government spending has dropped significantly. "He leaves us with a series of pretty impressive victories in divided government that go all the way back to the beginning of his tenure, everything from a massive reduction in budget to saving the Bush tax cuts to real entitlement reform to the end of earmarks," veteran Oklahoma Congressman Tom Cole told Newsweek this week. "That's pretty impressive." If you compare funding levels in 2010, before the Republicans took over the House, with the latest top-line spending numbers in the new budget deal, there is something to that. According to the Congressional Research Service, spending for fiscal year 2010 totaled $1.09 trillion. Under the budget agreement that just passed the House and Senate, it will be $1.07 trillion in fiscal year 2016—i.e., a drop of $20 billion.
But it hasn't been enough for conservatives. They're unhappy with the way the Republican majority in Congress has gone along with Democrats in peeling back the sequestration spending caps. "They were bragging in 2011 that they got all of these, I think it was $2.1 trillion in spending cuts, and five short years later they've unwound a lot of them," says the Club for Growth's Roth.
Even Brookings's Wallach says that, for all the drama, Washington hasn't moved the needle very much in either direction. "I'm sure that Boehner can claim some kind of minor victory in terms of bending down the fiscal trajectory from where it could have gone," he says. But given Republicans' majorities in the House and Senate, it "seems like that...victory was about as modest as you could imagine." Fundamentally, Boehner was never able—or, critics argue, not willing—to bring the chamber's conservative renegades into the fold, creating some sort of constructive party process that could balance the tensions between ideological purity and getting things done with a Democrat in the White House.
Of course there was a moment, in the summer of 2011, when things looked like they were headed in a different direction. Boehner's staff entered into intense, secret negotiations with the White House over a "grand bargain" to overhaul the tax code and entitlement spending and truly remake government's entire fiscal framework—not to mention the relationship between the president and House Republicans. But those talks collapsed amid recriminations. Each side blamed the other for walking away from a nascent deal, though some doubt whether it would have really been possible to cement anyway. "I think there's a pretty strong case to be made that that effort was doomed from the outset," says Wallach, pointing to the new wave of House Republicans who'd come in with the mind-set that compromise is a dirty word.
In terms of Boehner's legacy, the real question now is how his departure—and his success in inking one last spending deal on his way out the door—will shape the legislative process in the House going forward. "I've got to give John Boehner a lot of credit. I think he knew exactly the right moment to leave," Cole said. "He's doing exactly what he said, and as only John Boehner would say it, he's 'cleaning out the barn.' He's giving Paul Ryan about as good a position to start from as he possibly could."
Wallach agrees that, by clearing the decks, Boehner has given Ryan an opportunity "to chart a new path or try to move beyond the recriminations within the party of the last couple years."
"Having said that...it's not really clear whether the winds have shifted or whether [Ryan's] just likely to get caught up in the same sort of crossfire," says Wallach. In other words, it may not be Boehner's fault. It's possible that no speaker can repair the House.