Why Is John Bolton's Book 'The Room Where It Happened' Delayed From Hitting Shelves—Again?
The release date of former National Security Advisor John Bolton's book The Room Where It Happened: A White House Memoir has been delayed once again.
The Room Where It Happened was originally set to be released on March 17, but the release date was pushed to May 12, according to CNN. The release date was originally delayed due to the government review of the book to ensure that there was no classified information in the book.
The release date has since moved from May 12 to June 23 according to Amazon and Simon and Schuster's website. According to WISH TV, the book is now listed as having more pages. The book was originally listed at 528 pages and now has 576 pages.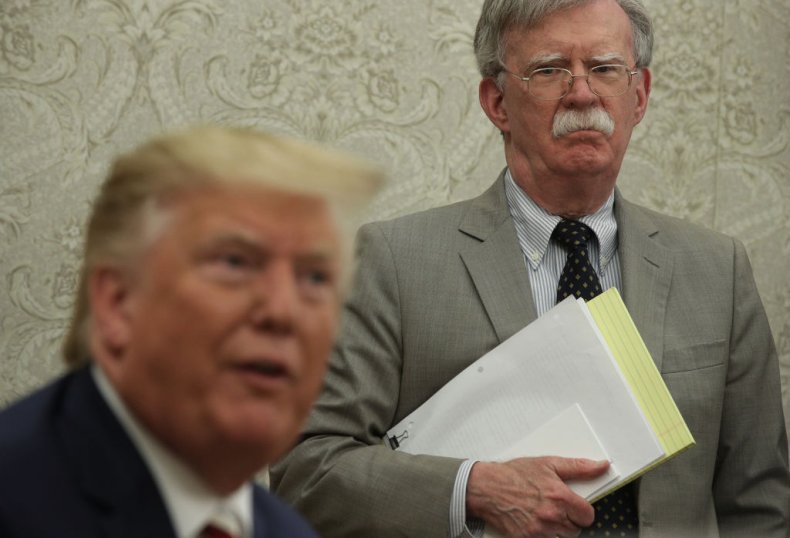 While the reason for the move to a June release date is unclear, Bolton's lawyers and the National Security Council's lawyers have exchanged numerous letters about what can and cannot be printed in Bolton's book due to classified information, according to Politico.
Bolton's lawyers have said that the former national security advisor has been diligent in what he plans to to publish. "Ambassador Bolton has carefully sought to avoid any discussion in the manuscript of sensitive compartmented information ('SCI') or other classified information, and we accordingly do not believe that prepublication review is required," Bolton's lawyer Chuck Cooper wrote to the NSC in a December letter.
Still, National Security Council officials have written to Cooper that Bolton must delete classified information in the book. "Under federal law and the nondisclosure agreements your client signed as a condition for gaining access to classified information, the manuscript may not be published or otherwise disclosed without the deletion of this classified information," Ellen Knight from the National Security Council Records Management Division responded to Cooper.
Bolton's book was a major focus in President Donald Trump's impeachment trial. In the book, Bolton reportedly detailed that Trump withheld aid to the Ukraine for investigations into former Vice President Joe Biden and his son Hunter in order to help his re-election campaign, first reported by The New York Times. The claim supported Democrats' argument that the president abused his power and obstructed Congress' investigation.
During the impeachment trial, the debate about whether or not Bolton would testify was a key point during the trial. A vote about whether witnesses would be allowed in the trial failed.
According to WISH TV, the pre-sales for the book hit the Amazon top 20 bestsellers during the impeachment trial, but ranked #11,971on Wednesday.