Putin Doesn't See Trump as a 'Serious Adversary' Says Bolton
Vladimir Putin had the advantage over Donald Trump in standing up for Russia's interests against the U.S. and is able to play the U.S. president "like a fiddle," according to former national security adviser John Bolton.
In an interview with ABC News to promote his memoir, The Room Where It Happened, Bolton painted a picture of an American president he thought was compromised in his dealings with foreign leaders such as Putin, North Korea's Kim Jong Un and China's Xi Jinping.
"The president may well be a superb deal-maker when it comes to Manhattan real estate, (but) dealing with arms limitation treaties on strategic weapons, dealing in many, many other international security issues, are things far removed from his life experience," Bolton told ABC News' chief global affairs correspondent, Martha Raddatz.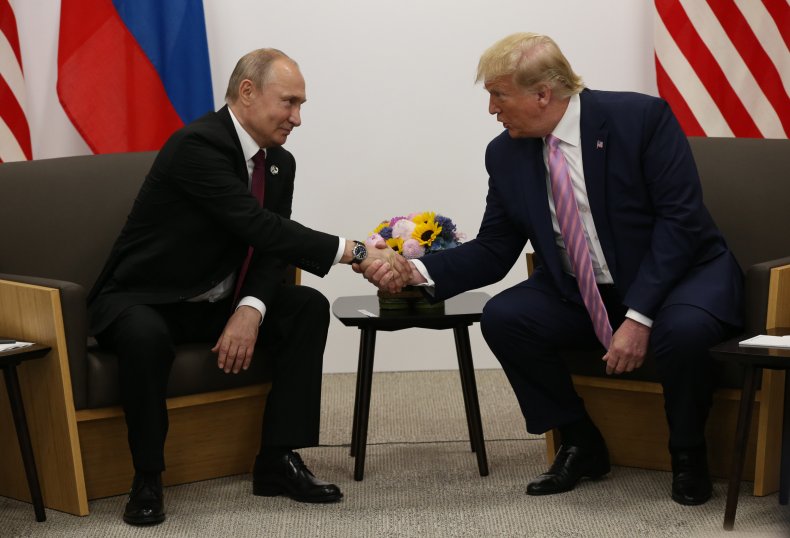 "When you're dealing with somebody like Putin, who has made his life understanding Russia's strategic position in the world, against Donald Trump, who doesn't enjoy reading about these issues or learning about them, it's a very difficult position for America to be in," Bolton said.
Bolton's book, which is due for release on June 23, includes an anecdote about the relationship between Russia and its neighbor, Finland, according to an excerpt published by The New York Times, and which has sparked much comment on social media.
Bolton claimed that Trump had to ask his advisers in 2018 during a summit with Putin in Helsinki about whether Finland was part of Russia. Finland had been part of the Russian empire until 1917 and fought against the Soviet Union during World War Two.
Bolton told ABC News, which will broadcast the full interview on Sunday: "I think Putin thinks he can play him like a fiddle. I think Putin is smart, tough. I think…he sees that, he's not faced with a serious adversary here… I don't think he's worried about Donald Trump."
Bolton has insisted he resigned from the White House last September, although Trump says he was fired. He has been criticized by Democrats for refusing to testify during the House impeachment hearings against Trump and is known for hawkish views on North Korea and Iran, which often opposed Trump's.
Newsweek has contacted the White House for comment. Trump tweeted on Thursday: "Wacko John Bolton's 'exceedingly tedious'(New York Times) book is made up of lies & fake stories. Said all good about me, in print, until the day I fired him.
"A disgruntled boring fool who only wanted to go to war. Never had a clue, was ostracized & happily dumped. What a dope!"
The U.S. Department of Justice has filed a suit to prevent the release of the book, and has alleged Bolton "breached his legal obligations" by submitting the manuscript without finishing the White House's standard prepublication review and that it "contains classified information."