I first met John Bolton, Donald Trump's new national security adviser, almost 25 years ago. We were on opposite sides of a public debate in 1994, with an audience of close to one thousand, about the role of the United Nations in the still-new post-Cold War era. I spoke immediately after him.
It was during that debate that Bolton made his now infamous remarks on the U.N. "There is no such thing as the United Nations," he said. "When the United States leads, the United Nations will follow. When it suits our interests to do so, we will lead. When it does not suit our interests to do so, we will not."
He followed up with a "joke" that's been quoted in virtually every profile of him since. Talking about the 38-story U.N. headquarters, Bolton sneered: "If it lost 10 stories, it wouldn't make a bit of difference."
When he finished, the audience was silent, and even from the stage I could see the horror on rows of faces.
I was stunned and horrified as well.
I was there, along with my colleague and longtime U.N. adviser Erskine Childers, to defend the legitimacy and importance of the U.N. I was a journalist based at the U.N. at that time, watching with increasing unease how the Bush Sr. administration and then the Clinton administration used the U.N. as a tool to cover Washington's various unilateral actions in Iraq and elsewhere in the Middle East. Still, I felt that was an argument for strengthening the institution, not decapitating it.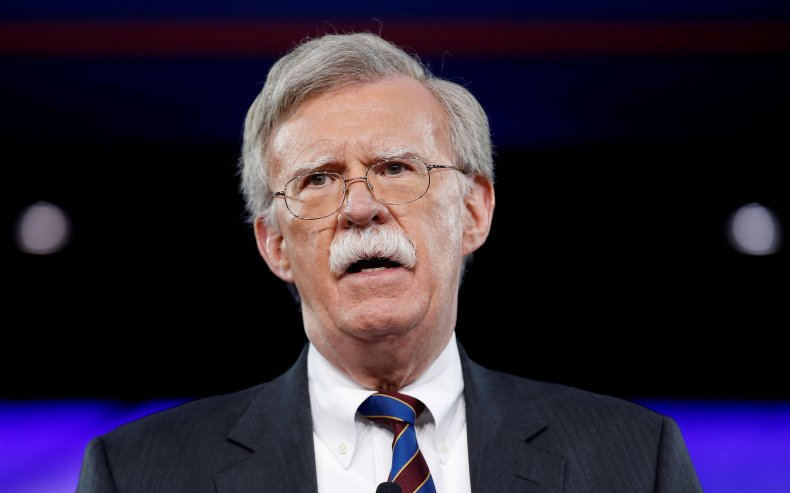 Bolton was soon in the middle of efforts to bend the U.N. to fit an agenda favored by hardline foreign policy hawks like himself—or else dispense with it altogether. As a State Department hand in the George W. Bush administration, he played a major role not just cheerleading for the Iraq war, but helping to make it happen.
For instance, in 2002 Bolton played a major role in the ousting of José Bustani, then chief of the Organization for the Prohibition of Chemical Weapons. Bustani had been re-elected to a second term by the 145-member U.N. body—and was working to facilitate Iraq's entry into the organization.
That would have meant intrusive inspections and the destruction of any chemical weapons facilities in the country. The Bush administration, already long set on military action in Iraq, worried that such inspections would expose its false claim that Iraq was stockpiling "weapons of mass destruction."
Bustani later described Bolton coming to his office in April that year, telling him that he had 24 hours to resign or else. When Bustani refused, Bolton, who was then (ironically) an under-secretary of state for arms control, orchestrated a vote to kick him out of office.
Three years later, Bolton also tried—this time unsuccessfully—to mobilize enough opposition to oust Mohamed ElBaradei, the highly respected chief of the International Atomic Energy Agency. His crime? ElBaradei had reported to the U.N. Security Council that his inspectors found no evidence of a nuclear weapons program in Iraq prior to the U.S. invasion.
Despite this atrocious behavior—or perhaps because of it—Bolton later went on to serve as the Bush administration's ambassador to the U.N., where his decidedly undiplomatic behavior earned him no friends.(Bolton had to leave the U.N. after just over a year when his recess appointment expired, because even the Republican-controlled Senate declined to confirm him for the post.)
In none of those positions did Bolton have anything close to the level of power he'll inherit on April 9, when he takes over as Donald Trump's national security adviser—without any approval required from Congress.
Bolton's embrace of war and disdain for diplomacy may surpass even Trump's own. Unlike Trump, who now (falsely) pretends to have opposed the Iraq war, Bolton continues unapologetically to defend the war, as well as his role in the debacle. He now calls for bombing Iran too, and for launching a first strike against North Korea—both extremely dangerous positions broadly opposed by experts across the spectrum.
This man will now have unfettered, final-word access to the president's ear.
Meanwhile, the administration's so-called "adults in the room" are dwindling. National Security Adviser General H.R. McMaster is out. Ousted Secretary of State Rex Tillerson is on his way back to Texas, with the torture-supporting CIA chief Mike Pompeo nominated to replace him. There are even rumors that Trump may oust his chief of staff General John Kelly—and not replace him at all.
Trump looks set to run the White House the way he ran his businesses, surrounding himself with yes-women and yes-men and barring any voices who might challenge his latest whim.
John Bolton goes beyond "not challenging." He'll encourage ever greater, ever more dangerous whims—whims that look like war. He's been doing that ever since that stunned silence in 1994.
Middle East expert Phyllis Bennis directs the New Internationalism Project at the Institute for Policy Studies. She debated John Bolton in 1994 as a U.N. reporter for Pacifica.