John Bolton Once Went on a 'Warpath' Against a Woman Seeking Maternity Leave
During his time as the chief of the Department of Justice's Civil Division, national security adviser John Bolton once retaliated against a woman seeking unpaid leave for health complications resulting from pregnancy.
In 1988, Joan Bernott — now Joan Maginnis — a senior attorney in Bolton's division, had just given birth to her third daughter when she asked for 17 weeks of unpaid leave to recover from ongoing health problems. (The Washington Post reported at the time that Maginnis had managed to write a Supreme Court brief the same day as her daughter's birth.) Under the DOJ's policy, employees could request up to a year of unpaid leave after giving birth, so long as their supervisor approved it.
Bolton not only denied Maginnis's request, but he accused her of fraud, asking Maginnis to provide him with "pages of personal health information about breastfeeding and medications" and ordering that she return to work, according to findings from American Bridge, a progressive political action committee. He later said the DOJ's maternity leave policy was "impossible and potentially unfair."
Thus began two months of negotiations between Maginnis and Bolton, during which time Bolton tried to terminate Maginnis. He didn't succeed: Maginnis eventually turned over her medical records and, with the help of an attorney, got the DOJ to approve her request for unpaid leave.
When she returned to work, however, Maginnis found she'd been reassigned to another division in the department.
Maginnis's husband at the time, Jack, recalled that his ex-wife thought of Bolton as "her nemesis" for going on a "war path" to paint her as a fraud who wanted to take advantage of the department's maternity leave policies.
"It was devastating to Joan because it set her own agency against her," Jack Maginnis told Newsweek. "It was more or less a turning point in her career."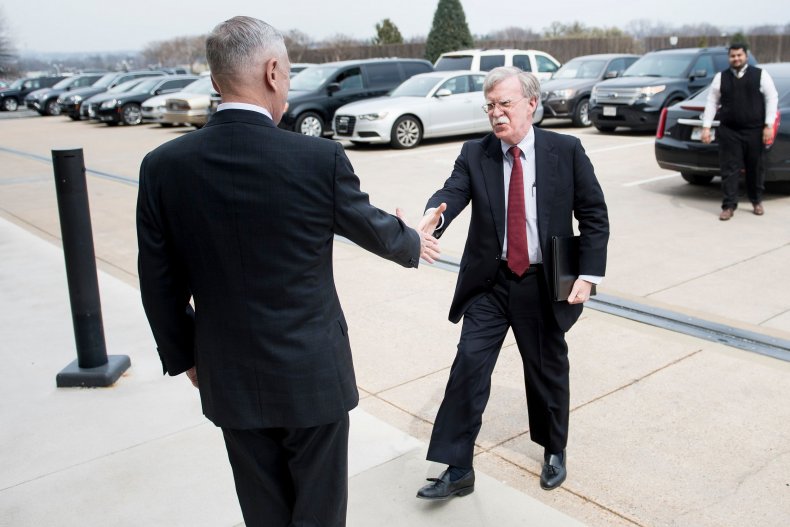 "This just shows us once again Trump's attitude toward women, from his own attacks on women to those of his nominees," Dawn Huckelbridge, the senior director of American Bridge's women's rights initiative, told Newsweek. "It's particularly egregious in that Bolton showed a complete disrespect for women's health and privacy."
But reached by phone, Maginnis didn't reveal any hard feelings toward her former boss. "It's all true," Maginnis told Newsweek about her experiences with Bolton in the DOJ.
Maginnis went on to work as a general attorney in the Department of Commerce, and, just recently, helped President Donald Trump transition to the White House as a member of the Commerce Department landing team.
She declined to go into any greater detail about her battle with Bolton, except to say she doesn't oppose Trump's decision to tap him as H.R. McMaster's replacement. "I trust the president's judgment," Maginnis said.
The White House did not immediately respond to Newsweek's request for comment.