John Bolton Praises Barr for Pouring Cold Water on Mass Voter Fraud Claims
Former White House National Security Adviser John Bolton believes Attorney General William Barr has done "the right thing," after the top administration official said the Department of Justice had found no evidence of widespread voter fraud.
In an interview with Axios on Wednesday, Bolton praised Barr for telling the truth about the present results of FBI and U.S. attorney investigations into allegations of mass voter fraud at the November 3 elections.
He added that those making claims about a rigged or fraudulent election were not producing evidence "because they don't have any," adding that it was time for officials like Barr to "speak up" about the lack of evidence.
"He stood up and did the right thing," Bolton told Axios. "He told the truth: we don't find any evidence of vote-flipping algorithms, for God's sakes."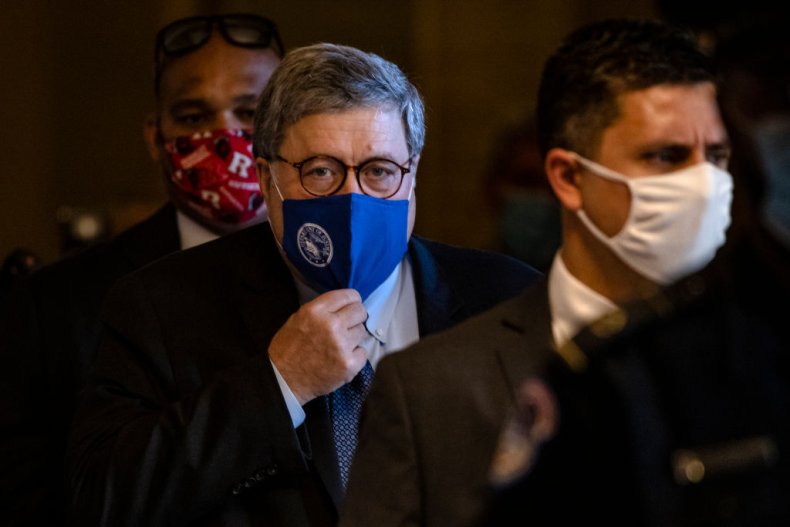 The former national security adviser later added: "Why can't we see the evidence? Because they don't have any, is the answer. This is the time to speak up."
Bolton issued a similar call to Republican leaders a little under two weeks after Election Day. He told ABC News it was "very important" for GOP leaders to explain to voters that President Donald Trump had lost the election, and that he was making "baseless" claims of voter fraud.
The ex-Trump administration official made his latest remarks a day after Barr told The Associated Press that federal investigators had not found evidence of fraud on a scale that would overturn the results of the presidential election.
"To date, we have not seen fraud on a scale that could have caused a different outcome in the election," the attorney general told AP, contradicting previous claims from his boss.
Speaking to Fox News on Sunday, President Trump claimed his own Department of Justice had been "missing in action" when quizzed on the state of investigations into widespread voter fraud on November 3.
"You would think if you're in the FBI or Department of Justice, this is the biggest thing you could be looking at," Trump told the network. "Where are they? I've not seen anything."
ABC News reported on Thursday morning that Barr and Trump had an "intense" conversation over the attorney general's AP interview, citing several sources familiar with the conversation.
Pressed on whether the president still had "faith" in Barr after the interview, White House Press Secretary Kayleigh McEnany simply replied: "The president, if he has any personnel announcements, you will be the first to know it." She also said she was "not aware" that the two had spoken at the time of the press conference.