John Bolton Was 'Regularly Appalled' by Trump and Didn't Know If He Was Acting in America's Interests: Report
Former National Security Advisor John Bolton had doubts that President Donald Trump was acting in America's best interests according to a new report, as U.S. politics reels from bombshell allegations reportedly made in the former diplomat's forthcoming book.
Bolton left the administration in September, having clashed with the president on a range of foreign policy issues. Democrats have been pushing for the 71-year-old to testify in Trump's impeachment trial, demands amplified by fresh reports over the contents of his next book.
The Washington Post reported Monday that Bolton was "regularly appalled" by the behavior of the president, citing people close to the fired national security advisor. A person familiar with the book added that Bolton was unsure if Trump was motivated by U.S. interests or by "nefarious" goals, according to the Post. Neither of the newspaper's sources were named.
Bolton's manuscript has given a shot in the arm to Democratic efforts to have witnesses testify at Trump's trial, which the White House and Republican senators have thus far resisted.
One of the most coveted potential witnesses is Bolton. His position as national security advisor would have given him key insights into the president's purported parallel Ukraine strategy, which allegedly sought to bolster his re-election prospects at the expense of U.S. and Ukrainian national security.
According to a New York Times report published Sunday, the manuscript of Bolton's book—titled "The Room Where It Happened: A White House Memoir" and scheduled for a March 17 release—alleges that the president told Bolton he wanted to withhold military aid from Ukraine until the government in Kiev helped with investigations into Democrats including possible 2020 candidate Joe Biden.
The book also reportedly contains new information about the actions of top administration officials, including Secretary of State Mike Pompeo, Attorney General William Barr and acting White House Chief of Staff Mick Mulvaney, all of whom have been accused of involvement in Trump's Ukraine campaign.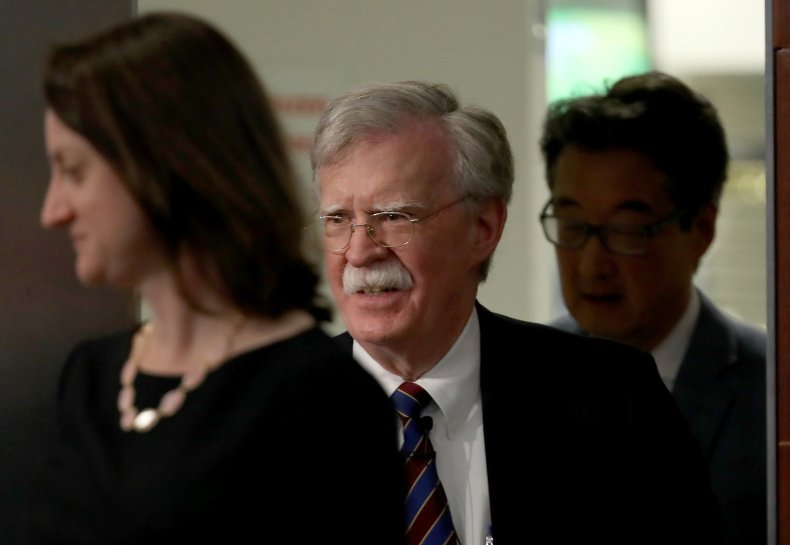 The president issued a vociferous denial of Bolton's claims on Sunday night, denying all wrongdoing. "I NEVER told John Bolton that the aid to Ukraine was tied to investigations into Democrats, including the Bidens," the president wrote on Twitter.
"In fact, he never complained about this at the time of his very public termination. If John Bolton said this, it was only to sell a book."
But Bolton's allegations have nonetheless posed difficult new questions for Republican senators, particularly those in the moderate wing of the party or those facing difficult re-election battles later this year.
Utah Senator Mitt Romney, for example, said it is "increasingly likely" that more of his colleagues will support demands for fresh witnesses testimony, while Maine Senator Susan Collins said Bolton's manuscript will "strengthen the case" to allow witnesses. Alaska Senator Lisa Murkowski said she remains "curious" about what information Bolton has.
The graphic below, provided by Statista, illustrates the percentage of the American public who support hearing additional witnesses at the Senate impeachment trial.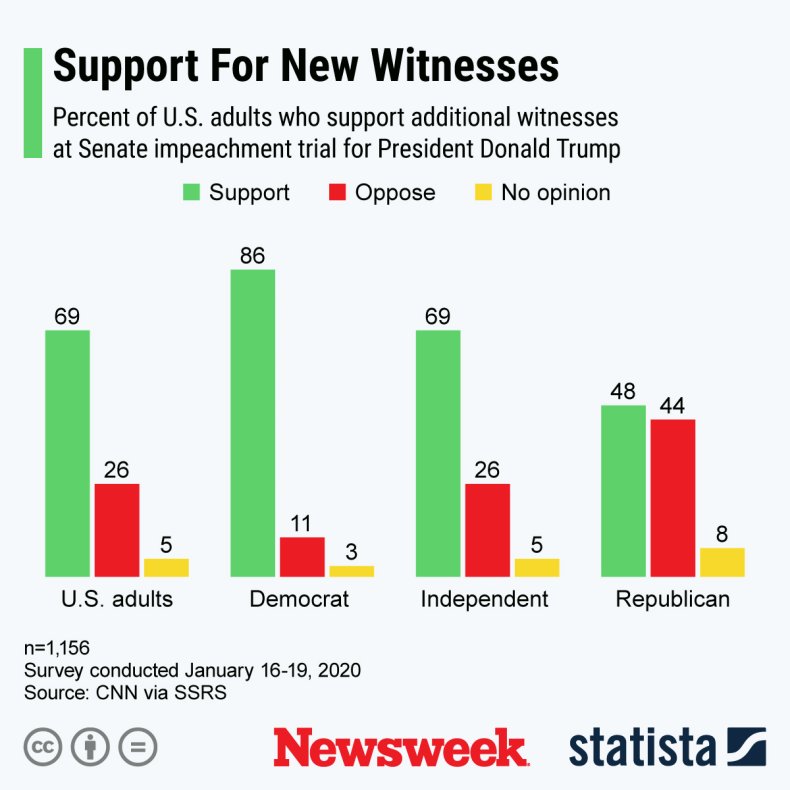 The New York Times also reported Monday that Bolton's manuscript claims the former national security advisor told Barr last year he was concerned by Trump's apparent willingness to do favors for autocrats like Chinese President Xi Jinping and Turkish President Recep Tayyip Erdogan. The Justice Department has disputed Bolton's account.
This article was updated to include an infographic.