John Bolton Says He Offered To Resign, While Trump Claims He Fired National Security Adviser
National Security Adviser John Bolton insists he resigned from his position at the White House, despite a tweet from President Donald Trump implying Bolton had been let go from the Trump administration.
"I offered to resign last night and President Trump said, 'Let's talk about it tomorrow,'" Bolton tweeted 12 minutes after Trump tweeted about Bolton's exit.
It is unclear whether Bolton got to talk to Trump before his termination decision was made.
Trump broke the news by tweeting, "I informed John Bolton last night that his services are no longer needed at the White House," and made it clear the two did not see eye-to-eye.
"I disagreed strongly with many of his suggestions, as did others in the Administration, and therefore," Trump tweeted, "I asked John for his resignation, which was given to me this morning."
Trump ended by thanking Bolton, who was butting heads with officials within the administration.
"I thank John very much for his service," the president tweeted. "I will be naming a new National Security Advisor next week."
Bolton apparently texted at least two journalists while the news of his termination was spreading to clarify that he resigned and was not fired by Trump.
"John Bolton just texted me. Just now, he's watching," Fox News host Brian Kilmeade said on air. "He said, 'Let's be clear: I resigned.' And I said, do you mind if I say that ... and he wrote, 'Yes.'"
Kilmeade reiterated, "So John Bolton has just told me, he texted me, to say that, 'I resigned.'"
The national security adviser also texted New York Times chief White House correspondent and MSNBC analyst Peter Baker.
"Bolton differs from Trump version of his resignation," Baker tweeted. "'Offered last night without his asking,' he texts me. 'Slept on it and gave it to him this morning.'"
Trump's national security adviser since April 2018 reportedly opposed a secret peace talks meeting Trump planned to have with Taliban leaders this week at Camp David, our of concern of the timing on the same week as the 9/11 anniversary. Bolton also clashed with Secretary of State Mike Pompeo for months, and the two apparently were not speaking to each other much outside of official meetings.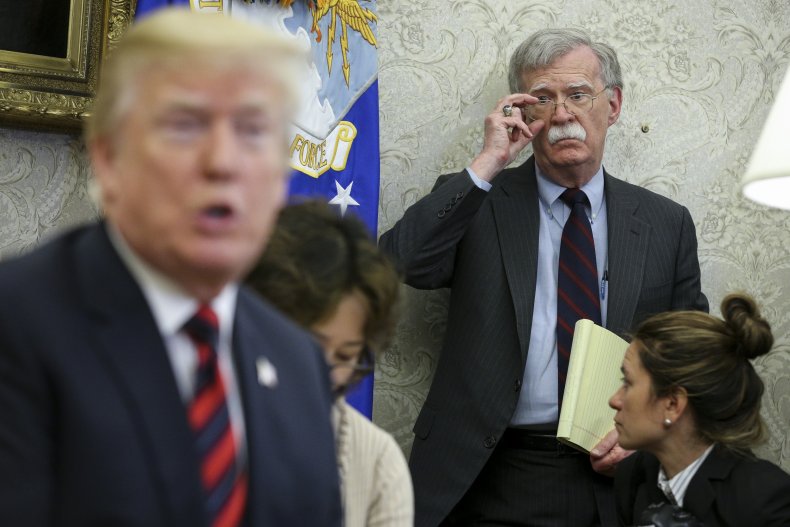 Less than an hour before Bolton's resignation announcement, the national security adviser tweeted about 9/11.
"As we reflect this week on the horrific 9/11 attack, it's important to remember how far we've come in combatting radical Islamist terrorist groups but also how much work is left," Bolton tweeted. "We stand strong against regimes that sponsor terror & encourage violence against the US & our allies."