John Bolton Says America's 'Commitment to Our National Security Priorities Is Under Attack From Within'
Former national security adviser John Bolton tweeted today that the national security priorities are "under attack from within."
"It probably goes without saying," Bolton wrote on Tuesday, "that our country's commitment to our national security priorities is under attack from within. America is distracted. Our enemies are not. We need to make U.S. national security a priority. #JohnBolton"
Bolton's remarks appear to be a follow-up to his November 23 tweet, in which he said the threats to national security are "grave and growing."
"Let's get back to discussing critical national-security issues confronting America," Bolton wrote earlier this month. "The threats are grave and growing. The presidency and control of the House and the Senate will all be decided in less that one year. It's time to speak up again! #JohnBolton"
Many users on Twitter took the opportunity to tell Bolton it was time for him to testify in the impeachment proceedings against President Donald Trump.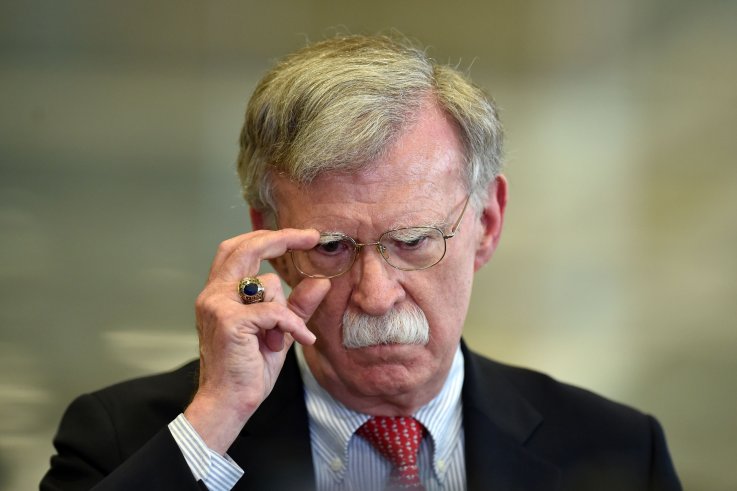 Twitter user @ArloTWalker accused Bolton of "addressing these national security issues by tossing out this drawn-out, vague, twitter novella, whining about your twitter account and telling us to vote him out. If only there was something more substantive you could do like testify."
Founder of the Democratic Coalition Scott Dworkin tweeted: "Stop playing these absurd games and start coming clean to the public."
While Bolton's name came up during the recent impeachment hearings, he did not show up for his scheduled closed-door deposition in November. After that, the House Intelligence Committee chose not to issue Bolton a subpoena.
Yesterday's ruling by a federal judge that claims of immunity by members of the Trump administration were not enough reason to ignore subpoenas may not apply to Bolton, according to his lawyer Charles C. Cooper.
Cooper told The New York Times that any mentions in the ruling of "presidential communications concerning national security matters are not authoritative on the validity of testimonial immunity for close White House advisers."
Bolton has been described as a "voracious note-taker," who has spent meetings transcribing what was said on legal pads.
"Typically, anything that could contain classified information is turned over to the White House for review when an employee departs," said a senior Trump administration official, according to Axios. "One would hope Bolton has considered that before advertising that he has additional information."
"It could be that these are notes that the White House has already viewed," added the official. "But if not, it would mean Bolton deliberately concealed them during his offboarding, which could lead to legal repercussions depending on the contents."
John Bolton Says America's 'Commitment to Our National Security Priorities Is Under Attack From Within' | Politics