Why Hasn't John Bolton Disbanded His Fundraising PACs? Conflict-of-Interest Questions Already Dog Trump Staffer
As John Bolton began his new job as President Donald Trump's national security adviser Monday, two fundraising vehicles bearing his name remained actively registered with the Federal Election Commission (FEC). Bolton said that he would cease all political activities and involvement with his Political Action Committees (PACs), and the fact that they have not shut down has some experts puzzled.
"We would expect the PACs to shut down. It's strange they have not," Jordan Libowitz, a spokesperson for government watchdog group Citizens for Responsibility and Ethics in Washington (CREW), told Newsweek. Libowitz said that the PAC could also change its name or announce new leadership.
"Maintaining their identities as 'John Bolton PAC' and 'John Bolton Super PAC' does raise some eyebrows," Libowitz said.
A message on the websites of both PACs said the organizations were "suspending all political activities until further notice as of March 31, 2018." But neither group has filed the FEC paperwork to shut down. This is problematic, campaign finance experts told Newsweek, because even the appearance of a national security adviser having an interest in fundraising could lead to real or perceived conflicts of interest.
And, as former FEC general counsel Larry Noble noted, the PACs' use of "until further notice" in their message implies the groups would be active again in the future. It's also unclear what "suspension of political activities" actually means.
"If I sent them a check, would they still accept it?" Noble, who is now senior director of campaign watchdog Campaign Legal Center, said to Newsweek. "I think what should be done is they should disband the PAC. Or rename it. But he should have no involvement."
A message left for the treasurer of both PACs was not immediately returned. A spokesperson for Bolton declined to comment.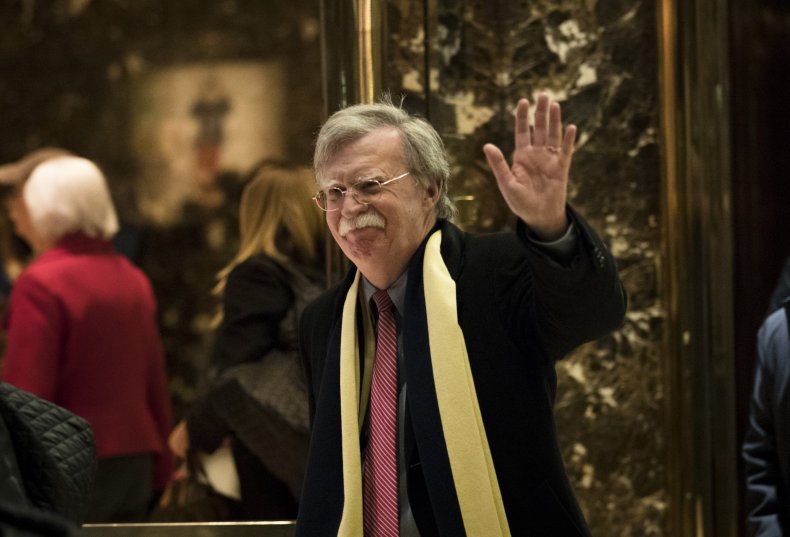 Bolton's PAC has $600,000 on hand, and his Super PAC has $2.6 million in its coffers, according to documents filed with the FEC at the end of March. The two PACs have spent more than $14 million on behalf of conservative candidates since they were organized, in 2013.
Under the Hatch Act, it is illegal for some federal officers to engage in partisan political activities, like raising money for candidates. Just last month, Kellyanne Conway, the counselor to President Donald Trump, was found to have twice violated the act. But it is not clear if the national security adviser is covered by Hatch Act limitations.
"Even assuming [Bolton] is not covered by Hatch Act, he cannot make broad solicitations for a Super PAC now that he's a federal officeholder," Noble said. "His name being on a Super Pac is a form of solicitation."
One possible explanation for why the PACs have not been shut down is that they are under FEC investigation. (PACs involved in FEC enforcement actions cannot shut down, an FEC spokesperson told Newsweek.) There has been no official announcement of any kind of an investigation into either PAC, and an FEC spokesperson said the commission cannot disclose information about enforcement matters.
But Bolton's fundraising has been connected to one company eyed by regulators. His Super PAC has paid more than $1 million to Cambridge Analytica, the voter profiling firm accused of improperly collecting Facebook data on millions of Americans. The founder of Cambridge Analytica, conservative mega-donor Robert Mercer, has given millions of dollars to Bolton's PACs.