John Bolton Rails Against Trump's 'Irresponsible' and 'Dangerous' Pentagon Shake-Up
The former national security adviser John Bolton said President Donald Trump's reshuffle of the Pentagon was "irresponsible and dangerous" on Wednesday as he railed against his former boss' move to "decapitate" parts of the national security network.
Writing for The Washington Post, Bolton called the sacking of former defense secretary Mark Esper "utterly unjustified" and argued that "personal pique" had guided Trump's decision to shake up his Pentagon team with only weeks left until he vacates the White House.
The hawkish former national security adviser was himself fired from the Trump administration in September last year over disputes with the commander-in-chief.
In the op-ed, Bolton wrote: "Trump is engaging in what could well be a systematic purge of his own administration, starting with the utterly unjustified firing of Defense Secretary Mark T. Esper this week and continuing through high- and mid-level civilian offices in the department."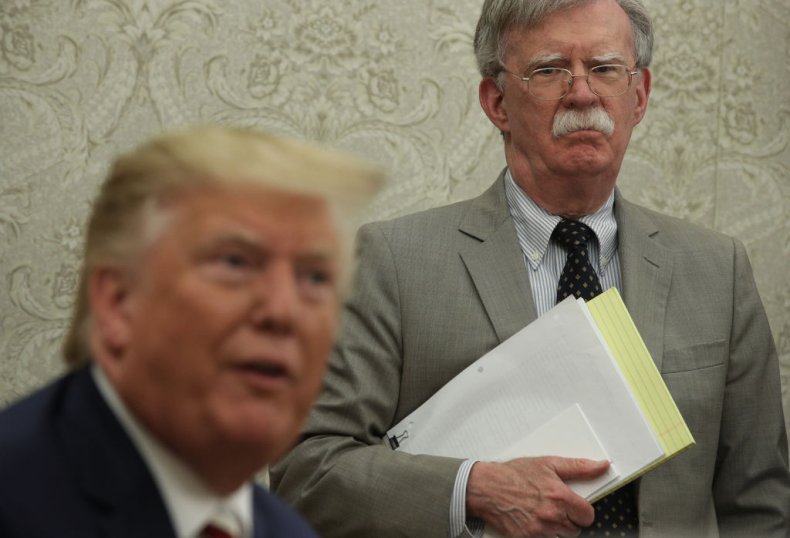 After recounting fears that the heads of intelligence agencies could be next in the firing line, the former national security adviser added: "This is being done with just 10 weeks left in the administration. All transitions bring uncertainty, but to decapitate substantial parts of the national security apparatus during such a period for no reason other than personal pique is irresponsible and dangerous."
He also rebuked Republican lawmakers for "coddling" Trump as he refuses to concede the election to President-elect Joe Biden.
"For the good of America, the 2020  election needs to be brought expeditiously to the conclusion that all logic tells us is coming," Bolton said. "National security requires that the transition get underway effectively. These are Republican values."
Newsweek has contacted the White House for comment.
Esper was fired by Trump on Monday amid reports of a tense relationship between the pair. His ousting was announced by the president in a tweet thanking him for his service at the Pentagon.
National Counterterrorism Center Director Christopher Miller was unveiled as Esper's temporary replacement. "Chris will do a GREAT job!" Trump tweeted.
According to a statement released by the Pentagon on Tuesday, three more defense officials followed Esper out the door after submitting letters of resignation—including Jen Stewart, chief of staff to the defense secretary.
"I want to thank Dr. [James] Anderson, Admiral [Joseph] Kernan and Jen Stewart for their service to the nation and the department," said Miller. "Over their careers each has contributed greatly to the national defense and the future of the Department of Defense. We wish them the best in their next endeavors."