Former White House National Security Adviser John Bolton called on Republican leaders to "explain" to voters that President Donald Trump, his former boss, has lost the election to President-elect Joe Biden and that claims of widespread election fraud are "baseless."
The election was called by Fox News, the Associated Press and other television networks in Biden's favor on November 7, after it became clear that the Democratic president-elect had won Pennsylvania and Nevada. Trump has refused to concede, pushing unfounded claims without evidence that Biden and Vice President-elect Kamala Harris won fraudulently.
"I think it's very important for leaders of the Republican Party to explain to our voters—who are not as stupid as the Democrats think—that in fact Trump has lost the election and that his claims of election fraud are baseless," Bolton, who served in Trump's White House from April 2018 to September 2019, told ABC News' This Week on Sunday.
The prominent Republican pointed out that the Trump campaign's litigation in key battleground states has "failed consistently."
"Right now the Trump campaign is doing the legal equivalent of pinching pennies," he said.
Bolton suggested that Republican leaders are "getting ready" to publicly accept the election results, despite many GOP senators and congressmen overtly or tacitly supporting the president's claims. "I think this is a character test for the Republican Party," he said. "I don't buy the argument that Donald Trump has hypnotized Republican voters or that they're not capable of accepting the truth."
The former Trump adviser—who also served as U.S. ambassador to the United Nations under former President George W. Bush—said that the president's unwillingness to concede "harms the country." Bolton said that "every day" that Trump holds out on a concession "ultimately is to the country's disadvantage."
Bolton has been highly critical of Trump since leaving his White House role last year. He published a book entitled The Room Where It Happened, which the White House attempted to block from being published.
On Sunday afternoon, Trump lashed out at Bolton in a tweet: "John Bolton was one of the dumbest people in government that I've had the "pleasure" to work with. A sullen, dull and quiet guy, he added nothing to National Security except, "Gee, let's go to war." Also, illegally released much Classified Information. A real dope!"
Newsweek reached out to press representatives for Senate Majority Leader Mitch McConnell, a Kentucky Republican, and House Minority Leader Representative Kevin McCarthy, a California Republican, for comment, but they did not immediately respond.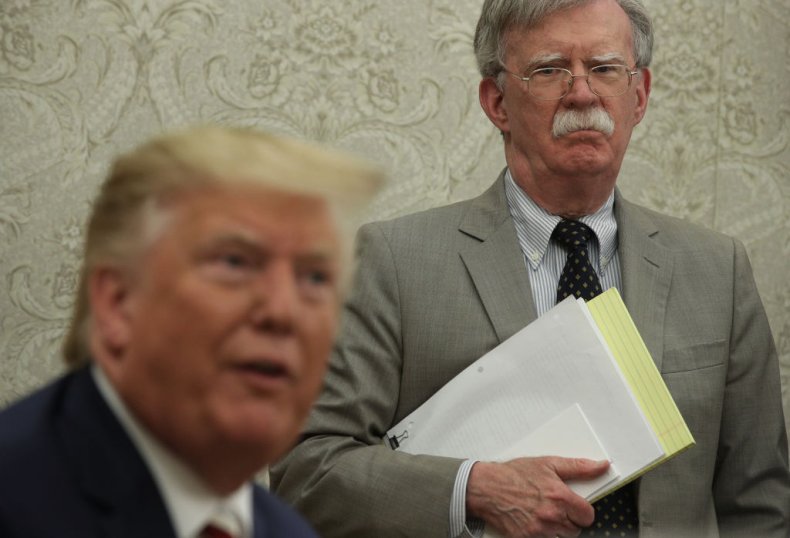 Only four Republican Senators—including Susan Collins of Maine, Mitt Romney of Utah, Lisa Murkowski of Alaska, and Ben Sasse of Nebraska—have congratulated Biden and Harris on their win over Trump. GOP Senator Pat Toomey of Pennsylvania has said it's "quite likely" that Biden won but it's not "100 percent certain."
A few Republican representatives have also congratulated the president-elect, including Congressman Fred Upton of Michigan and Congressman Adam Kinzinger of Illinois. Former President Bush congratulated Biden and Harris last Sunday, as have several prominent GOP governors and many other elected officials across the country.
But McCarthy and McConnell have voiced support for Trump's efforts to fight the election results. Thousands of Trump supporters have organized protests across the country, claiming the election was "stolen." A survey conducted by Reuters/Ipsos last week showed that 30 percent of Republican voters believed Trump had won.
Updated 2:25 PM ET, to include President Trump's tweet about Bolton.