President Donald Trump is sending national security adviser John Bolton to Moscow to arrange a meeting with Russian President Vladimir Putin.
Bolton will first travel to London and Rome, where he will discuss national security issues with U.S. allies, before heading to Moscow for talks about a potential Trump-Putin summit.
He will set off on June 25 and return June 27, said Garrett Marquis, a spokesman for the National Security Council.
In the past, Bolton, a hawk on foreign policy, was less than complimentary about Russia under Putin.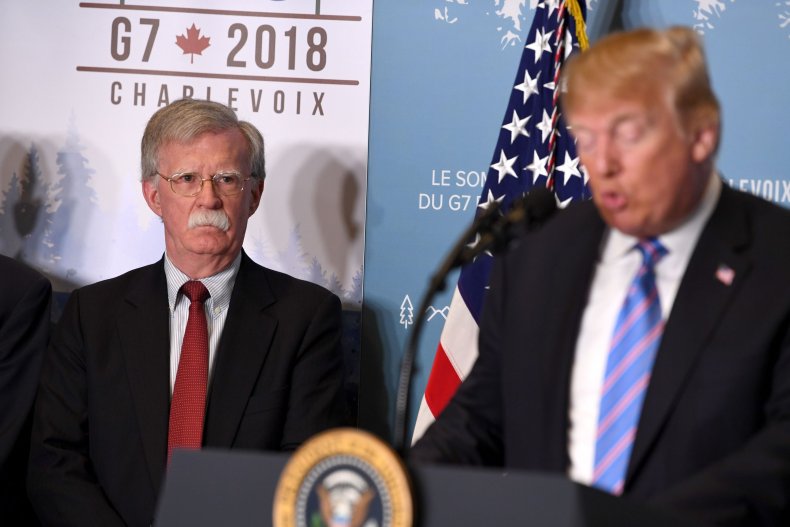 Bolton accused Putin of committing "a true act of war" against the U.S. by attempting to undermine American democracy through cyberwarfare, which the Kremlin denies.
Trump's official presidential campaign is under investigation by special counsel Robert Mueller over suspicions of collusion with Russia to undermine the election.
Writing for the U.K.'s Telegraph in 2017, Bolton said that "attempting to undermine America's constitution is far more than just a quotidian covert operation. It is in fact a casus belli, a true act of war, and one Washington will never tolerate.
"For Trump, it should be a highly salutary lesson about the character of Russia's leadership to watch Putin lie to him," Bolton continued.
"And it should be a fire-bell-in-the-night warning about the value Moscow places on honesty, whether regarding election interference, nuclear proliferation, arms control or the Middle East: Negotiate with Russia at your peril."
He later called for Trump to launch a powerful response against Russia.
"The president should say no foreign power messes with American elections," Bolton said during a panel at CPAC in February 2018, before Trump appointed him adviser.
"Nobody around the world challenges the American constitution. And I'll tell you this: I think we ought to retaliate for the Russian cyberattacks on our election process. I think the retaliation should not be proportionate. I think it should be decidedly disproportionate."
Bolton did not respond to a request for comment.
Trump, who suggested Russia should be readmitted to the G-8 after its exclusion for invading Ukraine, is heading to Europe in July for a NATO summit and to visit the U.K. Any summit with Putin is expected to happen during the course of the same trip.
NATO members are reportedly concerned that Trump may choose to meet Putin before the defense alliance summit. But Jens Stoltenberg, NATO's general secretary, said it is "not in any way contradictory to NATO policies" for Trump to meet Putin.