John Bolton, Who Threatened to Sue the House, Now Says He's Willing to Testify in Senate Impeachment Trial
Former national security adviser John Bolton said Monday that if he is subpoenaed by the Senate during its impending impeachment trial, he is willing to testify—despite threatening the House in November with a lawsuit over his staunch objection to giving testimony during the impeachment inquiry.
Bolton, who President Donald Trump said he fired, although the former Trump aide has said he resigned, is believed to have firsthand knowledge of the president's Ukraine dealings and decision to withhold $400 million in military aid from the U.S. ally.
"Accordingly, since my testimony is once again at issue, I have had to resolve the serious competing issues as best I could, based on careful consideration and study," Bolton said in a statement. "I have concluded that, if the Senate issues a subpoena for my testimony, I am prepared to testify."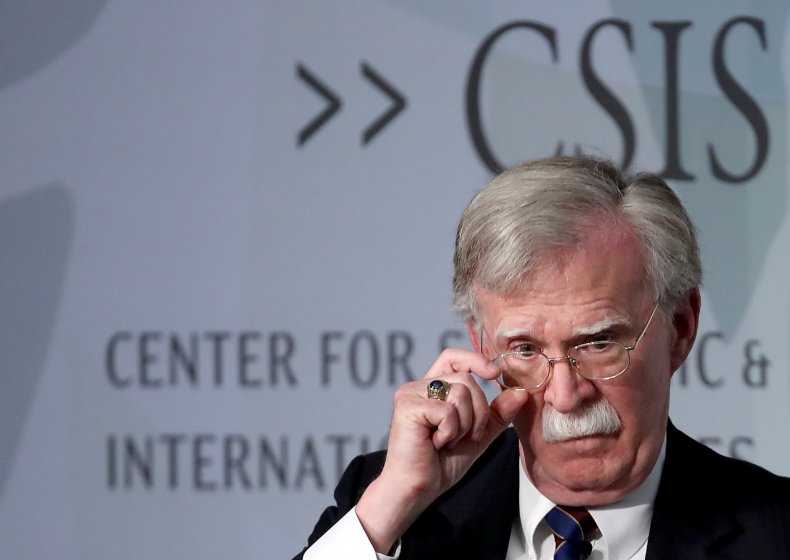 Bolton is one of four current or former administration officials whom Senate Minority Leader Chuck Schumer (D-NY) has demanded to receive testimony and documents from in the impeachment trial as House Speaker Nancy Pelosi (D-CA) continues to delay the proceeding by withholding the articles of impeachment from the upper chamber.
Schumer said in a statement that "momentum for uncovering the truth in a Senate trial continues."
"If any Senate Republican opposes issuing subpoenas to the four witnesses and documents we have requested, they would make absolutely clear they are participating in a cover up," the minority leader added.
The White House directed Bolton, in addition to all current and former officials, not to comply with congressional subpoenas to testify in the impeachment inquiry.
"Bolton is an important witness to misconduct involving Ukraine that he called a 'drug deal,'" House Intelligence Committee Chairman Adam Schiff (D-CA) wrote on Twitter. "Bolton refused to testify in the House, following Trump's orders. Now he is willing to come forward. The Senate must allow testimony from him, Mulvaney and others. The coverup must end."
The public statement from Bolton places pressure upon Senate Majority Leader Mitch McConnell (R-KY) to summon the former Trump official. However, McConnell has repeated his opposition to subpoenaing any witnesses and has said the chamber should only consider taking such action after they hear the evidence from impeachment managers and the subsequent defense of Trump by the White House.
A senior GOP leadership aide in the Senate noted that "all subpoenas require 51 votes," which would mean several Republicans would need to side with Democrats and vote to subpoena Bolton.
Schumer's office did not immediately respond to Newsweek's request for comment.
This story was updated to include comment from Rep. Adam Schiff and Sen. Chuck Schumer.