John Boyega Teases New Project—Fans Predict 'Avatar' Role
John Boyega has teased a look at an upcoming new project and fans are excited by the behind-the-scenes look at the production.
The Star Wars star posted three photos to Instagram of him on set, with special effects specialists covering him in molding clay for CGI.
"There's no business like show business!' he teased. "Coming soon."
The nature of the production has led fans to speculate if Boyega is due to star in an upcoming Avatar sequel, with several comments asking the actor if he's been cast.
The much-delayed sequel is now delayed until December 2022 but a staggering four follow-ups to the 2009 James Cameron sci-fi epic are in the works.
Others are questioning if he is working on a video game.
Fans of the London actor will be keen to see what's next in store for Boyega, who recently spoke out against his treatment at Disney for on the last Star Wars trilogy.
In a deeply frank interview, with British GQ the 28-year-old actor said he felt sidelined by the Star Wars franchise because Disney did not know what to do with characters of color.
"What I would say to Disney is do not bring out a black character, market them to be much more important in the franchise than they are and then have them pushed to the side," Boyega told the publication. "It's not good. I'll say it straight up."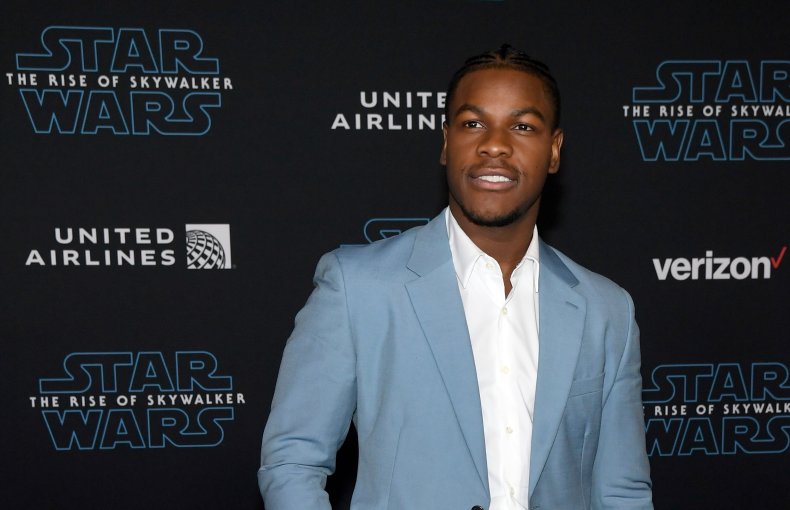 Boyega's Star Wars experience started back in 2014 with J.J. Abrams' The Force Awakens as Stormtrooper, Finn.
Boygea's look at his mysterious new project comes after he stepped down from his role with perfume brand Jo Malone after the company cut him from the Chinese version of an aftershave ad which he was involved in creating.
"I have decided to step down as Jo Malone's global ambassador. When I joined the brand as their first male global ambassador last year, I created the short film we used to launch the campaign. It won the Fragrance Foundation Virtual awards 2020 for Best Media Campaign," Boyega said.
"Their decision to replace my campaign in China by using my concepts and substituting a local brand ambassador for me, without either my consent or prior notice, was wrong. The film celebrated my personal story—showcasing my hometown, including my friends and featuring my family."
He added: "While many brands understandably use a variety of global and local ambassadors, dismissively trading out one's culture this way is not something I can condone. It's back to back but I assure you this will be dealt with swiftly. I don't have time for nonsense. We press on and strong. Stay blessed people."
The company has since apologized and in a statement to The Hollywood Reporter, Jo Malone London said: "While we immediately took action and removed the local version of the campaign, we recognize that this was painful and that offense was caused. We respect John, and support our partners and fans globally. We are taking this misstep very seriously and we are working together as a brand to do better moving forward."