Philadelphia Chef Faced 'Terroristic,' Arson Threats During Eatery Assault
Two men were loitering at popular joint John's Roast Pork when owner John Bucci turned up for work early yesterday morning, the chef claims he was assaulted by them after asking the men to leave.
Bucci captured video footage of one of the men launching a large TV at him which he shared on social media. The chef also claims he was hit in the chest by a large rock thrown at him and one of the men attempted to punch him, before making "terroristic threats".
"Nothing like pulling up to your business and these two junkies making it like it is their home," wrote Bucci on Facebook.
One of the men "picked up a TV and tossed it at me. If it weren't for a picnic table, I would have gotten hit with that," said Bucci to 6 ABC Action News. "Then he picked up a rock and hit me in the chest and then came over and took a swing at me."
"It's like the Wild West out here," said Bucci, referring to behavior in his local area since the pandemic. "The guy threatened to burn down my building... terroristic threats."
John's Roast Pork recently reopened for take out after being closed during the coronavirus pandemic, but Bucci he feel his Philadelphia neighborhood has changed since coronavirus. "Something has to be done. I mean, as a business owner, I'm starting to get emotional. This is getting very, very out of control," said Bucci.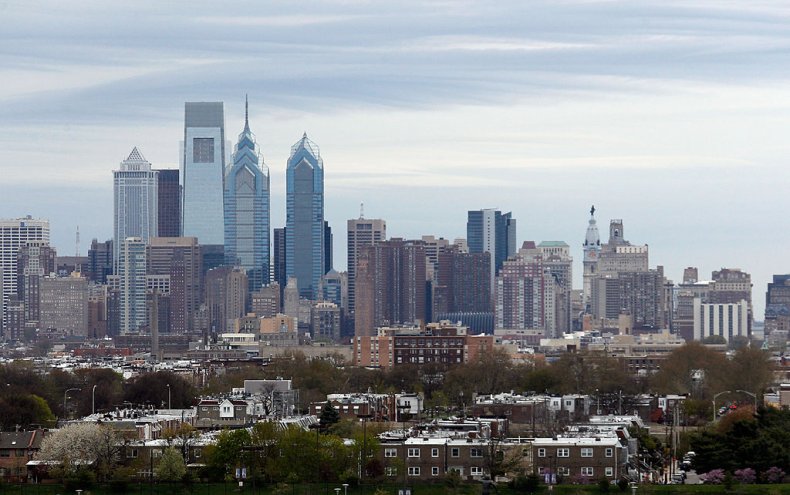 There have been a series of serious incidents in Pennsylvania's largest city in recent days, including a 25-year-old pregnant woman shot dead while inside a car in Philadelphia on Thursday afternoon. Later on Thursday evening, three masked gunmen shot and killed a man inside a Philadelphia laundromat in view of two children under the age of 10, according to recent reports.
A police report has been filed in relation to the John's Roast Pork incident and police are investigating an alleged assault.
John's Roast Pork has been in business since the 1930s, and is known for its legendary Philly 'Ultimate' Cheesesteak served with 12 ounces of meat. TV chef Andrew Zimmern once said it was "Simple and perfect. Maybe the best sandwich in America". Zimmern said to "order it with aged provolone and get ready: slow-roasted pork butt, sliced paper-thin, in "gravy" with spicy greens on a real torpedo roll".
Newsweek has contacted John Bucci and Philadelphia Police Department for further comment.