John Cena Makes Surprise Return at WrestleMania 35 in Thuganomics Gimmick
John Cena made his oft-rumored appearance at WrestleMania 35, but the Met Life crowd wasn't expecting the Dr. of Thuganomics to show up.
During the scheduled Elias concert, the troubadour was interrupted by a video package of Babe Ruth and how he called his famous home run shot. Cena's Thuganomics entrance music kicked in, and out came John decked out in New York Yankees gear.
Check out Cena's Thuganomics appearance at WrestleMania 35.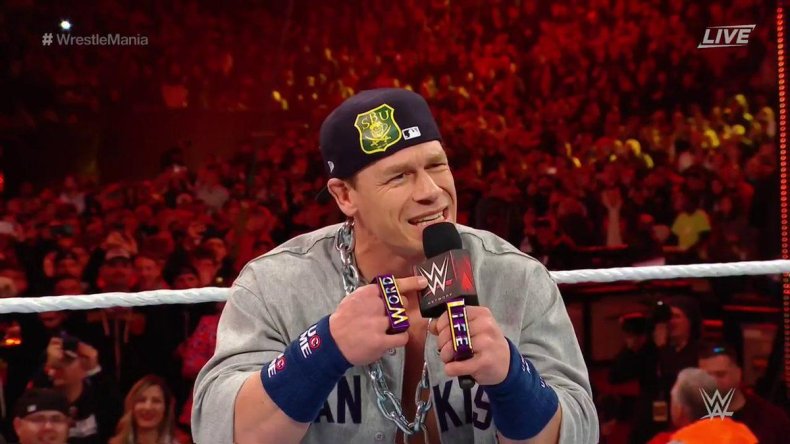 John Cena would proceed to drop some bars about Elias in classic Thuganomics fashion. Here's just one of the bars:
"This means #WalkWithElias?
Nah, I'm not really feelin' it.
Because without the guitar, what it really means
is Wasted Wrestling Experiment."
Following some verbal assaults, Elias would take his coat off to attack Cena. John sees it coming and drops Elias before hitting the Five-Knuckle Shuffle and an Attitude Adjustment.
After John Cena made his debut in the WWE as the Prototype, he would use the Thuganomics gimmick and become a memorable heel in the company.
In a 2016 interview with ESPN, Cena explained why he ditched the gimmick.
"To me, there was definitely some method behind it. Hip-hop certainly is in sync with the youth and every day that passes I grow less youthful, as much as I have tried to hold onto it. I knew that the platform really wouldn't be indicative of success. I knew [the PG format] would just drastically change the style and almost cripple the character so I was the one proactively who said 'no' and said 'I would like to take everything another way.'"
At last year's WrestleMania, Cena had an impromptu match with The Undertaker where he lost in quick fashion. There was no announced plans for Cena in the build to WrestleMania 35, but getting the Doctor of Thuganomics was a pleasant surprise.
Were you surprised to see Thuganomics John Cena? What did you think of his segment with Elias? Let us know in the comments section below.