John Cena won't let the coronavirus stop him from his Make-A-Wish foundation efforts. Reddit user sheepsleepdeep shared a heartwarming picture of the WWE star cradling a child whose wish was to meet him through the charity. Cena wore a protective face mask and gloves during his visit, and I can't stop crying learning about his work with the foundation.
According to TMZ, the Blockers actor flew to Odessa, Florida in the middle of the pandemic to visit David Castle, a 7-year-old who is battling Wilms tumor (a type of cancer that attacks the kidneys). Cena's surprise came a week before David's birthday, making it super special. They spent May 3 together and Cena gifted David with his personal WWE belt and lots of other autographed swag.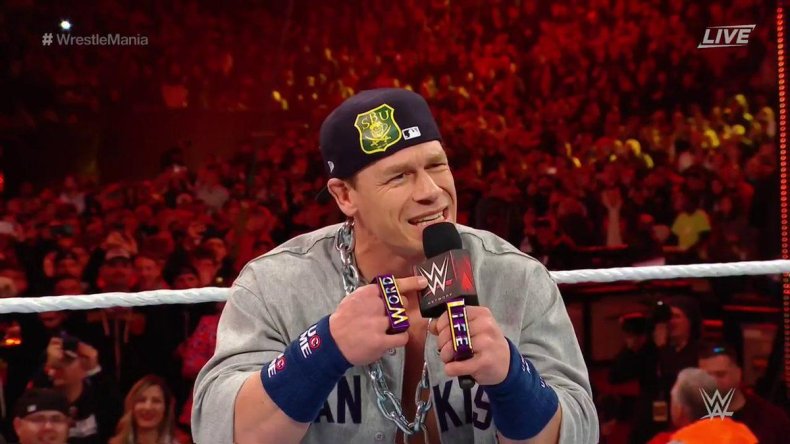 Reddit users online reacted to his dedication for charitable work and were incredibly moved. "Boy, I really wasn't expecting to cry on a Monday morning (other than, you know, regular Monday morning crying). But it was really good to see. I knew John Cena is great, but this was next level greatness," one gushed.
"I used to think he was a WWE meathead with delusions of grandeur. Then I learned about his Make-a-Wish work. I have nothing but respect for John Cena now," another Reddit user said.
Even non-wrestling fans are emotional messes from learning about Cena's actions. "I'm not a fan, know absolutely nothing about wrestling and I'm crying like a b***h after watching this," someone added. "What a great man. To inspire hope and determination in just one person is an amazing thing..to inspire hundreds is the stuff of legends."
Users also noted that Cena has done hundreds of Make-A-Wish visits since he first got involved with the charity. "Dude's earned his wings a hundred times over," one fan wrote on Reddit.
According to FanBuzz, Cena has done over 600 Make-A-Wish visits in his career, which is the current record for the foundation.
The wrestler-turned-actor spoke to People about his work. "We've all experienced that joy of giving a gift for the holidays where you just nail it — that's the same gift I get in giving back to people's lives, in being able to give them wonderful emotional moments," he confessed.