Who Is John Chapman? Medal of Honor Recipient Died Fighting to Save a Navy SEAL, but Was He Left Behind?
President Donald Trump on Wednesday posthumously awarded the Medal of Honor to U.S. Air Force Technical Sergeant John Chapman, whose tragic death in March 2002 in Afghanistan underscored the bravery of U.S. service members under extraordinarily difficult conditions. The circumstances of his death also sparked a controversy that continues even today: Was Chapman left behind?
The White House announced in July that Chapman had been approved for the award for his conspicuous gallantry under fire in Afghanistan. This is the first Medal of Honor, the nation's highest award for valor in combat, to be given to a member of the U.S. Air Force since the Vietnam war.
For Chapman's family, it's been 16 years since Valerie Nessel received notice that her husband had been killed on the snowy crest of the Takur Ghar mountain ridges of Afghanistan, less than six months after the attacks of September 11, 2001. Nessel then had to figure out how to break the news to their two daughters.
Chapman, a resident of Windsor Locks, Connecticut, and his fellow teammates of Naval Special Warfare Development Group, known to the public as SEAL Team Six, made a daring decision to head back into a militant stronghold to save the life of U.S. Navy SEAL Neil C. Roberts. Roberts had fallen out of a battle-damaged Chinook helicopter that had taken hostile fire after the aircraft attempted to insert the elite special operation forces, who were originally tasked with setting up an observation post.
The controversy surrounding Chapman's death is detailed in this Newsweek article by military reporter Sean D. Naylor, who first reported the dispute that pitted U.S. Navy SEALs against U.S. Air Force special operators and Army Rangers. The damning allegation centers around the profound promise made to service members within the U.S. military: We never leave a man behind.
The tragic story that left eight Americans dead, Chapman among them, began when the United States launched Operation Anaconda, a high-profile offensive made up of conventional infantry units along with paramilitary officers from the Central Intelligence Agency and U.S. special operation forces. The objective: dismantle al-Qaeda and Taliban forces.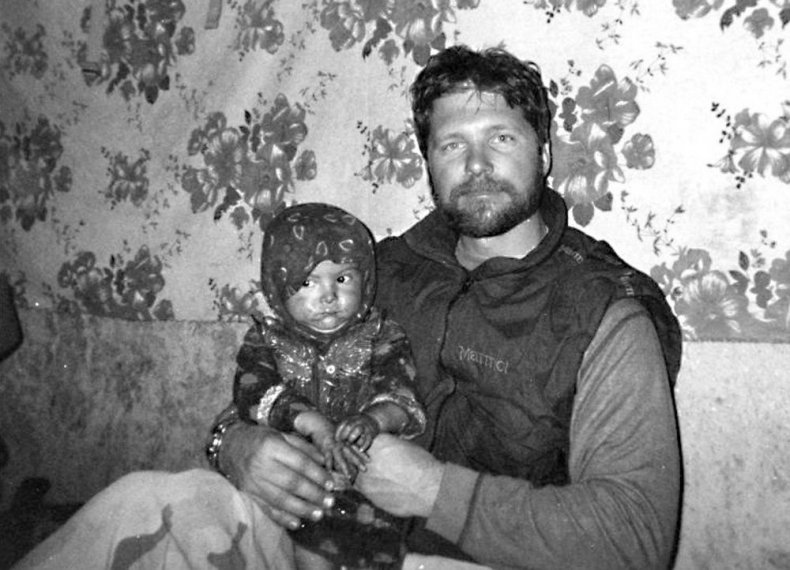 The first phase of the battle was to confront enemy forces the U.S. suspected had massed within the villages of the Shahikot Valley in the Pakitia province, located in eastern Afghanistan. U.S. infantry units planned to airlift forces into the region and deploy them into the valley floor.
However, al-Qaeda and Taliban forces had strategically taken the best position—the high ground overlooking the valley where U.S. infantry forces had landed. For two days, automatic weapons and mortar fire would rain down on American and Afghan forces.
SEAL Team Six, one of the primary counterterrorism units under the Joint Special Operations Command, or JSOC (pronounced "jay-sock"), was ordered into the fight on March 3, after combatant commanders saw early success by inserting reconnaissance teams into topography that overlooked enemy positions to provide intelligence and call in airstrikes.
Then, Senior Chief Petty Officer Britt Slabinski, a U.S. Navy SEAL team leader in charge of "Mako 30," was tasked with setting up an observation post under cover of darkness on top of Takur Ghar ridge, a 10,469-foot-high mountain in the southeast corner of the Shahikot. The objective was to engage enemy fighters through direct contact or airstrikes.
Slabinski wanted to postpone the operation for 24 hours, but combatant commanders headquared in Bagram, Afghanistan, wanted the observation post set up that night.
Slabinski asked pilots with the 160th Special Operations Aviation Regiment to fly his team straight onto the peak.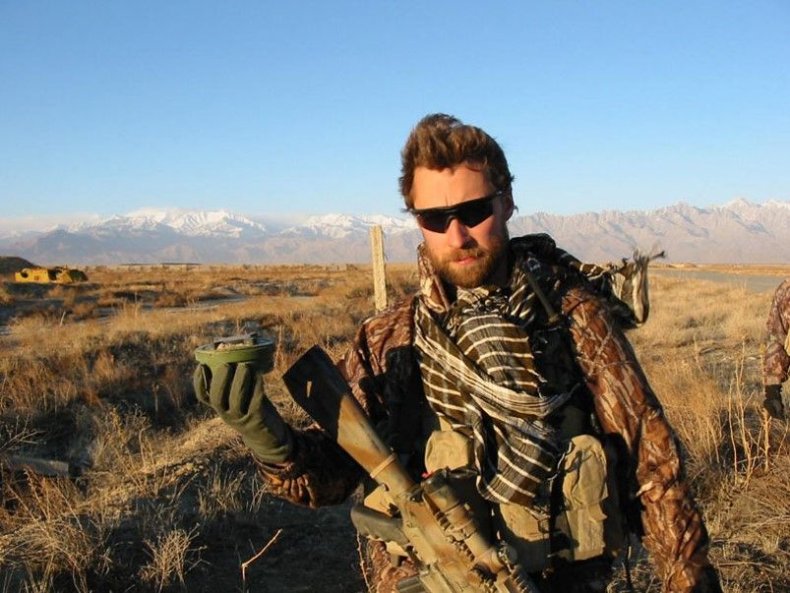 As the Chinook helicopter, known as Razor 03, emerged over the mountaintop, it began to take a barrage of small arms fire from militants encamped. The pilot tried to take evasive action but the battle-damaged, slow-moving helicopter was a big target.
As the pilot was attempting to maneuver out of the line of fire, Petty Officer First Class Neil Roberts fell out the rear of the Chinook and into the snow. The pilot crash-landed at the north end of the valley.
Slabinski, Chapman, and the other special operators of Mako 30 mounted a hasty rescue operation for Roberts, knowing that if he was captured, he would be killed.
"When I made the decision to rescue Neil, I just knew at the time that that was going to be the last thing that I did on this earth," Slabinski told a Navy SEAL Foundation audience in New York in 2017. "I was convinced of it."
What the team didn't know at the time was that footage taken by a U.S. Predator drone showed that al-Qaeda fighters killed Roberts just before 4:30 a.m. on March 4.
A secondary helicopter airlifted the team back to what would become the Battle of Roberts Ridge. The team went to find Roberts around 5 a.m. Slabinski and Mako 30 jumped off the aircraft and were immediately engaged by enemy forces as the helicopter broke contact.
"I'm certain this is a one-way trip," Slabinski told Fox News in May. "I'm going against a superior force, the odds are definitely not in my favor, but it's Neil's only chance."
Chapman, the only non-SEAL member of Mako 30, was from the 24th Special Tactics Squadron, the U.S. Air Force equivalent of SEAL Team Six or Army Delta Force. He charged uphill in the snow with Slabinski under a barrage of fire. The two men killed two armed militants firing upon them from a bunker. Then Chapman went down.
A machine gun had opened up on them from a secondary covered position, wounding Chapman, who fell on his back. He was still alive, with the laser-aiming device mounted on his rifle waving up and down in sync with his breathing.
The SEALs were outmanned and outgunned, there were no signs of Roberts and they were about to be overrun if they didn't break contact with the enemy soon. Slabinski told The New York Times in 2016 that when he decided to break contact with the enemy, he recalled not seeing Chapman's laser moving, and he was not close enough to check the airman's pulse.
Slabinski was nearly hit as a second SEAL was shot in the leg. "I crawled over the top of John, looking for some sort of life from him and I didn't get any, no movement, no sound or anything from him," Slabinski told Fox News in May.
The remaining members of Mako 30, minus Roberts and Chapman, slid down the mountain face chased by gunfire. They took shelter under a rocky underhang and called in their position to a U.S. Air Force gunship, and arranged for an immediate extract. The five SEALs, two seriously wounded, were picked up some six hours later by another helicopter.
Amid the failing satellite radios and confusion between tactical operating centers, a JSOC quick reaction force was tasked with rescuing the already rescued SEALs.
Two Chinook helicopters carrying an Army Ranger platoon launched from Bagram. One of the aircraft awaited further instructions from higher headquarters, according to previous Newsweek reporting, while the other aircraft headed straight into the peak—they had no knowledge that two other Chinooks had been shot up trying to land there just hours earlier.
The militants shot down the aircraft with a rocket-propelled grenade as it attempted to land, killing three U.S. Army Rangers, a special operations pilot with the 160th Special Operations Aviation Regiment and an Air Force pararescueman.
In the aftermath, Slabinski, who is now 48 and retired, and who left the U.S. Navy in 2014 as a master chief petty officer, would be accused of leaving Chapman behind and blamed for the deaths of the other special operators. Slabinski acknowledged to The New York Times in 2016 that amid the chaos of gunfire and men being shot, he may have made a mistake.
Defense Secretary James Mattis, the former U.S. Marine general, recommended Slabinski for the nation's highest award, sparking outrage among Slabinski's critics in the U.S. Air Force and Army. "I cannot think of a single instance in which one branch of service opposed a Medal of Honor for another one," military awards expert Doug Sterner previously told Newsweek.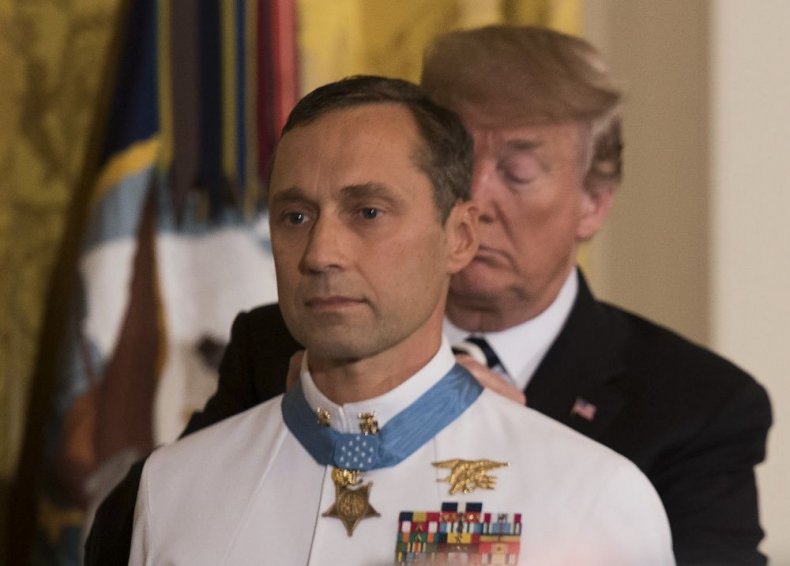 "The SEALs did not want to be told—officially—that they left a comrade on that mountain alive," a former defense official told Newsweek earlier this year on condition of anonymity.
Slabinski's supporters blame the U.S. Air Force for allowing the controversy to become public, tarnishing the reputation of Naval Special Warfare Command and SEALs assigned to Naval Special Warfare Development Group.
"The Air Force caused all the problems," a SEAL, who took part in the Takur Ghar fight, told Newsweek in May. "By just trying to jam something down everybody's throat without even talking to us."
Drone footage from the Battle of Roberts Ridge shows Chapman fighting al-Qaeda militants by himself some 50 minutes after the SEALs retreated.
The grainy, black-and-white video shows someone believed to be Chapman defending himself against two attackers, killing one with a rifle, the other in hand-to-hand combat, before dying in an attempt to protect the quick reaction force. As Mako 30's radioman, Chapman may have known reinforcements were on the way.
When asked by Fox News if he thinks Chapman survived, Slabinski said, "It wasn't what I experienced. It wasn't what I saw."
In a ceremony back in May, President Donald Trump awarded Slabinski the Medal of Honor. The White House announced Chapman's award ceremony in late July, detailing his bravery and courage on a mission gone horribly wrong, but omitted any language that suggested he was mistakenly left behind by SEAL Team Six as members of the U.S. Air Force contend.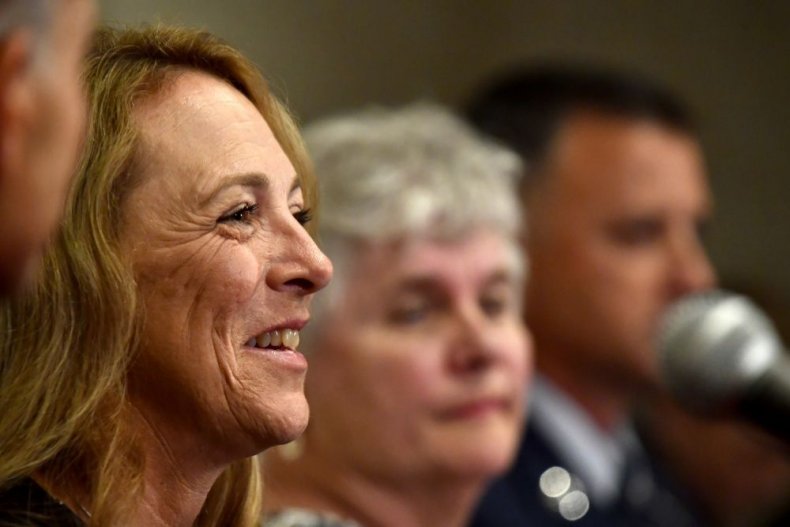 Speaking at Wednesday's ceremony in the East Room of the White House, Trump aid further tribute to Chapman while introducing some of the servicemembers he helped save.
"In this final act of supreme courage, John gave his life for his fellow warriors," the president said. "Through his extraordinary sacrifice, John helped save more than 20 American servicemembers."
In an interview airing Wednesday night on Nightly News with Lester Holt, Chapman's widow, Valerie Nessel said: "I knew he did something spectacular. We just never had the proof to prove it...I was like, 'I knew it'—I knew he would sacrifice himself for the better of the team," she said, adding, "I think every one of those guys would do the same thing."
The criteria to receive the Medal of Honor states: "The meritorious conduct must involve great personal bravery or self-sacrifice so conspicuous as to clearly distinguish the individual above his or her comrades and must have involved risk of life. There must be proof beyond a reasonable doubt of the performance of the meritorious conduct."
Chapman is the 3,503 recipient of the nation's highest award.
This story has been updated to include comments from President Donald Trump on Wednesday.