John Cornyn's 2020 Opponent Turning His 2016 Supreme Court Quotes Against Him, Raising Cash From It
MJ Hegar, a Democratic Senate candidate from Texas, is using the Republican incumbent John Cornyn's 2016 quotes about the Supreme Court against him, using anger over his words to fundraise and gain voter support.
In 2016, Republican Senate Majority Leader Mitch McConnell of Kentucky refused to hold hearings for then-Democratic President Barack Obama's Supreme Court nominee, Merrick Garland. Cornyn was the GOP whip, effectively the party's No. 2 leadership position in the Senate, and he supported McConnell's decision. Cornyn called Obama a "lame duck" and said that election-year voters should have a say in the new justice by choosing the president who would appoint them, according to the Dallas Morning News.
It's 2020 now, barely eight days before the Nov. 3 presidential election, and Cornyn has been vocally supportive of the Senate Republicans' attempts to confirm Amy Coney Barrett, the Supreme Court nominee of Republican President Donald Trump, barely 30 days after she was nominated.
Hegar is highlighting the difference in Cornyn's 2016 and 2020 positions in a new political ad. The ad shows Cornyn following McConnell away from a White House press event with a voiceover stating, "When [Cornyn's] party bosses call, he jumps to rush through a Supreme Court nominee."
Her ads have also sought to paint Cornyn support of Barett's quick confirmation as an attack on the Affordable Care Act, also known as Obamacare, and its protection for people with pre-existing conditions, according to the Texas Tribune. Barett is considered as a key conservative vote that could possibly overturn the 2010 healthcare law, a longtime Republican goal.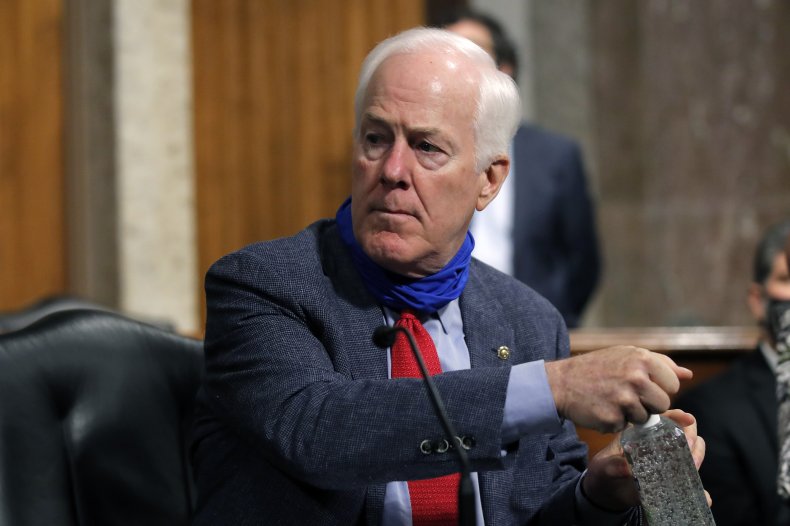 Hegar's attacks on Cornyn have helped her outraise him during the third quarter. The Tribune reports that she raised $13.7 million in July, August and September compared to his $7.2 million haul.
However, her criticisms of Cornyn's Supreme Court position may have limited effect.
He outspent Hager during the third quarter by $13.7 million to her $6.3 million, and as of October 26, Cornyn is also outpolling Hegar by eight percentage points, according to Real Clear Politics' poll aggregator.
Also, most Texan voters actually support Cornyn's position. A University of Houston survey released Monday showed 55 percent supported confirming Barett before Election Day with only 45 percent saying that her confirmation should wait until a new president is seated in January.
According to the Congressional Research Service, the average amount of time it takes for a Supreme Court justice to be appointed—from presidential nomination to final Senate vote—is 67 days. Since Trump nominated Barrett on September 26, if she's voted in by October 31, 2020, that would just be 35 days; nearly half the usual time.
Newsweek contacted Cornyn's campaign for comment.