John Cornyn's Democrat Challenger Raises $300,000 in 10 Hours in Bid to Turn Texas Blue
Democrats have raised more than $300,000 in one day for the Texas senate candidate Mary Jennings Hegar, who is challenging incumbent GOP Senator John Cornyn.
The fundraiser was started by a number of fellow Democrats on Sunday afternoon, including Senators Chris Murphy, Brian Schatz, Cory Booker and former Secretary of Housing and Urban Development Julián Castro, with an aim to raise $200,000.
Murphy reported having hit that fundraising goal at 7 p.m., prompting the senators to set a new goal of $300,000, which was reached at 11 p.m. The total amount of money raised by then, from 8,230 donors, was $301,108.
Other senators including Jess Markey, Dick Durbin, and former congressman and Democratic Senate candidate Beto O'Rurke also joined in the efforts.
Hegar is running in the election against incumbent GOP Senator Cornyn, who has held his seat in Congress since 2002. She is one of many Democrat challengers upon which hopes lie to turn traditionally red states blue.
Hegar was a major in the U.S. Air Force and the Air National Guard and was honourably discharged after completing three tours in Afghanistan.
Recent polls have shown different snapshots on the race:
A Quinnipiac University poll of 1,078 likely voters in Texas from September 17 - 21 showed Cornyn leading Hegar 50 per cent to 42 percent. Eighty-four percent of voters said their minds were made up, while 15 percent said they could change their minds.
Another poll from Data for Progress from September 15 - 22 of 726 likely voters, however, showed Cornyn with a 2-point lead over his Democratic challenger. In that survey, 22 percent said they were not yet sure of their vote.
The same polls showed President Donald Trump ahead of challenger Joe Biden by 5 percentage points and 1 percentage point respectively for the Quinnipiac and Data For Progress polls.
Texas, which could bring 38 Electoral College votes to the Democrats if Biden won the state, has not been turned blue since President Gerald Ford lost the state in 1976 to Jimmy Carter.
In 2016, Trump won Texas and its 38 electoral votes by 9 points against Hillary Clinton.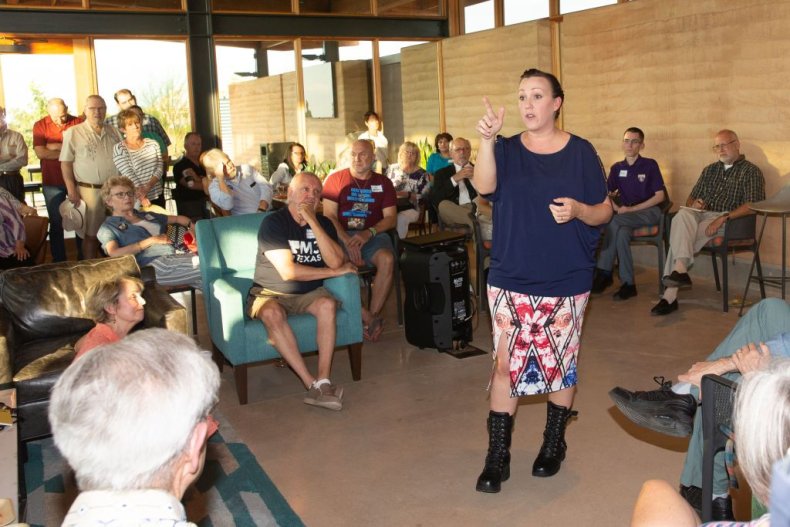 Hegar recently called out a conservative super PAC who used an image of her with her tattoos, to describe her as "radical." The candidate responded that her body art covers shrapnel wounds taken while serving in Afghanistan.
"You think I'm ashamed of them? They cover my shrapnel wounds from when my helicopter was shot down. They're a mark of my service to our country. I'm damn proud of them."
Hegar's campaign website says that during a rescue mission in Afghanistan, her helicopter was destroyed by the Taliban, and she was injured by enemy gunfire.
"MJ received the Purple Heart for her injuries, and she is one of only a few women to be awarded the Distinguished Flying Cross with Valor for her actions saving the lives of her crew and patients," it says.