Tobacco, Slot Machines and Chocolate Milk: John Daly Mellows Out (Kind Of)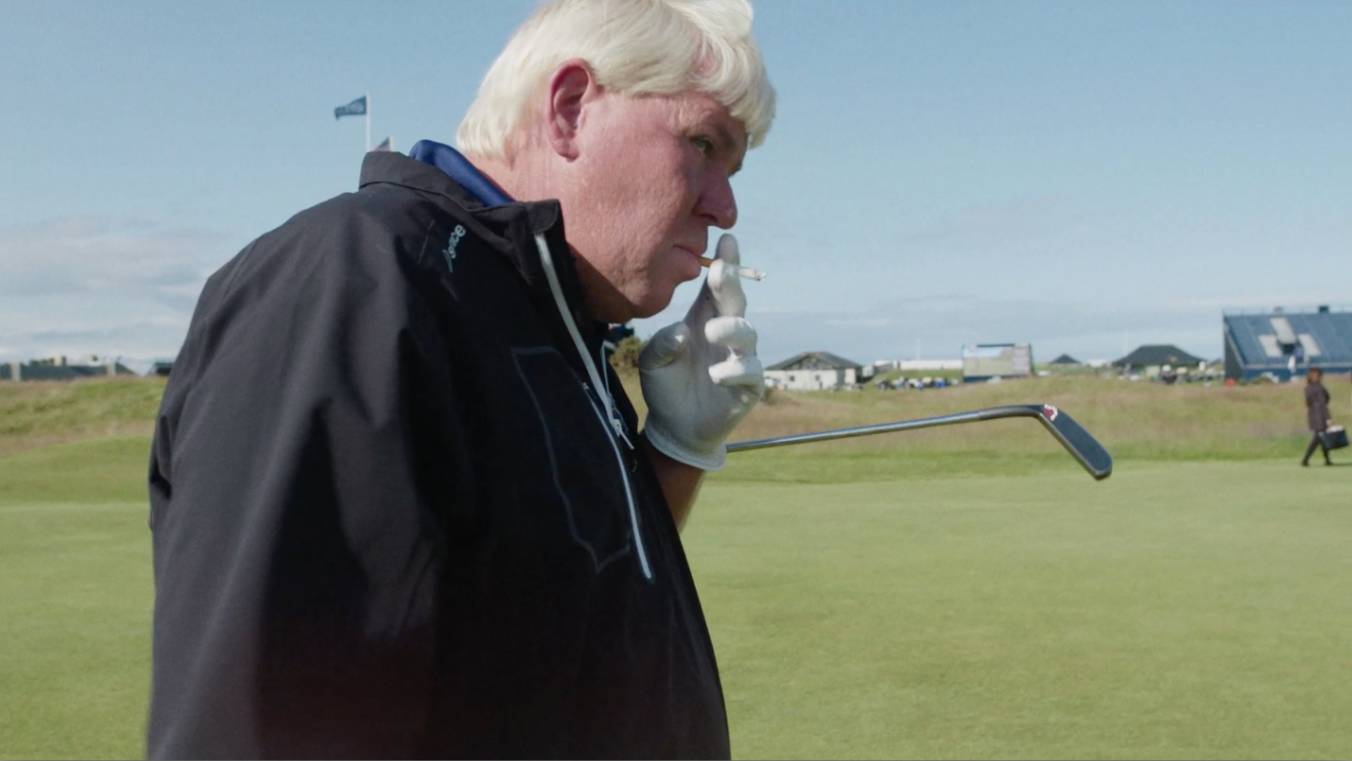 John Daly turned 50 in April, making him eligible for the PGA's senior circuit, also known as the Champions Tour. No longer does the colorful two-time major winner have to rely on sponsors' exemptions to compete. He has a set schedule for the first time in years. Tournaments are only three rounds, not four. Best of all, Daly, who has smoked since he was in college, is able to use a cart. "My God," he says. "It's like a dream come true, to be honest with you."
John Daly, in case you're not familiar, is not like other golfers. He still drinks (everything from vodka to cheap beer), he still gambles (the slots), and he still smokes cigarettes (yes, he should probably be dead by now). Ever since his improbable breakout win at the 1991 PGA Championship, Daly has been an inspiration for Americans who felt excluded by a game most commonly associated with blue-blooded hedge funders in Polo sweaters. Daly was folksy, brash and sported a blond mullet that would have probably got him kicked out of most of the courses he played as a professional.
But John Daly, Inspirational Figure, was hamstrung by a wicked drinking habit, one that resulted in multiple suspensions and trips to rehab. He's had as tumultuous a career in professional sports as anyone, one that is chronicled in heartbreaking detail in the new ESPN 30 for 30 documentary Hit It Hard, which premieres Tuesday at 8 p.m. ET. We spoke with Daly shortly after his World Celebrity Pro-Am Mission Hills tournament in China.
What was it like meeting Yao Ming at Mission Hills?
I met him two or three years ago in China. He's just awesome. God, he is big. But the cool thing was meeting Allen Iverson. We had a great time. What a stud he was. He's such a good guy. We just had a blast in China.
What did you and Allen Iverson talk about?
Well, he's into golf. That's the first time he's ever played golf, and he's decided to learn how to play. He wants to play with his buddies at home in Virginia. He wants to learn how to play the game of golf, and that's pretty cool.
Did you give him any tips?
I tried. He is really brand new to the game. It's to the point where I had to show him the grip and all that. The cool thing is that he's an athlete. I think in six, seven months, if he gets into it and loves it like my boy Kid Rock and Jamey Johnson and Darius Rucker and all those guys.... I was around when they started. They just wanted to get really good at it, and I think Allen wants to do the same thing.
Do you play with Kid Rock and those guys very often?
They just like to go out and have a good time. It's a great escape for them, getting off the road and doing shows and concerts or whatever. It's their downtime. That's why I got into the music thing on my own—it's a hobby of mine. But meeting these guys and hanging out with them, it's just cool to not only be around them and play golf with them, but I give them tips in golf, and they give me little tips in music.
Is there anything that stood out to you or surprised you about yourself when you were going through the process of making this documentary?
I think what I realized is that I can't believe I made it to 50 years old.
You seem like you've really settled into a good place with alcohol. How long have you had it under control like this?
I don't know how I did it. I think it's more of an awareness thing for me. I know people in the program, and all of them are going, 'Yeah, you're full of shit.' But you know what? Nobody says there's one way to do it.
The ones who have to drink in the morning and have to drink every day, I was never like that. I drink in certain moments, and unfortunately for me I drank more in negative moments than I did in positive moments in the '90s. If I played really bad golf, I just went out and got drunk. 'The hell with it, I'm not going to make the cut.' I just kind of abused alcohol. Now I don't abuse it like I used to.
For me, it's cool to sit around with my buddies and have a few beers and a few vodkas and few whiskeys and all that, but I catch myself when I get a really good buzz, and I just go to the Diet Coke or chocolate milk. I can't sit here and say it won't ever get out of hand, which it could. But right now it hasn't. It's cool to become a social drinker instead of a binge drinker that just goes out and gets drunk to try to solve all your problems. It just doesn't work.
You've been in and out of rehab a few times. Do you think rehab programs need to leave open the possibility of moderate drinking?
This is just me personally, but in a meeting, if you're a drug addict or an alcoholic, I think the last thing you should talk about is drugs and alcohol. From '92 to '97, I was relentlessly trying to find meetings, and it was like, 'Why are they talking about alcohol? Every time I leave a meeting, I want to go drink.' I just wish there was a program where you still drink a little, but you get an aspect of life, like, 'What is going on in your life that is positive? What were the good moments in your life?' Take the drinking or drug addiction out of it and just kind of make it more positive. I want to smile in a meeting. I don't want to cry in a meeting.
"From '92 to '97, I was relentlessly trying to find meetings, and it was like, 'Why are they talking about alcohol? Every time I leave a meeting, I want to go drink.'"
I'm sitting here talking like I'm sober. I'm not. But I do wish there was a program for people who are addicted to things and abuse things for all the wrong reasons. We abuse it, yes, it's wrong. But maybe there's a way a program can get people in there to talk about positive things in their lives and quit reflecting on the negative shit that happened 10 years ago, 15 years ago. You can't change that, so why are you talking about it? I don't get it. Yeah, there are certain things you might want to remember that you did that are so bad that you don't want to drink anymore, but there have to be positive things in your life. Your kids, for example, or your wife or your job or your family...they don't want to see you [drink]. Talk about my son Little John. He's 13. He's doing so good in golf. I don't want to jeopardize that. I don't want him to lose me right now.
It's kind of confusing. I don't want to sound like a hypocrite, because I drink, but the meetings just didn't work for me, and I found many of them. But I like where I am right now in life. Nobody's going to conquer alcoholism. Even if you don't drink, you're still not going to conquer it, because if you're thinking about it, you might as well drink. That's my perspective on it.
What about the gambling?
With the gambling, I take what I've got, take a little in, have some fun for three or four hours. If I'm winning, maybe eight or nine hours on the slot machines, but it's not $500 million markers anymore. It's just not that scene anymore. I go in to relax, to enjoy it, knowing that I'm probably going to lose. When I had all that money before I was going into the casino thinking I'm going to take all their money like the dumbass that I was. Now I don't go in there to win. I go in there to get away from the world. Just me and a couple slot machines. Just sitting in there and enjoying the moment.
I think that's where the tide in my life changed. It's more moderate. I live more of a boring life now than I used to. I think age has a little bit to do with that. But I want to enjoy a beer. I want to enjoy a vodka. I want to enjoy a Crown. I don't want to guzzle them anymore and just see if I can outdrink somebody, or get mad if somebody's outdrinking me. It's just about being social and having a good time. If I go gambling the slots, some of my friends will come with me and play along with me. It's not like I'm starting out with $500 a pull or $1,000 a pull. I go in there and play $25, and if I win, I play $100s. It doesn't get out of hand like it used to.
Do you ever gamble on the golf course? Put down however much per hole when you're out there with Kid Rock?
Nah, we'll play for lunch or we'll play for dinner or drinks or whatever. Very casual. No big deal. More importantly, when I play with those guys, I'm hoping to help them try to become better golfers and enjoy the moment. Have a few beers on the golf course and just go out and have a good time.
What is Kid Rock's golf game like?
Kid Rock is a hell of an athlete. The funny thing is with him and Jamey Johnson, two of my best buddies, they both said they'll never play the game of golf. They're not going to chase a white ball around. I said, 'You just got to try it. Get away from the world. Get in a golf cart, get your clubs, and let's go play. See how you like it.' They kind of did it without playing with me. Me and Kid Rock played the pro-am at Warwick Hills, the Buick Invitational there in Warwick Hills in Michigan. It's only 15 minutes from Kid's house. He absolutely fell in love with golf. All he wanted to do was hit a great tee shot on the first hole, and he did. He said, 'I don't care what happens the rest of the day.' He just took to it. It's a game you either love or you hate. There's no in between. Him and Jamey [Johnson] love it. Darius and all the Hootie guys love it. Johnny Lee. Steve Azar. Edwin McCain. The list goes on of all these entertainers and movie stars I've played with over the years who just love to get out and hit the ball. They don't care where it goes. That's kind of cool.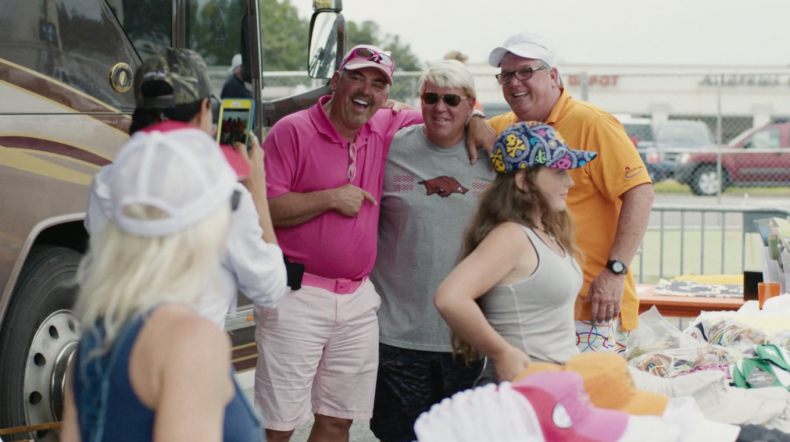 You mentioned in the documentary how it'd be a huge regret if the other players on tour don't respect you, and you don't know if they do. How do you feel the degree to which players respect you has evolved over the course of your career?
I can't change some of their opinions. Hopefully, I was able to get respect back from a lot of the players. Last year with Arnie [Palmer] at St. Andrews was great. Fuzzy [Zoeller]. I can only love and respect all the guys I've ever met, even the ones that probably don't like me. But you can't change the fact that they may not respect me. I've done more apologies to all the players than I can think of. I can't really look back. I've just got to keep going.
Do you have a favorite memory about Arnold Palmer? What do you think of when you think of him?
Just how great he was. How great he was with all the players and how great he was with me. He was never a guy that came up and went, 'You did that wrong. Why did you do it that way?' like Gary Player has done to me so many times. He would come up and say, 'Baby doll, what were you thinking? Let's try to work it out. Is there anything I can do for you?' 'Arnie, you've done enough just saying what you just said. I love you.' It was just that easy, you know.
What are the biggest challenges you face now?
That's the cool thing, I don't really challenge myself. I don't have any. That era is over. I think you get to an age and you just want to live. You just want to have a good time. I love playing golf on the Champions Tour. The guys are great. We're laid back unless we get in contention, then it gets real serious. There's no other sport you can do this in. Make a great living. Do what I love to do with a bunch of guys that I admired and respected growing up and playing the Tour in the '90s. Fuzzy [Zoeller] is kind of on the outs. He doesn't know how many he's going to play anymore. Hopefully our old bodies can still get the attention of fans. We still want to help the game of golf and help grow the game of golf. A lot of these Champions Tour events I've seen so far, there are so many kids that come out. It shocked me. So many young kids and young people coming out to watch. Selfishly for me, the great thing is that I don't really have to challenge myself anymore.
Just living easy…
That may be with age. It may be the fact that I know I'm never going to be number one. I'm never going to be on a Ryder Cup team. I'll never be in the Olympics.... That stress level is gone now. Knowing I have a schedule. Knowing I have quite a few years I can play on this Champions Tour. I should be OK for four or five or six years. If that ends...it's like the 30 for 30 [documentary]. The first 49, 50 years of my life were tough. I got through a lot. My dad being not the greatest dad in the world has made me a better parent. Life is just kind of really cool right now.