John Dingell, America's Longest-Serving Congressman, Dies At 92
America's longest-serving congressman, John Dingell, died on Thursday at his home in Dearborn, Michigan, at the age of 92.
Dingell was a fixture in the U.S. House of Representatives for 59 years before his retirement in 2014. During his tenure, Dingell served with every president from Dwight D. Eisenhower to Barack Obama.
Dingell, known as "Big John" because of his 6-foot-3-inch height, was elected to Congress in 1959. He replaced his father, John Dingell Sr., who had represented Michigan's 15th District for 22 years at the time of his death in 1955.
"He was a lion of the United States Congress and a loving son, father, husband, grandfather and friend," Representative Debbie Dingell's office said in a statement. "He will be remembered for his decades of public service to the people of Southeast Michigan, his razor-sharp wit and a lifetime of dedication to improving the lives of all who walk this earth."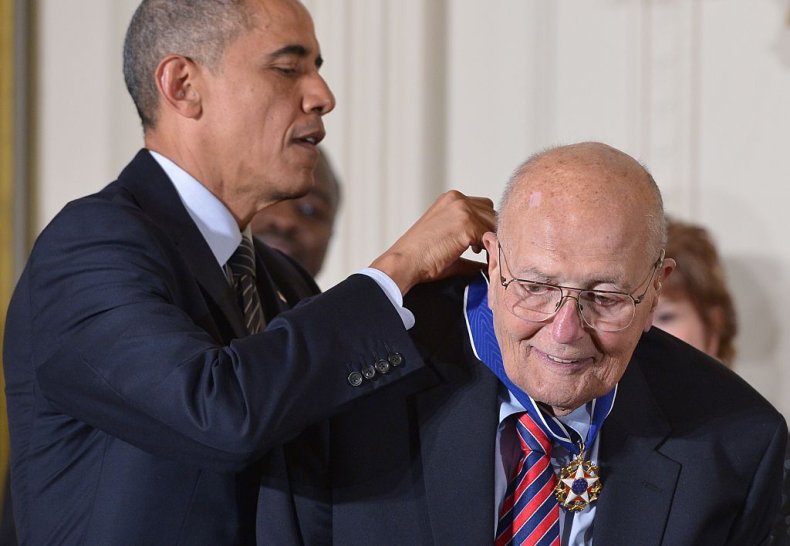 Dingell was a proponent of universal health care, and was an advocate for the passage of Medicare. He also supported other landmark legislation, such as the Endangered Species Act, the Clean Water Act and the Clean Air Act, though he was once accused of stalling the bill to help the auto industry in his hometown of Detroit, The Associated Press reported.
Dingell was also present in 2010 when former President Barack Obama signed the Affordable Care Act into law. According to the AP, Dingell introduced a universal health care bill in each term he served.
Obama issued a statement that read, in part: "John Dingell's life reminds us that change does not always come with a flash, but instead with steady, determined effort. Over the course of the longest congressional career in history, John led the charge on so much of the progress we take for granted today."
Former President Bill Clinton also wrote about Dingell, posting on Twitter: "For nearly 60 years, John Dingell represented the people of Michigan with honor, integrity & great good humor. There are few major legislative triumphs since 1955 that he didn't have a key hand in passing. Hillary & I are grateful to have worked with him & called him our friend."
Former President George W. Bush released a statement to say that he had spoken to Dingell on Thursday afternoon.
"I thanked him for his service to our country and for being an example to those who have followed him into the public arena. He was a fine gentleman who showed great respect for our country and her people," Bush said.
Dingell, an avid outdoorsman who also loved ballet and classical music, announced in 2014 that he would not run for a 30th term, as he believed he could not live up to his personal standard any longer. His wife, Debbie Dingell, successfully campaigned for his seat and currently serves Michigan's 12th District in the House of Representatives.
"Today, we have lost a beloved pillar of the Congress and one of the greatest legislators in American history. John Dingell leaves a towering legacy of unshakable strength, boundless energy and transformative leadership," House Speaker Nancy Pelosi said in a statement.
Dingell's career also included 14 years as chairman of the House Energy and Commerce Committee. Investigations by the committee led a presidential adviser and the chief of a federal agency to resign during Ronald Reagan's presidency. Michael Deaver, Reagan's deputy chief of staff, was later convicted for lying under oath. Reagan's first Environmental Protection Agency chief, Anne Gorsuch Burford, left her post after she refused to share subpoenaed documents during an investigation into a toxic waste program.
In addition to his wife, Debbie Dingell, Dingell is survived by his two daughters, two sons and several grandchildren.