What John Dowd's Exit Means for Trump's Mueller Approach: More 'Fire and Fury'
With one lawyer gone from President Donald Trump's legal team and another joining it, legal analysts speculated that the group defending the president from the special counsel investigation will now take a more hard-line approach.
On Thursday, John Dowd resigned from the team, three days after it was announced that Trump had hired Joseph diGenova. DiGenova, a former United States attorney, is a regular fixture on television, where he has spoken often about "a brazen plot" to "frame" Trump.
Until recently, Trump's lawyers had said that they were cooperating with the Mueller probe.
"The president understands we have a great deal of respect for Mueller, and the president has been determined to handle this in a transparent, collaborative way with the special counsel," Ty Cobb, one of the lawyers, told Newsweek in December. Indeed, Cobb and Mueller used to get lunch together when they were prosecutors more than three decades ago.
But that messaging appeared to shift substantially last week, when Dowd told The Daily Beast that Deputy Attorney General Rod Rosenstein should "bring an end" to the Mueller investigation. Dowd initially informed the outlet that he was speaking on behalf of Trump, then later claimed he was speaking only for himself in a personal capacity.
The same day that story was published, Trump addressed Mueller by name for the first time on Twitter. "The Mueller probe should never have been started in that there was no collusion and there was no crime. It was based on fraudulent activities and a Fake Dossier paid for by Crooked Hillary and the DNC, and improperly used in FISA COURT for surveillance of my campaign. WITCH HUNT!" he tweeted.
With Dowd out and diGenova in, Trump could be looking for his lawyers to move forward with a different strategy, according to Patrick Cotter, an officer at the law firm Greensfelder, Hemker & Gale and a former federal prosecutor. "As a case progresses, a client begins to feel that the strategy that one or more lawyers was pursuing isn't working out for them, and they look around for a new champion," Cotter said. That tends to happen during what Cotter called "tipping points" in a case.
For Trump, that tipping point could be the issue of whether he will sit for an interview with Mueller's team.
Trump could also be looking for a new strategy. Certainly the one emphasizing cooperation has failed to bring about a speedy end to the probe, as his lawyers had anticipated.
"DiGenova's being brought in in such a public way, and Dowd leaving at the same time, suggests to me that diGenova intends to take a more aggressive, and quite possibly more public-oriented, defensive posture," Cotter said.
Don Goldberg, who worked in the White House Counsel during the Bill Clinton administration, agreed: "DiGenova is just a flamethrower. It's going to be confrontational." The new effort could involve "trying to put up a wall, procedurally," he said.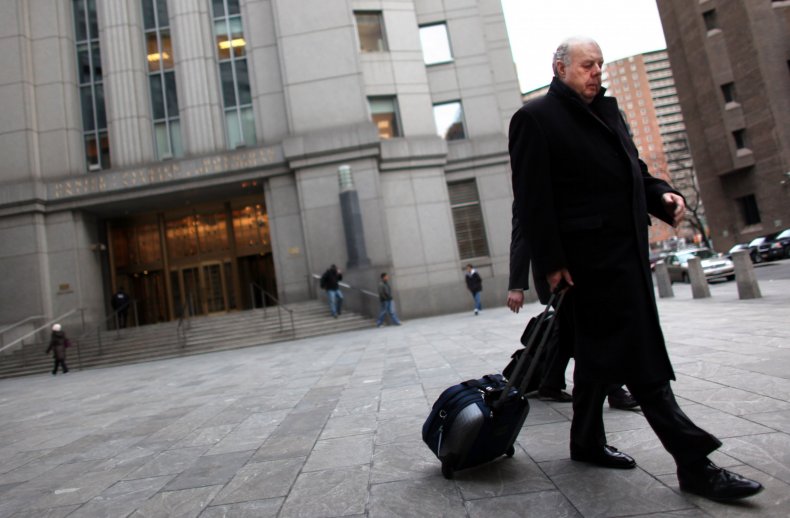 DiGenova's comments on television could end up leading the defense strategy, according to Amy Sabrin, a retired white-collar criminal defense attorney who worked at Skadden, Arps, Slate, Meagher & Flom and defended Clinton in the Paula Jones case in the 1990s. "Maybe they're going to make arguments in court that the president doesn't have to comply with any subpoenas because this is some kind of an ill-founded, conspiratorial witch hunt," she said.
By email on Thursday, Ty Cobb said he expected no changes for his team, but he was clear to separate his operation, which is part of the White House, from the one involving diGenova and Jay Sekulow. "This has no impact on my team, which is me and my staff, all government employees, working at the WH," he wrote. "Dowd, who I will miss, was among the president's personal counsel. He partnered with Jay Sekulow, who is still onboard and working diligently."
DiGenova did not respond to a request for comment on Thursday. Sekulow, a religious liberties lawyer who frequently critiques the Department of Justice and the FBI on his radio show, said through a spokesman on Thursday, "John Dowd is a friend and has been a valuable member of our legal team. We will continue our ongoing representation of the president and our cooperation with the office of special counsel."
Trump's longtime personal lawyer Marc Kasowitz initially led the team, and it's possible he will gain a more prominent role in the legal effort, the Times reported Thursday.
Trump has approached other lawyers to join, too. One of them, Theodore Olson, declined to join, a partner at Olson's firm tweeted on Tuesday.
Such a staffing shakeup among a president's lawyers, according to Goldberg, contrasts sharply with the approach of the Clinton White House. "Most people at that level, when they have a solid legal team, they stick with them," he said.
Despite his involvement in thousands of lawsuits over several decades, Trump has conveyed disdain for lawyers. In his 1987 book Trump: The Art of the Deal, he wrote that when he first met legendary lawyer Roy Cohn, with whom he would later become close, he told Cohn, "I don't like lawyers. I think all they do is delay deals, instead of making deals, and every answer they give you is no, and they are always looking to settle instead of fight."
More recently, in January 2016, Trump said during a campaign rally, ''Does anyone know more about litigation than Trump?... I'm, like, a Ph.D. in litigation.''