Trump's Lawyer Should Resign Over The President's Tweet, Senator Blumenthal Says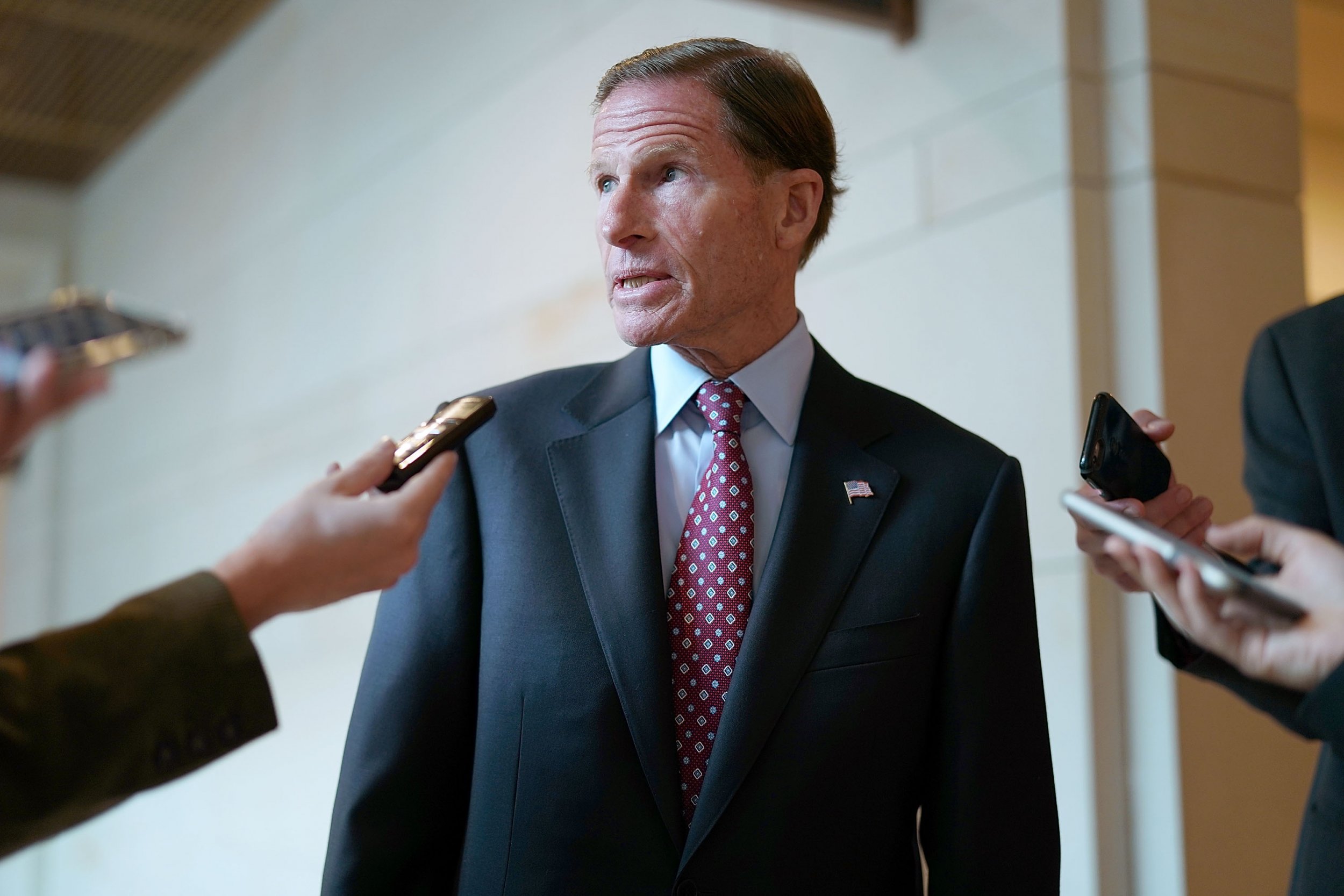 President Donald Trump's attorney should resign if he wants to take responsibility for writing a tweet over the weekend that suggested Trump knew his former adviser lied to the FBI when he asked the bureau's director to drop an investigation of him, a key Senator and longtime critic said Monday.
Senator Richard Blumenthal said it was ridiculous for Trump's personal lawyer, John Dowd, to try to deflect blame away from the president and onto himself over such an incendiary comment posted on Trump's Twitter account.
"The attempt by John Dowd to take the fall here is really ludicrous. First of all, when has anyone ever put words in Donald Trump's mouth? And second, no matter who drafted it, it's Donald Trump's words," Blumenthal said Monday on MSNBC's Morning Joe.
"And if John Dowd truly wants to take responsibility, he has to resign from the president's legal team," the Connecticut Democrat added.
On Saturday, the day after Trump's former national security adviser, Michael Flynn, pleaded guilty to lying to the FBI, the president tweeted, "I had to fire General Flynn because he lied to the Vice President and the FBI. He has pled guilty to those lies. It is a shame because his actions during the transition were lawful. There was nothing to hide!"
The tweet was heavily scrutinized, with many people viewing it as an admission that Trump was aware Flynn had lied to federal agents when he fired him. If true, that means Trump also knew about those lies when he reportedly asked then-FBI Director James Comey to drop the Flynn investigation.
"I hope you can see your way clear to letting this go, to letting Flynn go. He is a good guy. I hope you can let this go," Trump told Comey, according to a memo Comey wrote about the meeting and later told Congress about.
Comey did not comment on whether the interaction amounted to obstruction of justice, but he did say that the special counsel—who was installed after Trump fired Comey in May—would likely look into it.
"I'm sure the special counsel will work towards to find out the intention there and whether that's an offense," he told the Senate Intelligence Committee during a lengthy and wide-ranging testimony.
Flynn is the fourth member of the Trump campaign to be charged with a crime and the second to plead guilty to lying to federal investigators. He is reportedly cooperating with special counsel Robert Mueller and his investigation into the 2016 election.
Trump's personal lawyer, Dowd, told Axios on Sunday that he had drafted the tweet, saying, "My bad."
He added, "I'm out of the tweeting business. I did not mean to break news."
Blumenthal dismissed the counselor's mea culpa in a tweet, saying the evidence against Trump for obstruction of justice is steadily mounting.
"Trump's tweets are HIS words—no disavowal from him, no admission of 'mistake,'" Blumenthal wrote. "He knew about Flynn's FBI lies when he fired him, and when he asked Comey to stop investigating, and when he fired Comey too. Stunning evidence of obstruction of justice."
Dowd also appeared on CNN on Sunday, defending Trump over the tweet. Asked whether Trump was aware that Flynn had lied when he asked for his adviser's resignation, Dowd said, "At the time of the firing, no one, including [the Department of] Justice, had accused Flynn of lying."
By that point, the acting attorney general, Sally Yates, had warned Trump that Flynn had falsely described his conversations with Russian Ambassador Sergey Kislyak and was therefore vulnerable to blackmail. Trump later fired Yates.
It's not just Blumenthal calling out Dowd. Walter Shaub, the former director of the U.S. Office of Government Ethics, wrote on Twitter, "Dowd's explanation to CNN makes no sense. He claims he wrote the tweet claiming Flynn was fired partly for lying to the FBI, but he also rejects the idea that POTUS knew Flynn had lied. Why would you write the tweet then Dowd? Or did you?"
Ronald Klain, a lawyer and the former chief of staff to Vice Presidents Al Gore and Joe Biden, tweeted, "It doesn't matter who DRAFTED the Trump/Dowd tweet. What matters is that it confirms that Trump knew Flynn had committed a crime when he asked Comey to let it go. THAT is obstruction."