John Fetterman's Chances of Beating Dr. Oz as Crowds Seen at Rally
Pennsylvania Democrat John Fetterman rallied in Philadelphia on Saturday as he looks to beat Dr. Mehmet Oz in the race for Senate.
During the visit, the first since launching his bid to the Senate in February 2021, Fetterman gathered some 600 people, evenly split between white and Black voters. The vote of Black communities in Pennsylvania will be key for the Democratic candidate to win the state's Senate seat.
Fetterman continues to hold his lead over Republican rival Dr. Oz in the Senate race, according to recent polls, despite recent scrutiny over his health.
The Democratic nominee, who was able to return to the campaign trail in August after suffering a stroke in mid-May and taking time off for recovery, is prospected to have 83 chances in 100 to win over the celebrity doctor, according to polling site FiveThirtyEight.
On the other hand, a poll conducted by Muhlenberg College/Morning Call and released on September 23 found that Fetterman has a narrow lead over Oz. If the election was held "today," the Democratic nominee would receive 49 percent of the vote, while 44 percent will vote for the Republican candidate. The margin of sampling error is 6 percent, according to the site.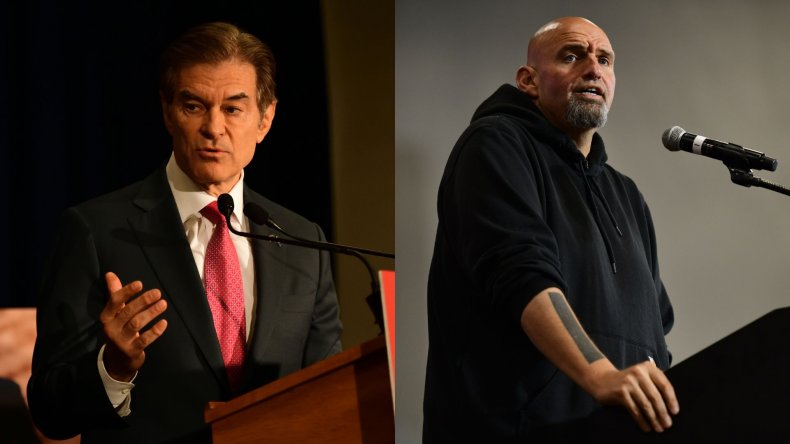 The same poll show that the Democratic candidate is seen much more favorably by Pennsylvania voters, with 44 percent of poll takers reported as having a favorable view of Fetterman and only 29 percent having a favorable view of Oz.
Fetterman's lead in polls is reflected by the crowds his rallies are gathering in Pennsylvania, while participants at Oz's events struggle to reach the same size.
"We're doing huge rallies all over PA + feeling good. And if I've ever needed a big gust of #TeamFetterman support from yinz + youse, it's now," wrote Fetterman on Twitter.
Pennsylvania Rep. Mike Schlossberg shared a photo on Twitter showing the crowd gathered by the Fetterman's rally on September 24.
Meanwhile, Pennsylvania Democrats say the numbers turning out at Oz's rallies are much smaller, something that Schlossberg has not failed to comment on.
"Some @DrOz people are losing their minds over this tweet," he wrote, talking of his previous tweet showing the crowd at the Philadelphia's event. "'OhHhHh, iT's OnLy 400 oR 500 aNd hE dOeSn'T mAkE sEnSe!!' Fellas: 1) Even post stroke,@JohnFetterman is out-drawing AND out-polling your guy. 2) The last time Oz had this many eyes on him, he was searching for crudités."
A video of Oz lamenting the rising cost of crudités has been the target of mockery from Fetterman, who has created the slogan "Let Them Eat Crudité" in response.
Fetterman and Oz have conducted electoral campaigns marked by each candidate's mockery of the other, as Fetterman tried to depict Oz as an outsider to Pennsylvania and the celebrity doctor cast doubt over the Democratic nominee's health and capacity to hold office.
In response to a flurry of discussions surrounding Fetterman's health, the Democratic candidate has agreed to a debate with his rival on October 25.