John Fetterman Speech Fuels Controversy Amid 'Doctored Video' Claims
Videos of the lieutenant governor of Pennsylvania, John Fetterman, have been shared on social media, drawing derogatory remarks from his critics about his speech-making abilities.
Some critics have pointed to these videos as examples of why the Democrat makes a poor candidate as he contests a hard-fought U.S. Senate race in Pennsylvania against Republican Dr. Mehmet Oz.
However, supporters of Fetterman have argued that these videos have been doctored and do not accurately represent the scenes at his rallies. Newsweek Fact Check looked into both sides of the narrative.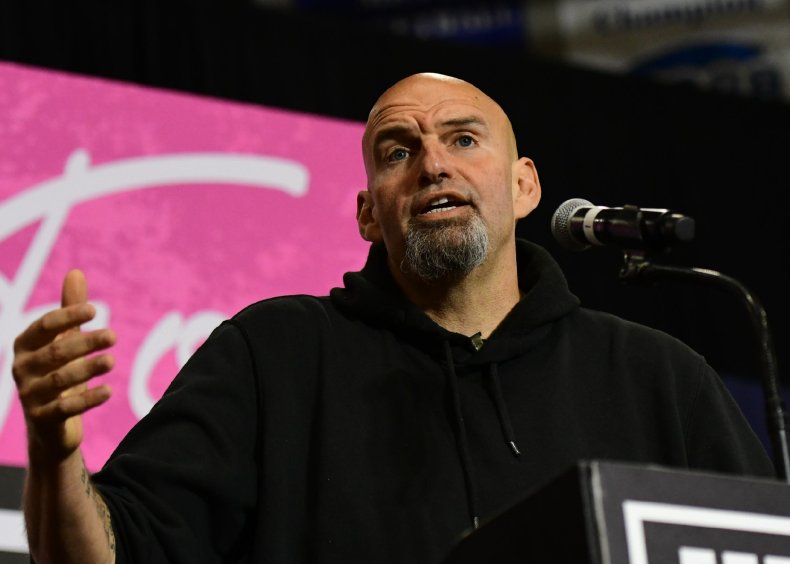 Last week, Fetterman vowed to debate Oz as the pair have stepped up attacks on one another in the run-up to November's election.
Videos of Fetterman speaking during a public appearance he made on Sunday in Blue Bell, Pennsylvania have gone gone viral on Twitter.
Some of the videos were posted by Greg Price, senior digital strategist for X Strategies, a conservative political consulting agency.
The footage appears to show the candidate jumping from one point to another erratically. They also appear to show Fetterman taking long pauses and speaking in a peculiar manner.
One video has been viewed over 800,000 times since it was posted on Wednesday, while another has been viewed over 150,000 times since being posted on Monday.
Price captioned one of the videos: "In case you were wondering why John Fetterman's handlers won't let him debate.
He captioned the other: "Whatever you do, don't watch and retweet this video that NBC News tried to get Twitter to censor."
Earlier this year in May, Fetterman suffered a stroke, which sparked doubts about whether he would be fit to continue in the primary contest .
Since the stroke, Fetterman's team have addressed these concerns and insisted they are continuing on with their campaign.
Speaking to Politico, Fetterman said: "We're absolutely going to debate Dr. Oz, and that was really always our intent to do that.
"It [has] just simply only ever been about addressing some of the lingering issues of the stroke, the auditory processing, and we're going to be able to work that out."
During his speech on Sunday, Fetterman joked about the difficulties he has with speaking following his stroke.
He admitted that he may occasionally "push two words together" now during his speeches as a result. He also called himself "John Fetterwoman," in an apparent nod to the "Women for Fetterman" activists.
The videos shared by Price on Twitter appear to have undergone some minor edits to make it appear as if Fetterman is shifting subjects quickly. This is clear from longer and unedited videos of his speech.
However, throughout his speech, Fetterman did stutter and stumble over his words.
The edited videos also appear to show strangely long pauses in his speech. But the unedited video shows that the Democratic candidate was waiting for applause to die down and the crowd to fall quiet.
Emphasis in Fetterman's speech on certain words also resulted in positive reactions from the crowd, including laughter and cheers, which have been misleadingly edited out in the viral videos.
While this doesn't necessarily amount to being "doctored," as the footage was not digitally altered, it does give some credence to claims that the videos were manipulated for effect.
Price has since addressed the claims in a series of tweets, as well as number of media appearances, claiming that the video is a "supercut" of the speech, which is commonplace in politics.
He claimed to have taken one of the videos from TikTok, suggesting that the edits (including removed crowd noises) were done by someone else.
He also insisted that another video that he shared was simply spliced together clips from the rally, and nothing was "doctored". He went on to accused NBC News of attempting to "censor" him, and called the journalist accusing him of doctoring the videos a "garbage liberal hack."
It is also true, as Price claims, that Fetterman clearly exhibits some speech complications, likely as a result of his condition.
But while the edited versions of videos do not directly change the content of Fetterman's speech, the manner in which he is speaking and the context is mispresented as a result of the edits.
This in part helps to promote his political opponents' narrative that he is unfit for public speaking—and by extension for public office—as a result of the stroke that he suffered.
A spokesperson for Fetterman, Joe Calvello, earlier this week spoke to NBC News and responded to the edited videos.
"It is pretty sad and frankly desperate that Dr. Oz's MAGA allies are deceptively editing videos of John speaking in order to mock him while he recovers from a stroke."
Newsweek has reached out to John Fetterman and Greg Price for comment.