John Fetterman Reports Stroke, Adding Uncertainty to Key US Senate Race
Pennsylvania Lieutenant Governor John Fetterman, a Democratic U.S. Senate candidate, said on Sunday that he went to the hospital on Friday after "ignoring signs" of a stroke as he focused on his campaign. Fetterman is heavily favored to win Tuesday's primary contest and could give his party its best chance to pick up a Senate seat later this year.
"I wasn't feeling well, so I went to the hospital to get checked out," he said in a statement on Twitter. "I hadn't been feeling well, but was so focused on the campaign that I ignored the signs and just kept going."
"I had a stroke that was caused by a clot from my heart being in an A-fib rhythm for too long," he continued, adding that doctors were able to remove the clot and reverse the stroke.
Fetterman said that he is feeling "much better," that he is on his way to a full recovery and that the doctors said he didn't suffer any cognitive damage.
No details were provided about how long he is expected to stay in the hospital, but he said in the statement that doctors will keep him "for now for observation", adding that "he should be out of here sometime soon."
He added that while he still needs rest, "there's so much at stake in this race, and I'm going to be ready for the hard fight ahead."
"Our campaign isn't slowing down one bit, and we are still on track to win this primary on Tuesday, and flip this Senate in November," he continued.
The Democrat Senate candidate also released a short video on Sunday from Penn Medicine Lancaster General Hospital, explaining that he "wasn't feeling very well" on Friday and that his wife urged him to go to the hospital.
On Sunday afternoon, his opponent Rep. Conor Lamb wished Fetterman a speedy recovery after he learned about his stroke.
"I just found out on live TV that Lieutenant Governor Fetterman suffered a stroke. Hayley and I are keeping John and his family in our prayers and wishing him a full and speedy recovery," he tweeted.
Fetterman canceled scheduled public appearances on Friday and throughout the weekend, prompting questions about his health. His campaign cited a health issue at the time but didn't clarify his medical condition.
His campaign spokesperson Joe Calvello on Friday told a crowd waiting at an event outside Lancaster that Fetterman didn't feel well when he woke up, and therefore the event had to be canceled, according to CNN.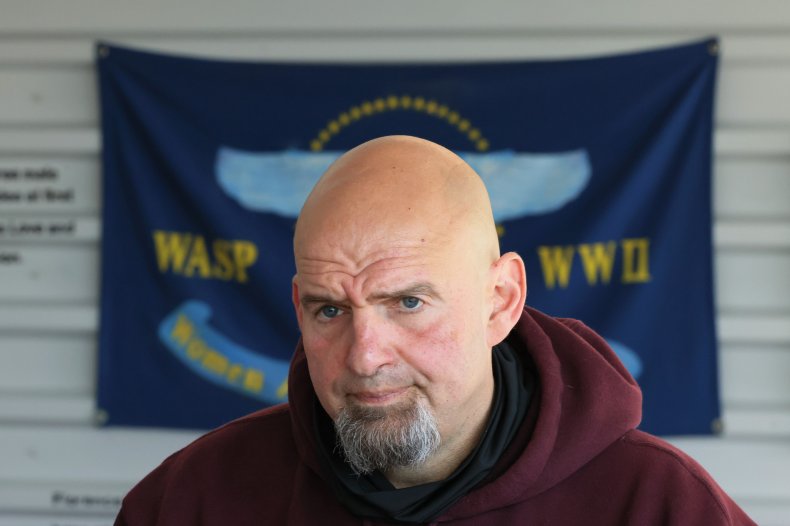 Democrats in Pennsylvania are expected to finalize their general election nominee on Tuesday, choosing from candidates including Fetterman, Rep. Lamb, and state Rep. Malcolm Kenyatta. However, Fetterman appears to be leading the polls over Lamb and Kenyatta, according to CNN.
The story has been updated to include additional information.
Fetterman began canceling events on Friday. Just as an event outside Lancaster was set to start, campaign spokesman Joe Calvello informed the crowd that Fetterman had woken up not feeling well and, out of an abundance of caution, the campaign decided to cancel the event.