Pennsylvania Sen. John Fetterman, who has regularly attended the Senate wearing a hoodie and basketball shorts, has been branded a "revolting slob" following a change to the chamber's dress code.
Senate Majority Leader Chuck Schumer has directed the Sergeant-at-Arms to no longer enforce the chamber's dress code for its members, although exact details of what members can and cannot wear is not currently available.
The Senate has long operated under an unwritten dress code and it has been the responsibility of the office of the Sergeant-at-Arms to make sure it was followed.
Fetterman has frequently dressed down while at work. He has worn a suit and tie when appearing in the chamber, but is often seen wearing casual clothing in and around the Capitol.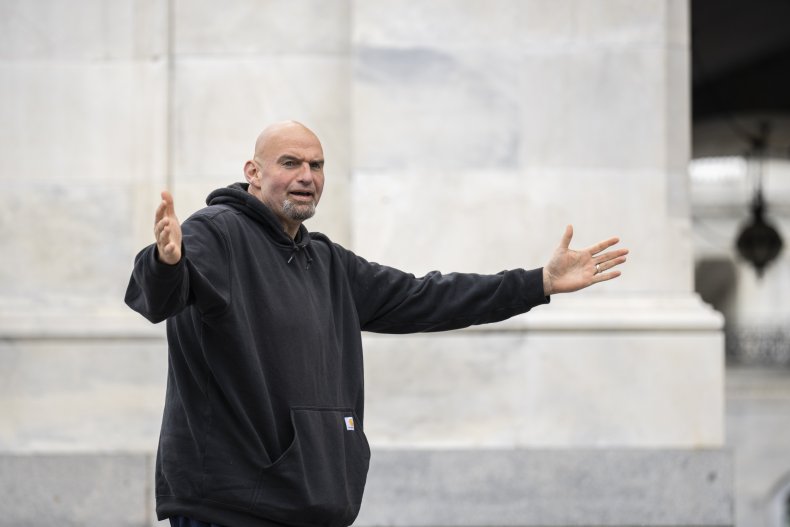 While in the chamber, if not adhering to the dress code, Senate members are required to stand on the periphery of the chamber with one foot on the senate floor and another in the cloakroom, signaling yea or nay from a distance.
In a statement made to Axios, Schumer said: "Senators are able to choose what they wear on the Senate floor. I will continue to wear a suit." It applies only to senators, as staff members will still be required to follow the old dress code—for men, this typically required a suit and tie to been worn on the chamber floor.
The change, which will go into effect this week, has ruffled some feathers across U.S. politics, particularly among Republicans, who have taken to social media to express their disapproval of the change.
"The Senate will no longer enforce its dress code, all because John Fetterman is a revolting slob," former Assistant Secretary of the Treasury turned podcast host Monica Crowley wrote on X, formerly Twitter. "This is a material debasement of a storied institution and an absolute reflection of America's steep decline."
Rep. Marjorie Taylor Green, a frequent critic of the Democrats as a whole, posted on X: "The Senate no longer enforcing a dress code for Senators to appease Fetterman is disgraceful. Dress code is one of society's standards that set etiquette and respect for our institutions. Stop lowering the bar!"
Former adviser to Donald Trump Stephen Miller chimed in, remarking: "So let me get this straight. The entire Senate is jettisoning its storied history and debasing itself before the world to accommodate the slovenliness of one man, John Fetterman? Will a single senator object to this humiliation?"
Former United States Rep. Justin Amash, who was a longtime Republican before switching to the Libertarian party, wrote on X: "Awful. The Senate chamber isn't your home, a gym, or an outdoor park. If you can't dress professionally for work on the floor of the Senate of the United States, then do us all a favor and get a different job."
Joe Calvello, Fetterman's director of communications, responded to the change by joking about the fringe conspiracy that the Pennsylvania politician has a body double. He wrote on X: "Great day for John Fetterman's body double, we don't have to buy them suits anymore." The conspiracy first appeared after Fetterman suffered a stroke in 2022.
There has been little word from Democrats on the subject of the dress code change. Fetterman is also yet to comment on the change publicly. Newsweek has contacted the senator's office for comment via email.