John Fetterman's Doctor Says He Ignored Advice for 5 Years Before Stroke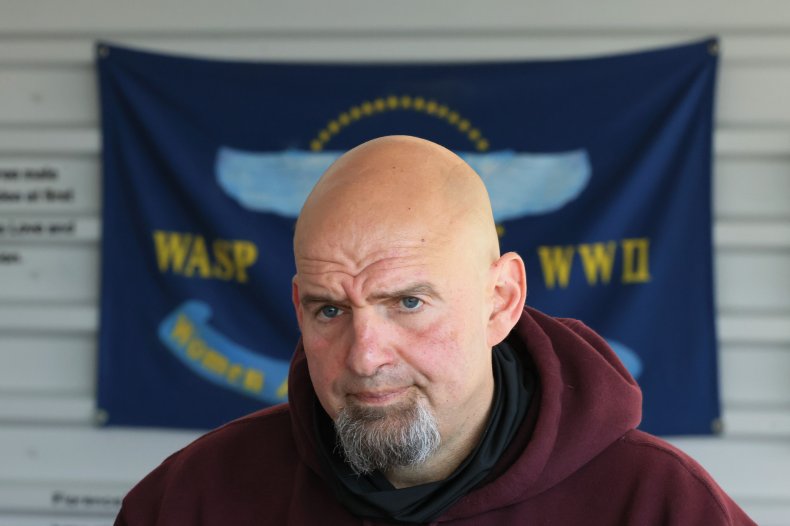 Pennsylvania Democratic U.S. Senate candidate John Fetterman ignored medical advice for five years before suffering a stroke last month, according to his doctor.
Fetterman, currently serving as lieutenant governor of Pennsylvania, secured the Democratic nomination for the Senate on May 17, just four days after his campaign was derailed by the stroke. A statement from Fetterman's cardiologist Dr. Ramesh Chandra on Friday revealed that he had previously undisclosed heart conditions and had not seen any doctor or taken his required medications since first being diagnosed in 2017.
"I first saw John in 2017," wrote Chandra. "He was experiencing swelling in his feet and came to get it checked out. That is when I diagnosed him with atrial
fibrillation, an irregular heart rhythm, along with a decreased heart pump."
"I had prescribed medications along with improved diet and exercise and asked
him to follow up again in the following months," he continued. "Instead, I did not see him again until yesterday. John did not go to any doctor for 5 years and did not continue taking his medications."
Fetterman said last month that his stroke was caused by atrial fibrillation and that he had been fitted with an implanted combination defibrillator-pacemaker to treat the condition. However, multiple cardiologists told The Philadelphia Inquirer that the move did not "make sense" because defibrillator-pacemakers do not treat atrial fibrillation.
Chandra said on Friday that while atrial fibrillation was the cause of Fetterman's stroke, the defibrillator-pacemaker was implanted to instead treat cardiomyopathy—a condition that makes it more difficult for the heart muscle to pump blood to the rest of the body.
Despite his stroke and multiple heart conditions, Chandra said that Fetterman would be "fine" to continue campaigning and potentially serve in the Senate as long as he followed medical advice in the future.
"The prognosis I can give for John's heart is this: if he takes his medications, eats
healthy, and exercises, he'll be fine," Chandra wrote. "If he does what I've told him, and I do believe that he is taking his recovery and his health very seriously this time, he should be able to campaign and serve in the U.S. Senate without a problem."
Fetterman acknowledged that he should have taken his health "more seriously" in a statement. He said that his stroke was "completely preventable" and could have been avoided if he had followed medical advice, while pledging that he would not "make that mistake again."
"As my doctor said, I should have taken my health more seriously," said Fetterman. "I thought losing weight and exercising would be enough. Of course it wasn't. It's not something I'm proud of, but it is something I hope that others can learn from."
"It will take some more time to get back on the campaign trail like I was in the lead-up to the primary," he added. "It's frustrating—all the more so because this is my own fault— but bear with me. I need a little more time. I'm not quite back to 100% yet, but I'm getting closer every day."
The Democratic Senate nominee's GOP foe in the general election will be Mehmet Oz, a noted heart surgeon before becoming a celebrity doctor and eventual political candidate. Oz secured the nomination Friday after Dave McCormick conceded the race.
Newsweek reached out to the Fetterman campaign for comment.