John Geddert, Olympic Coach, Dies by Suicide After Being Charged with Sexual Assault
USA Olympic women's gymnastics coach John Geddert has reportedly died by suicide due to a self-inflicted gunshot wound. On Thursday, Geddert had been charged with human trafficking and criminal sexual assault and other crimes.
Geddert was discovered dead in the Michigan city of Grand Ledge, according to Michigan Attorney General spokeswoman Kelly Rossman-McKinney.
"My office has been notified that the body of John Geddert was found late this afternoon after taking his own life. This is a tragic end to a tragic story for everyone involved," State Attorney General Dana Nessel said in a statement released Thursday afternoon.
The 63-year-old coach had been accused of human trafficking, criminal sexual conduct, forced labor resulting in injury, racketeering and lying to police, according to a Michigan state criminal complaint filed in Eaton County.
He agreed to turn himself over to the local sheriff's office on Thursday afternoon, but didn't show at his appointed time.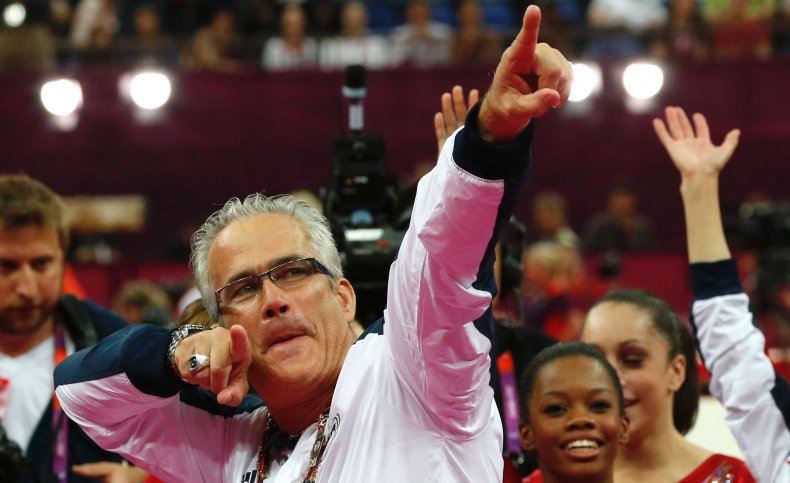 During a press conference earlier on Thursday, Nessel said that Geddert used force, fraud and coercion against the young athletes who sought his gymnastics training. He allegedly sexually penetrated a 16-year-old in 2012, the same year that he coached the women's gymnastics team that competed at the 2012 London Summer Olympics.
"The victims suffer from disordered eating, including bulimia and anorexia, suicide attempts and self-harm, excessive physical conditioning, repeatedly being forced to perform even when injured, extreme emotional abuse and physical abuse, including sexual assault. Many of these victims still carry these scars from his behavior to this day," she added.
Geddert had allegedly lied to police when questioned about the crimes of Larry Nassar, a former USA Gymnastics national team doctor who was convicted in 2017 as a serial rapist and sex offender. Nassar had been accused of molesting female athletes in Geddert's Twistars gym in Dimondale, Michigan and during his time working with USA Gymnastics and Michigan State University.
In 2017, Nassar pleaded guilty to seven counts of first-degree criminal sexual conduct with minors under the age of 16. In 2018, a Michigan judge said Nassar had sexually assaulted over 265 women during his time as a doctor for USA Gymnastics and at Michigan State University.
In 2017, one of Nassar's accusers, Olympic gold medalist McKayla Maroney, filed a lawsuit against USA Gymnastics—the national governing body for gymnastics in the U.S.—for allegedly covering up Nassar's sexual abuse. USA Gymnastics gave a $1.25 million settlement to Maroney but required her to sign a non-disclosure agreement.
USA Gymnastics' entire 18-member board resigned after the settlement, as more athletes publicly came forward to accuse Nassar of sexual assault.
Newsweek contacted Nessel's office for comment.
If you have thoughts of suicide, confidential help is available for free at the National Suicide Prevention Lifeline. Call 1-800-273-8255. The line is available 24 hours every day.