Will Sara Gilbert, John Goodman And Other 'Roseanne' Castmates Still Get Paid After ABC Canceled Show?
Roseanne won't return to ABC for a second comeback season—its 11th overall—after ABC Entertainment President Channing Dungey pulled the plug on the show Tuesday. Some members of the cast may still receive compensation for the 2018-2019 primetime season, despite the fact that there's no script in the works and no episodes have been filmed.
Shortly after the Roseanne revival debuted on ABC in March, another season was given the green light and the episode order was upped from nine to 13. A report by The Hollywood Reporter on Thursday said cast members including John Goodman, Laurie Metcalf and Sara Gilbert, who also served as an executive producer on the show, are still expected to be paid for at least 10 episodes of the axed season.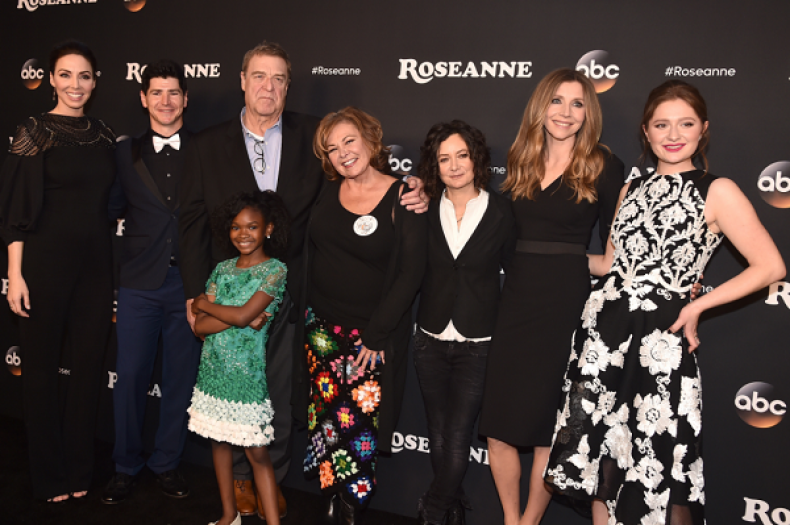 The reason behind their payment is contractual. Some—perhaps just one person, according to The Hollywood Reporter—have clauses in their contracts that allow them to be paid for a minimum number of episodes. The clause is expected to be upheld regardless of the show's cancellation.
That means Goodman, Metcalf and Gilbert could potentially be in store for a hefty payday. The trio, who were also a part of the original cast in the 1980s and 1990s, recently negotiated salary increases up to $300,000 an episode. They were originally paid $250,000 an episode, along with the show's lead star Roseanne Barr.
It's unclear if writing staff will also be included in any payout, because many of them are only contractually obligated to be paid for produced episodes. Show writer and executive producer David Caplan told The Hollywood Reporter it was still unknown exactly how compensation for cast and crew would play out. "Nobody really knows yet what kind of compensation they're going to get," he said. "Everybody is a little bit on edge about how it's going to turn out."
Roseanne was canceled on Tuesday following Barr's racist Twitter rant, during which the comedian compared President Barack Obama's former staffer Valerie Jarrett to an ape. In a statement, Dungey cited the actor's "abhorrent, repugnant" comments that were "inconsistent with our values" as reason behind the cancelation.