Colorado's John Hickenlooper Demands Federal Action on Guns 'Now' After Boulder Shooting
Democratic Colorado Senator John Hickenlooper has called for urgent federal action to tackle gun violence following Monday's fatal shooting in Boulder.
The shooting left 10 people dead, including Boulder Police Officer Eric Talley.
After the 10 deaths were confirmed, Hickenlooper wrote on Twitter: "They were just grocery shopping.
"I can't imagine what the families of these Coloradans are experiencing. My heart goes out to them.
"We don't know all the details yet, but we DO know our country has a horrific problem with gun violence. We need federal action. Now."
In a separate statement, Hickenlooper wrote: "Our state grieves tonight as we mourn ten more Coloradans senselessly killed by gun violence—including police officer Eric Talley. Our thoughts are with the victims' loved ones, and we are grateful to the frontline workers and first responders whose bravery saved lives.
"We all share Boulder's pain – pain that hits home. Columbine, Arapahoe, Platte Canyon, STEM School Highlands Ranch, Planned Parenthood, Aurora – and now Boulder. More needs to be done to prevent dangerous weapons from falling into the wrong hands. Enough is enough."
On Hickenlooper's campaign website from 2020, a page titled "Gun Violence Prevention" outlines reforms he wants to be put in place.
These include ensuring background checks for all gun sales and restoring a ban on assault weapons. He outlined his desire to "fight for comprehensive, common-sense policies to tackle gun violence."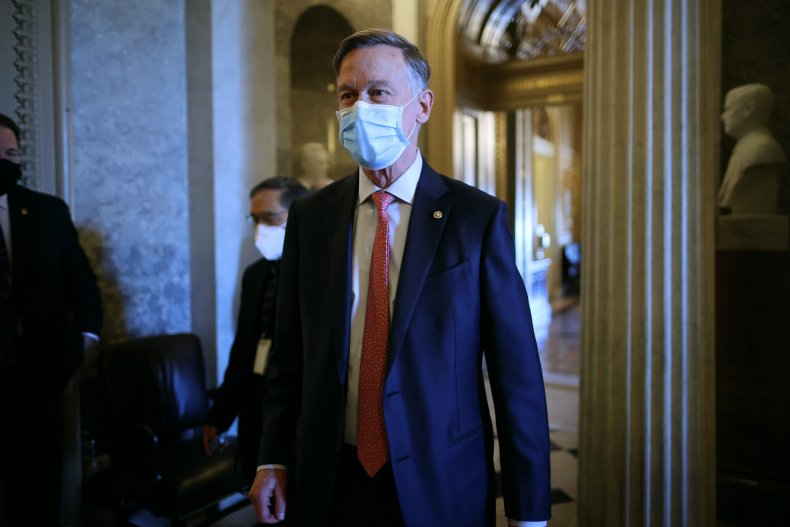 These points are in line with measures President Joe Biden supports.
In comments in February, on the third anniversary of the Parkland shooting, Biden called on lawmakers to "enact common sense gun law reforms, including requiring background checks on all gun sales, banning assault weapons and high-capacity magazines, and eliminating immunity for gun manufacturers who knowingly put weapons of war on our streets."
Calls for gun legislation reform have renewed in the wake of the shooting in Boulder and last week's incident in Atlanta. Democratic lawmakers have pushed for this, as have advocacy groups.
The U.S. House of Representatives passed two bills to expand background checks earlier this month, looking at expanding checks to include online sales and give authorities 10 days to complete federal background checks before a gun sale is licensed.
However, passing such measures through the Senate poses a sterner challenge. The upper chamber is split 50-50.
Democrats hold a majority due to Vice President Kamala Harris' power to cast tie-breaking votes, though this does not help them in securing the 60 votes needed to bypass a filibuster.
This could be used by Republicans to stall legislation. To avoid this, Democrats would need to get their entire caucus united and 10 Republicans on side with proposals.
Newsweek has contacted Hickenlooper's office for further comment.
The graphic below, from Statista, shows the number of mass shootings and resultant deaths in the U.S. in recent years.