John Hickenlooper Praises Colorado Voting Law Amid Conservative Criticism of MLB Switch
Senator John Hickenlooper (D-CO) has praised Colorado's voting laws as "the gold standard." His comments come as conservatives have attacked Major League Baseball's decision to move the 2021 All-Star Game from Atlanta to Denver.
MLB is moving the game in protest of Georgia's new restrictive voting laws. Some conservative commentators have claimed that Colorado has similarly restrictive voting laws to Georgia. However, there are both similarities and differences between voting laws in the two states.
Hickenlooper, the former governor of Colorado, hit back at claims the state's voting laws were restrictive in a statement on Tuesday. "Colorado set the gold standard for making elections fair, secure, and accessible, and the MLB recognized these efforts by moving the 2021 All-Star game to Denver," he said.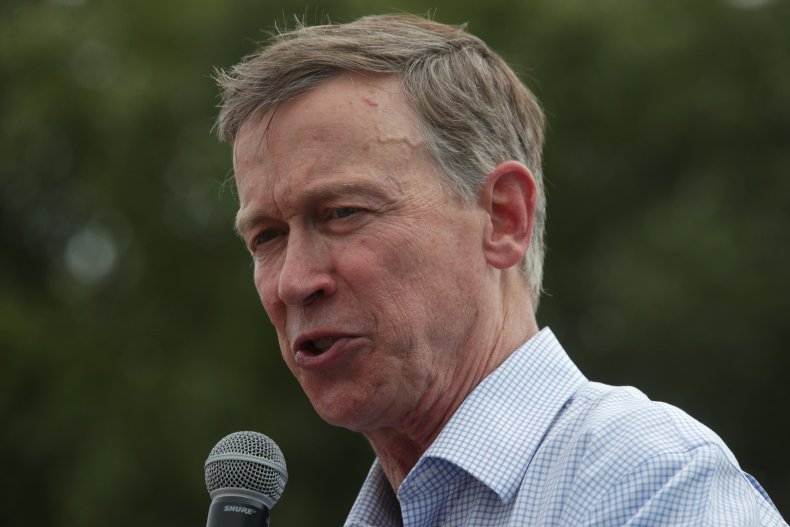 "Our democracy is always strengthened when more people vote. As President Reagan said, 'The right to vote is the crown jewel of American liberties and we will not see its luster diminished.'"
The statement also highlights how Hickenlooper helped Colorado become the third state in the U.S. to implement vote-by-mail when he was governor.
It says: "Since moving to universal vote-by-mail, Colorado has been named one of the safest states to vote in the nation and ranks among the highest in voter turnout. The shift to vote-by-mail caused turnout to rise among all voters in Colorado by about 9 percentage points, with a significant uptick in turnout among historically disenfranchised groups, such as voters of color and young voters. In both the 2020 and 2018 elections, Colorado's turnout rate was second in the country."
His words came after MLB Commissioner Rob Manfred said in a statement on Friday that after "thoughtful conversations with Clubs, former and current players, the Players Association, and The Players Alliance," it was decided the "best way to demonstrate our values as a sport is by relocating this year's All-Star Game and MLB Draft."
The decision to move from Atlanta was made after Georgia Governor Brian Kept signed the controversial voting legislation SB202 into law on March 25. It means a voter ID requirement for absentee ballots is mandated, fewer ballot drop boxes will be available and no food or water will be allowed as people wait in line to cast their vote at polling stations.
The bill has angered Democrats, who say it will disproportionately affect people of color and hinder many people's right to vote.
Companies like Atlanta-based Coca-Cola and Delta Air Lines have issued statements against the bill, while President Joe Biden called it "un-American."
Biden also told ESPN on Wednesday that he would "strongly support" the MLB moving the All-Star Game out of Georgia.